Meet My Hood: Krutenau, Strasbourg
Published on
Translation by:
Odile Michely
For many expats, Strasbourg is a thoroughfare. But if Olalla - a former Erasmus student and Spanish journalist at the European Parliament - decided to stay, it is largely thanks to her neighbourhood: Krutenau.  
"Sure, I'm Spanish. But when you've been here for eight years, you begin to love your city and feel you are Alsatian." In the middle of the Krutenau market, Olalla takes a break in her visit of the south-eastern part of Strasbourg. On either side of the small Zurich Square, stalls are spread over a few metres and offer products from the region: Munster cheese, prune marmalade, gingerbread and smoked sausages. It's Wednesday, and Ollala is walking among the merchants and customers as if she has been doing it her whole life. With a big smile, little hand gestures and a proud look she says: "Can you imagine? A Spanish women who is promoting this neighbourhood."
"First, there's the cold"
The day before, the young Spaniard had arranged to meet us in Michel, an institution in the centre of Strasbourg. Here too, the brasserie welcomes her with open arms. "It's not expensive at all and it's very good," she says. "They know me because I often used to come out here and study after lunch, making my coffees last." In front of her sauerkraut, Olalla seems pleased with the attention the waiters and young manager are giving her. Unabashed, she mentions all of the Alsatian clichés: the Racing Club sauerkraut, the local football team. Having come from Madrid, it wasn't always smooth sailing when adapting to the local way of life. "First, there's the cold. Imagine a Spanish woman that finds herself in the north of France in two hours," she laughs.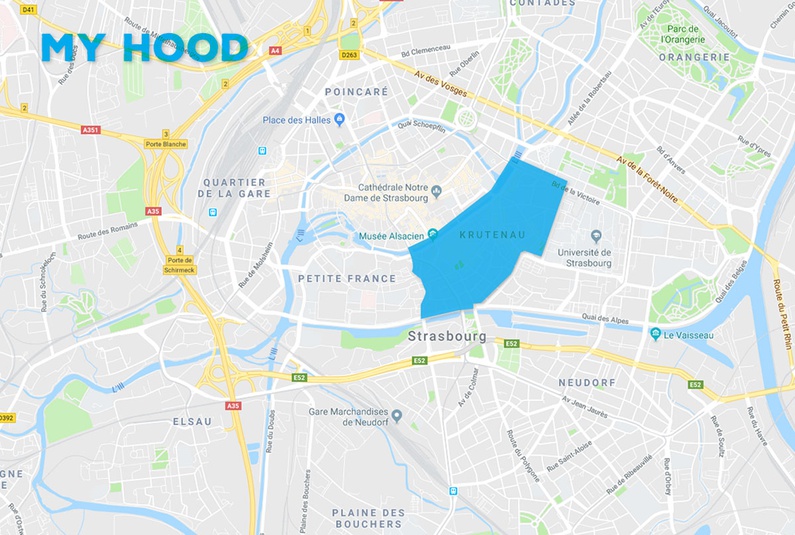 In 2009, Olalla came to Strasbourg to continue her sociology studies with the Erasmus program. After she completed her bachelor's degree, she started a master's at the IEP that focused on European affairs - something she had a hard time finding in Spain. The young student faced "a lot of competition" and hid in her "Erasmus bubble, since people always have a hard time integrating" during the her first year. But in the end, Olalla quickly made Alsatian friends. According to her, it's thanks to their acceptance of foreigners. "Strasbourg is a city that has adopted a dual identity for centuries. Here, for example, different accents are very tolerated. Strasbourg has incorporated a wide array of nationalities," she explains. Taking a tram for 15 minutes will land you at the German border. In France, the history of the city is very much linked to Alsace and to Lorraine, which went through different phases of German and French influence. Another symbol of the city's cosmopolitan atmosphere is the European Parliament, which has been here since 1999.
Krutenau, a beautiful future
Like a magnet, the city has drawn Olalla in so much that she now works here. She works for several media organisations, following the news of the Parliament and its "MEPs" whose "waltz of rolling luggage from the station to the outskirts of the building" amuse her. This confirms one thing: for expats, Strasbourg is a thoroughfare. "In European institutions, the European Court of Human Rights, the Council and even the University, people don't stay longer than three years."
The fact that Olalla ended up staying longer is thanks to her neighbourhood, Krutenau. "I have the feeling that here, there is more continuity, people have been here for a long time." In the streets lined with half-timbered houses, she explains that her first experience in the district dated back from her university days, when she lived in a student residence in the Esplanade campus. She discovered a lively place where - something quite rare in Strasbourg - people were speaking loudly on terraces. As a Spaniard, the young student was struck by the charm of a place that "contrasts with a sort of fake touristic side" of Little France, the city's historic neighbourhood. "Nowadays, you have soldiers who patrol a lot of the neighbourhoods downtown while the Christmas market is set up," Jonathan, a 33-year-old barista at Bretelles Coffee, explains, "That would never happen here." A bit eccentric, Krutenau follows the same rhythm as many other neighbourhoods in the process of becoming more and more gentrified, where illustrious craftsmen are mixed with tattoo parlours. "It became a mixture between true Alsatians, students and tourists. Everyone has their place here," Olalla concludes. Kyung-Ae, a 36-year-old Korean, has lived in Strasbourg for 15 years. But a few months ago, she decided to open her restaurant in Krutenau. "I like the fact that the neighbourhood is intimate and dynamic at the same time," she explains. "A lot of students come here at night, but during the day it's a place for artisans."
What was once a marshy area has now become an authentic neighbourhood, something truly Strasbourgian. "To be honest, it's becoming more and more chic. I have lived here for a long time and I still discover a lot of new things, though," Olalla comments. The neighbourhood can't seem to escape its inevitable fate of becoming gentrified. But unlike many other neighbourhoods in France, the way Krutenau is evolving doesn't seem to bother its inhabitants. With a bike in hand, Olalla speaks highly of "her" neighbourhood. She never hesitates - not even for a second - to disclose the city's hidden secrets to us, like the Coffee Bretelles. But Olalla is keeping an eye on all of this which, too, is very Alsatian.
A word from the neighbours
How much does it cost?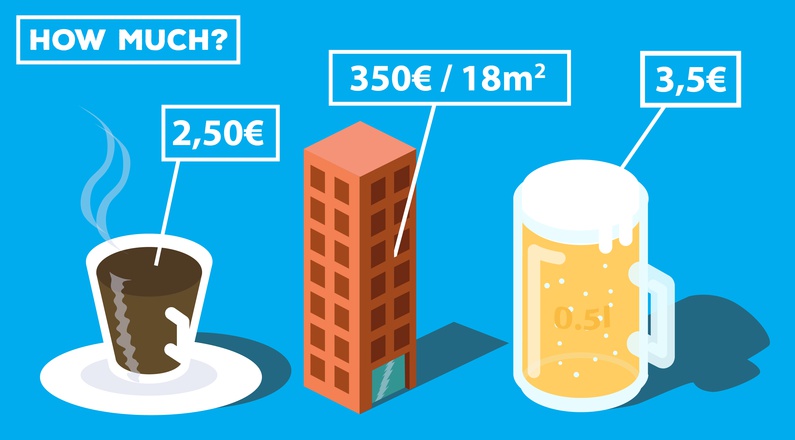 The people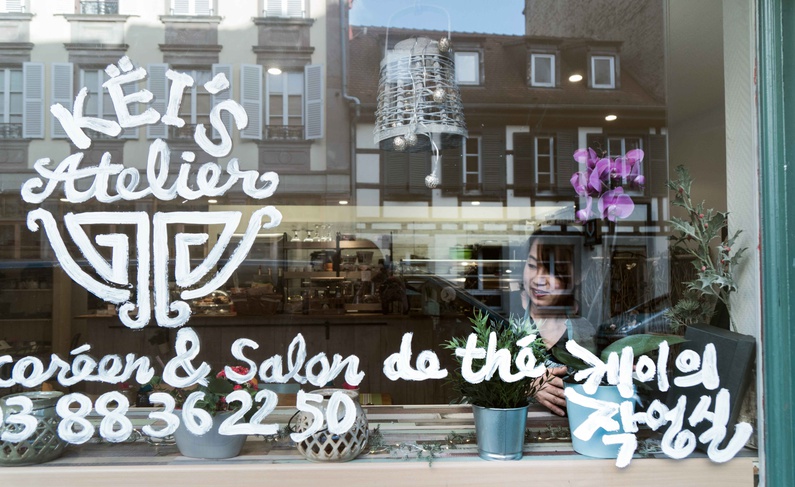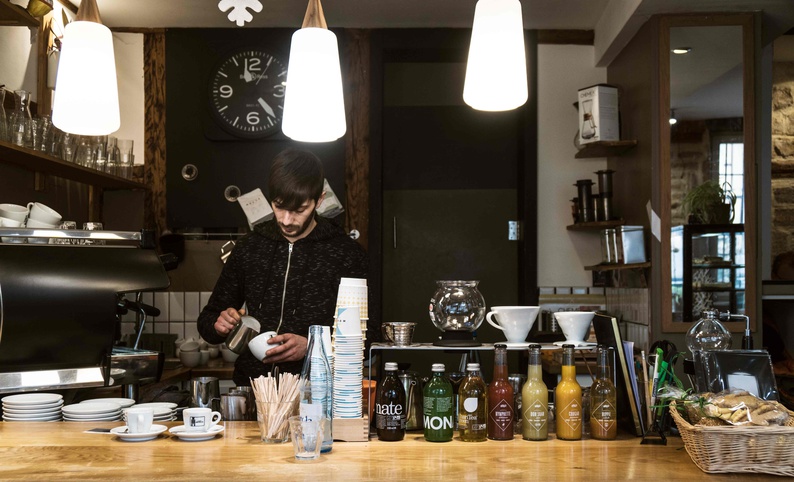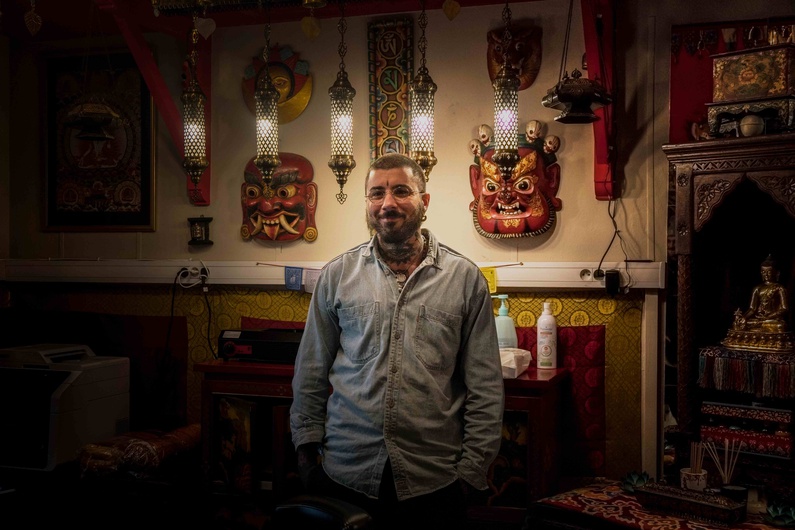 Hotspots in Krutenau
Café Bretelles, a cool bar, 2 Rue Fritz.
Kei's Atelier, restaurant and tea lounge, Korean , 16 rue de l'Abreuvoir.
Tinta, tattoo parlor and hairdresser/barber, 22 Rue des Orphelins.
L'Optique de la Krutenau, optician and eyewear manufacturer, 50 rue de Zurich.
Le Tarbouche, Lebanese restaurant, 22 rue de la Krutenau.
Mémé dans les Orties, cosy restaurant, 14 rue Munch.
Au Télégraphe, brasserie, 59 rue de Zurich.
Le Café des Anges, night bar on a cloud, 5 rue Sainte-Catherine.
---
---
This article is part of cafébabel's Meet My Hood project. The goal is to discover unknown neighbourhoods in the biggest European cities. Be a part of it, wherever you are!

This article was supported by the Hippocrène Foundation​. 
Translated from Meet My Hood : Krutenau, à Strasbourg