Meet My Hood: Chapitre, Marseille
Published on
In the heart of France's Phocean city, the Place des Réformés and its surroundings have played host to many loquacious people. But to understand the history of Chapitre, it helps to read between the lines...
It seems like the kind of place one shouldn't hang around at night, but in the light of day the neighbourhood of Chapitre has the charms of a little village. Like every Tuesday morning, the Place des Réformés is filled with colourful flowers, tiny cacti of all shapes and aromatic herbs essential for Mediterranean cooking. Every week its the same; I walk around the fountain and past the busy terraces of Les Danaïdes and Le Grand Chapitre, allowing myself to be tempted by a three euro bouquet of mimosa. And somebody – the florist, a passerby, a waiter, a beggar, a neighbour, a total stranger – will start a conversation. Without fail.
"You get the impression that everyone here knows each other," says Mathieu, as he dicsussing watering plants with a client. "People love to talk here, and not just about the weather," adds Anne-Marie, who jumped into the conversation after spotting our camera.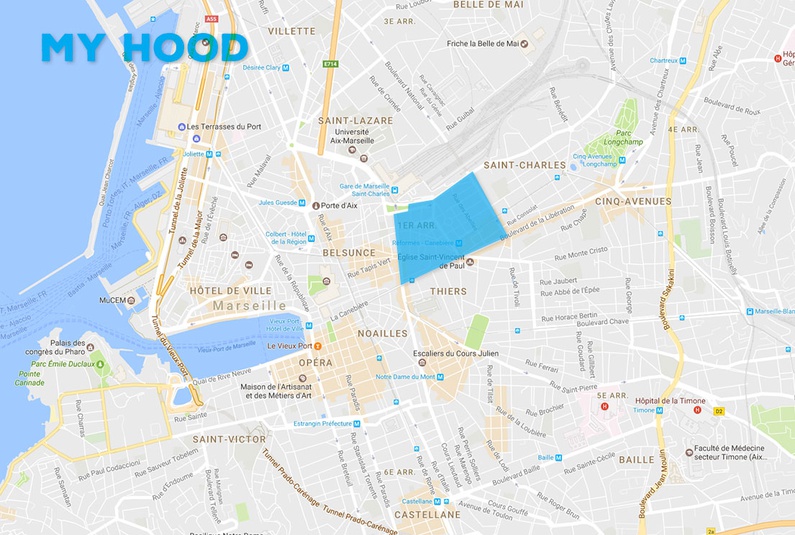 Everyone rubs elbows in Chapitre: bourgeois from the Boulevard Longchamp; penniless students looking for a cheap drink; parents with pushchairs; Kurdish protestors; dreaming youths; relaxing workers; homeless people sleeping next to newsstands; retirees doing their shopping; native Marseillais and out-of-towners who wanted to find a place in the centre of the city.
"It's like a big crossroads," says Stéphane, who's lived here for 15 years. Everything is a 10 minute walk from here. You can grab a train from the Gare Saint-Charles, go shopping on the Canebière (the historic high street) or in the Noailles market, meet your friends in the main square at La Plaine or go to the Old Port to watch the boats and the gulls.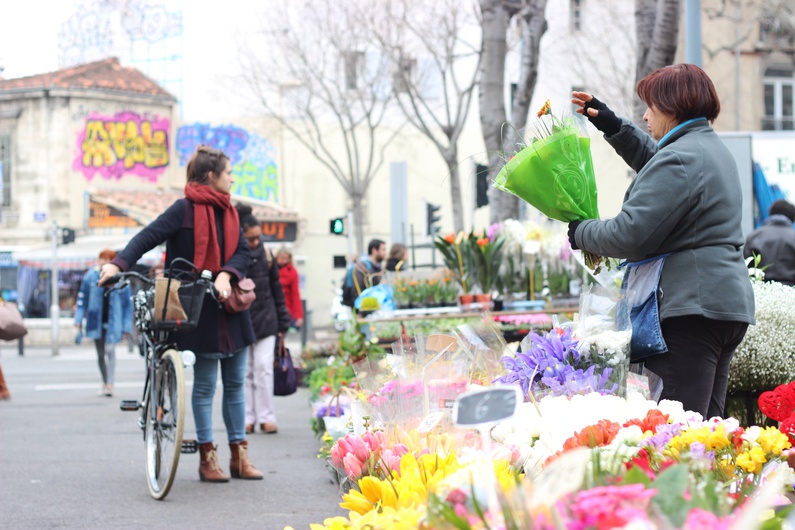 However, it seems the neighbourhood has changed a lot in a short space of time. Like a large part of the centre of Marseille, in the last few years the main thoroughfares — the Canebière and the Boulevard Longchamp — have had a facelift. Since 2008, a modern tram system has snaked its way through recently renovated Haussmannian buildings.
"It's changed everything, and the people have changed too," says Néné, propped up by his elbows on the counter of the Grand Bar du Chapitre. "Before there was a Christmas market, and a nativity..." interjects a woman behind the bar. "Now there are cafés everywhere... but it's no worse for it," a customer answers, before asking us to join him for a pint. Others are delighted that Chapitre has turned the page. "It's only grumpy old gits who don't like it when a neighbourhood gets posh," says Anne-Marie, more than happy to give her opinion on the cosmopolitan area she calls home.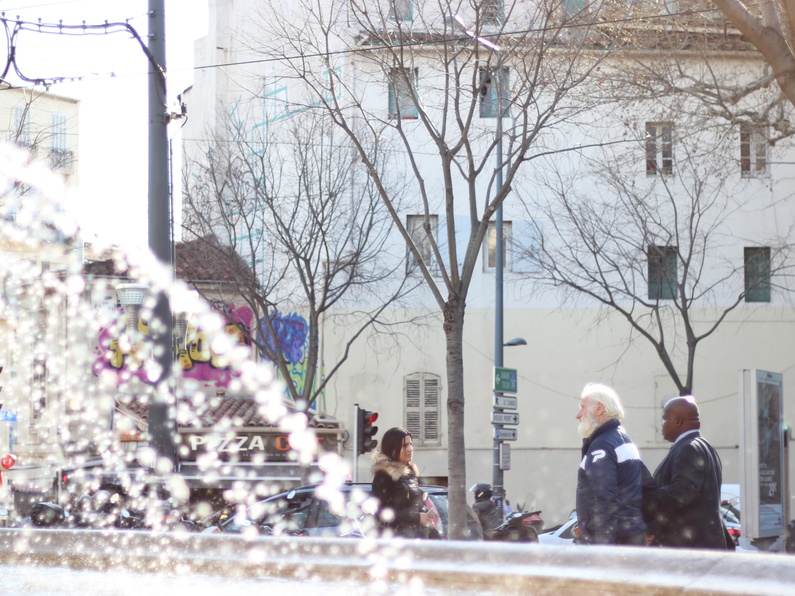 "You don't know what La Rotonde was like back then! The Rue du Coq was full of artists, that's all there was," Néné recalls; he's lived in the area for 40 years and is clearly nostalgic for the Chapitre of old. Now, after nightfall, these streets are filled with ladies of the night and transvestites. Jacqueline, with her white hair dyed black and a shopping bag in one hand, tells me she knows people who've had "bad experiences." But I walk on and pass their corners, to get a look for myself. Laurie, a student who's been in the area since 2015 and at the Longchamp Palace bar for 10 minutes, has the same attitude. The women have even become her friends. "I like talking to the prostitutes; it's when they aren't around that I feel unsafe," she says, before asking, aware that dodgy shit sometimes happens underneath her windows, "Do you know what happened at the Bar des Héros? We think the owner got killed."
In Chapitre, one thing is sure: whether you're drinking Picon by the Longchamp Palace, enjoying an Egyptian brunch at the Nour, waiting for a tram or a bus or a metro, playing table football at the Mounguy or singing at the Casa Consolat, if you have the time to listen the locals will always have a story to tell.
A word from the neighbours
How much does it cost?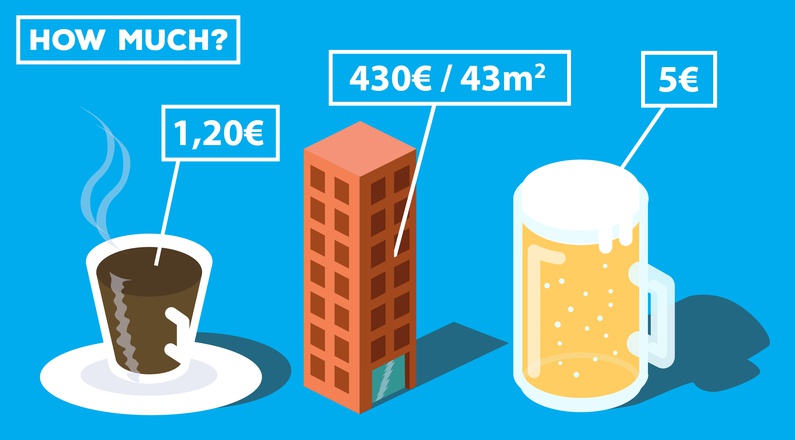 The people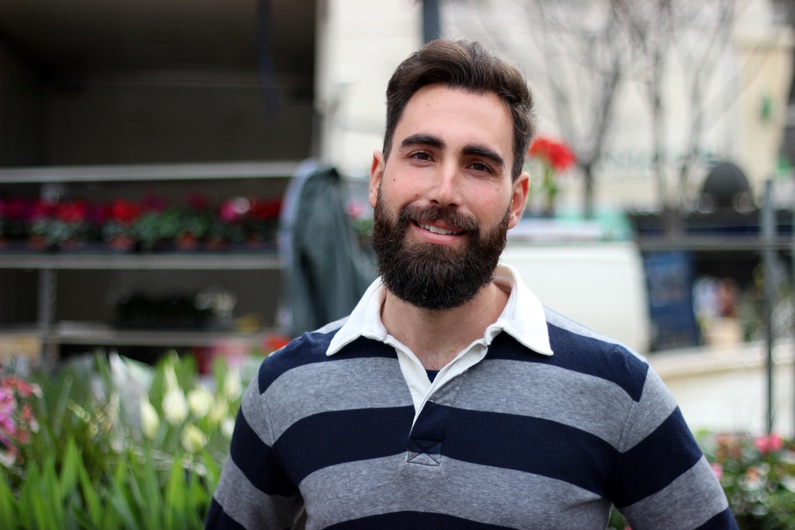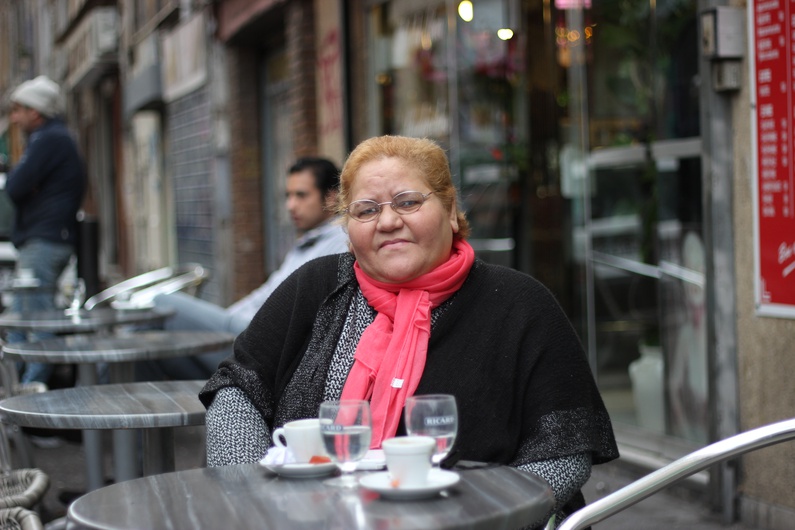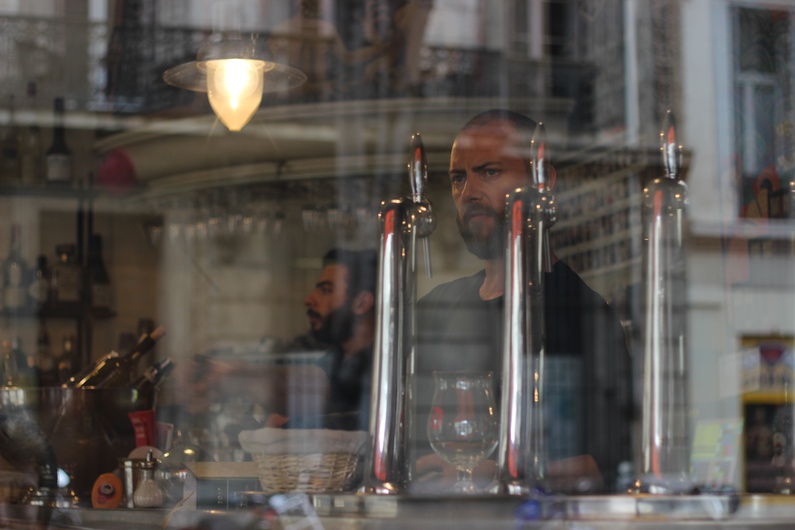 Hotspots in Chapitre
Longchamp Palace (bar/restaurant) 22 boulevard Longchamp
Mounguy (bar) 10 rue Consolat
Casa Consolat (lieu associatif) 1 rue Consolat
Grand Bar du Chapitre (bar) 4 rue Consolat
Nour d'Egypte (Egyptian restaurant and cultural centre) 10 rue Bernex
Fetouche (restauranr) 148 la Canebière
Green Bear Coffee (café) 123 la Canebière
Kiosque à musique place Léon Blum
Pepinière Bonventre (fleuriste) Tuesday and Saturday mornings at the Place des Réformés
---
This article is part of cafébabel's Meet My Hood project. The goal is to discover unknown neighbourhoods in the biggest European cities. Be a part of it, wherever you are!
Translated from Meet My Hood : le Chapitre, à Marseille