Meet Mario Monti!
Published on
When boarding his flight from Milan to Berlin Wednesday morning, fellow-passengers asked Mario Monti if he was really taking a flight into the right direction. "I checked, of course", he added, as he told the audience at the Dahrendorf Symposium at the Berlin-Brandenburgische Akademie der Wissenschaften in Berlin. Laughter was on his side.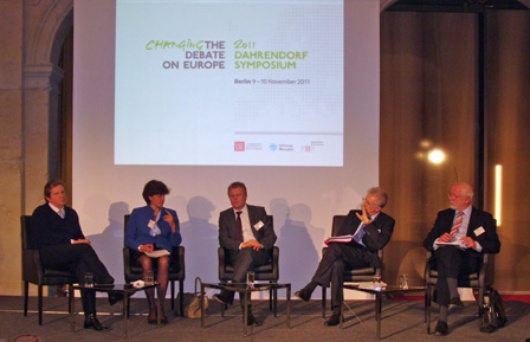 Success might follow suit: After Silvio Berlusconi's announcement to step back, Mario Monti figured prominently in media speculations, on who could follow as Italian prime minister. Signs are pointing in his direction: Yesterday evening, Mr. Monti was appointed a lifetime Senator by the Italian President, Giorgio Napolitano, though officially both issues are not linked.
Born in 1943 in the Lombard town Varese, Mario Monti studied economics in Italy and in the US and became subsequently professor of economics at the universities of Milan, Turin and Trento. Unlike most of his European academic colleagues, Mario Monti also worked as politician. From 1995 to 1999 he was Commissioner for Internal Market at the European Commission and then changed to be Commissioner for Competition until 2004.
In Berlin, Mr. Monti was attending a panel concentrating on the financial and Euro crisis. In opposition to common knowledge, he judged the Euro as a success-story. Concerns remain, though: "The euro was meant to bring together European countries, but it is dividing them. Stereotypes are coming back, putting North against South", he said.
Italy needs a more active European policy, Mr. Monti added. "We are by no means a peripheral country. Italy can't evade its responsibility of a founding nation", he said. A more active role of Italy in European politics could also benefit the European Union. "The function of the Franco-German couple would have been better if Italy wouldn't have completely expelled itself from this couple in the last past years."
To save the common currency, a new approach has to be taken, in Italy, but also in Germany, Mr. Monti said. "I would like to see a Germany that will be even stronger, more rigorous, less short-term-oriented, and more patient." Italy, on the other hand, should consolidate and maintenance its public finances. Needed are both more growth and fewer deficits. "There is no much intellectual divergence on this matter", Mr. Monti said. He also supported the content of a letter sent to the Italian government by European Central Bank's former and actual presidents Jean-Claude Trichet, from France, and Mario Draghi, from Italy. While he agreed in content, he criticized the form: "Democratically, the letter by the ECB was not a good idea", he said. Anyway, it was redundant, according to Mr. Monti. "I think there has never been such an abundance of converging recommendations and guidelines."
To achieve more growth and lower deficits, he called for a cutback of structural impediments in the Italian economic system. "Growth needs structural reforms", he said. To achieve structural reforms, Mr. Monti proposed an Italian-style Grand Coalition of major political parties. Probably, he could try to realize this idea quite soon.