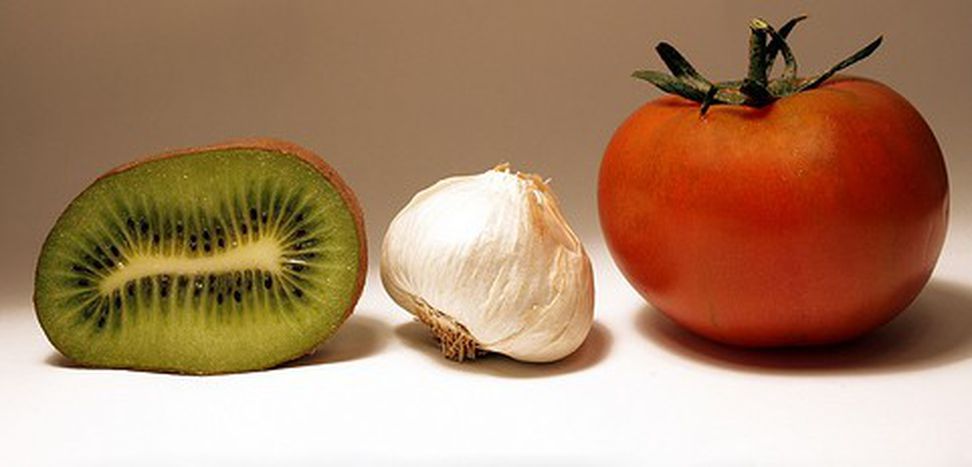 M**Bun, Eataly, GROM: the organic flavour in Turin
Published on
Eating well can save the environment, economy, and local heritage, according to the Slow Food Movement, an international non-profit culinary educational organisation which was founded in 1989 by the Italian writer Carlo Petrini. Its appetising premise is to combat the acculturating effects of corporate America & co. through the affirmation of local, fresh, organic food.
Its phrased in its manifesto as 'the right to pleasure', and in Turin, it's a right that's being energetically exercised
Co-founder Francesco Bianco takes special pride in M**Bun's raw tartare dish, only made with the best quality meat. All his ingredients come directly from the local farm and award-winning butchers, belonging to his business associate Gaetano Scaglia. The hamburger joint, pronounced 'MacBun' but spelled cryptically to avoid legal confrontation with MacDonalds, opened in September 2009. It appears to be incredibly profitable despite the financial crisis. The queues wind around the street corner in the evenings, adds Bianco. At 4 euros a classic hamburger, Italians can eat well for less whilst supporting an alternative lifestyle to the one served up by MacDonalds.
Profitability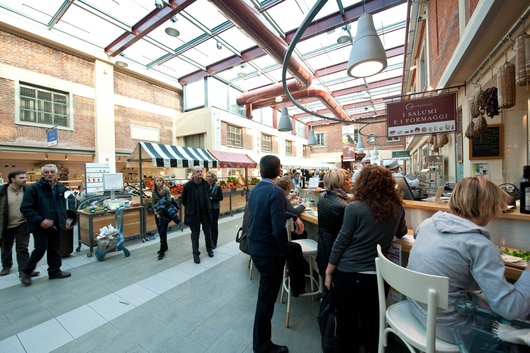 Chiara Veza owns Tavola di Babele, a small restaurant that also prides itself in its use of locally grown, organic products in the San Paolo neighbourhood. Her lack of dependence on imports means that in times of crisis she can always be assured access to ingredients. 'A year and a half ago, there was a transport strike,' Vezza recalls. 'My produce came from a local woman so I could still get everything I needed. Other restaurants couldn't.' Despite this profitability, I sense in Vezza a residue of suspicion of ostensibly 'sustainable' ventures that are also global and prosperous. After all, is there not an inherent contradiction in globalising a business whose ethics revolve around small scale farmers and local gastronomic heritage?
This paradox is harshly rendered when I visit Eataly, the 'biggest market of high quality foods', in the old Carpano vermouth factory. The sprawling superstore of 30, 000 squared metres was opened in February 2007 by local entrepeneur Oscar Farinetti and feels like little more than a sterilised bazaar. No hubbub or excessive noise, but rather a corner to browse the internet on Mac computers and a dizzying selection of mineral water. Even with the Slow Food Movement as a consultant, Eataly is not so much a subversion of the corporate model, but its cleverly marketed replica. Are we contributing to a less anonymous world by shelling out at this cathedral of fairly-traded, organically grown loveliness? Or would dropping in to a little chapel of a corner shop to buy a Coke be just as effective? Though Eataly claims to be affordable for all, the lifestyle on display seems hopelessly out of reach for those most affected by the crisis. That, with a 32,000-square-foot branch set to open in Manhattan in spring 2010.
Anti-corporation
Given these contradictions, I meet Guido Martinetti with a degree of wariness. First opened in Turin in 2003 by Martinetti and his long-time friend Frederico Grom when they were 28, the GROM gelataria now operates in 22 Italian cities in addition to Paris, New York and Tokyo. The gelatos are crafted from fresh, carefully nurtured produce from Martinetti and Grom's farm outside of Turin - supplemented by intensive global searches for the most mouthwatering ingredients. Martinetti is not precious about labels such as 'organic' or 'fair trade', whose certification is often too difficult to obtain for, say, a remote indigenous farming community in Bolivia. Despite operating across the globe, GROM's principles do not appear to have been compromised. Its financial success enables the purchase of farm land to grow produce locally, Martinetti says. Moreover, both men adhere to a rigid set of business ethics. They refuse to franchise the company. They personally respond to every email. They take away a monthly salary that is less than their store managers. And where manual labour can be used over machines, it is. Martinetti would rather see more Italians employed than make an easy dime.
GROM's success is proof that business models eschewing the extractive and unaccountable tendencies of many corporations can be profitable. Now more than ever, a short production chain makes good business sense; it means lower transportation costs and less dependence on the whims of the global marketplace. There is also growing environmental urgency for smaller scale, local production. A recent report estimates that farms, mostly of the industrial variety, are responsible for 18% of greenhouse gas emissions – making them a bigger culprit in global warming than transportation. What animates initiatives like GROM is a quiet commitment to good food and community values, rather than flashy marketing tactics tapping in to the fair trade fad. As businesses recognise there is profit to be made from sustainable living (in 2008, organic produce was a 15 billion pound industry), it risks becoming yet another commodity to mass produce and dangle in front of consumers. But as we are now compelled to count our pennies with greater care, perhaps we will now exercise similar caution in understanding what we eat, who is selling it, and why.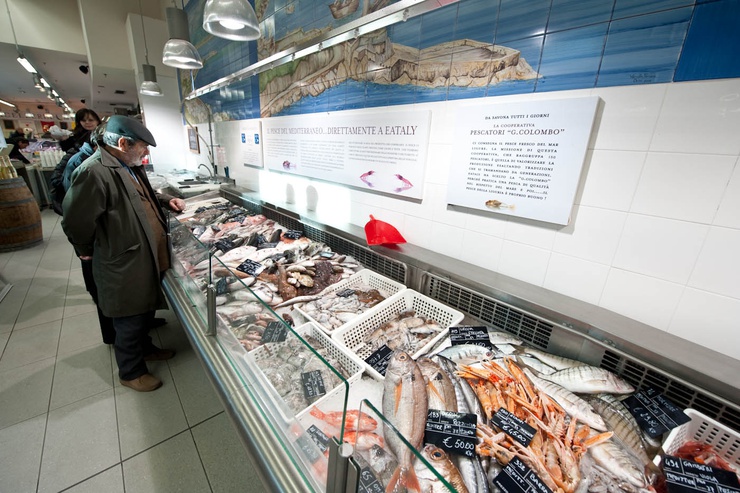 Tavola di babele, Via Cumiana 41/b, borgo san Paolo. Eataly, Turin, Via Nizza, 230 int. 14 (in front of "8 Gallery") Torino Lingott, GROM, Piazza Pietro Paleocapa, 1 10121
Many thanks to the cafebabel.com team in Turin. Read their blog here
Main image: and+'s/ Flickr;  Image two: Roboppy; images one and three: (©Greg Fonne/ g-fonne.com/)