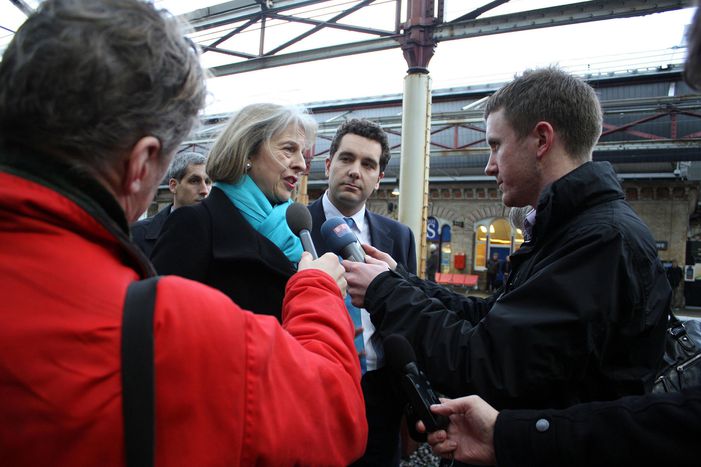 May has moved in, but will her Britain work for everyone?
Published on
The pace of British politics recently has been exhausting, its structures whipped up in the whirlwinds of post-referendum change. The political landscape in Britain is under a deep haze of uncertainty, but the chaos is slowly subsiding. As May's cabinet sits down to its first official meeting, what can we expect from her new government?
Last Wednesday evening delivered the United Kingdom a new prime minister in Theresa May, whose inaugural speech in front of 10 Downing Street was powered by talk of social justice – it was a script that could have been stolen from the desk of Jeremy Corbyn. But what is her vision for Britain?
May took aim at the "burning injustice" throughout society and seeks to build a Britain that "works not for the privileged few, but for every one of us".
Blue-collar conservatism
Hours before Andrea Leadsom, the only other remaining candidate for Conservative leader, announced her withdrawal from the contest, May began to outline her blueprints for what a government under her leadership would aim to construct.
Although thin on comprehensive policies, she laid out an agenda that specifically targeted the "ordinary working people" of Britain, a phrase repeatedly dotted throughout her speech. Her stress on national unity, and bringing people together, underlines her commitment for a "one nation" Britain.
She was critical of crony capitalism, in which gross corporate profits are prioritised while workers are pushed aside from the benefits. She spoke of curbing corporate pay and of putting consumers and workers on corporate boards. This is a radical idea of the left, in which workers have a democratic say, and a vote, in the organisation of the company they work for. However constrained this vision of May's might be, she has opened up a radical notion not espoused enough by the opposition. It's something American economist Richard D. Wolff has been dedicated to promoting, when establishing the non-profit Democracy at Work.
On tax avoidance, May touched on a point that proponents of higher taxation argue: that large corporations do not yield large profits through their own hard work, but are broadly aided by public goods and services put in place because of taxation – national infrastructure such as roads and transportation, which British governments have used public money to construct.
The cull and the cabinet
Whether May can make her blueprints of a blue-collar conservatism reality – in order to improve the lives of those most damaged by her Tory predecessors through punitive austerity and tax cuts to the rich – depends on whether her architects in office share the same vision.
The new PM has made major reshuffles in the cabinet when establishing her new government. The two major casualties were George Osborne (former Chancellor of the Exchequer) and Michael Gove (The former Secretary for Justice, something many believe was dealt to him after turning on Boris Johnson in the Conservative leadership contest). Both politicians had maintained prominence during David Cameron's previous governments.
Yet three major controversies overshadow May's new appointments. First, the choice of Boris as Foreign Secretary – which puzzled many, given his propensity for buffoonery – as well as his barrage of insults directed at foreign leaders including Hillary Clinton and Recep Tayyip Erdoğan.
Second, Jeremy Hunt kept his position as Health Secretary. After negotiations stalled between Hunt and the British Medical Association in April over the implementation of new contracts for junior doctors – which would have seen staffing levels stretched – Hunt forced through the proposals anyway, sparking the first ever all-out strike in the history of Britain's National Health Service. Hunt's forcefulness has lead to a gulf between the government and NHS workers. 
Third, one of the first acts of May was to abolish the short-lived Department of Energy and Climate Change, which was created in 2008 under the Labour Party, subsuming it into the Department of Business, Energy and Industrial Strategy. It abolishment is likely to lead to the neglect of climate change strategies needed to curb the damages of climate change.
As the new cabinet today holds it first official meeting, only time will tell whether social justice will really be given centre stage by May's new government.
---
This article was published by our local team at cafébabel Aarhus.