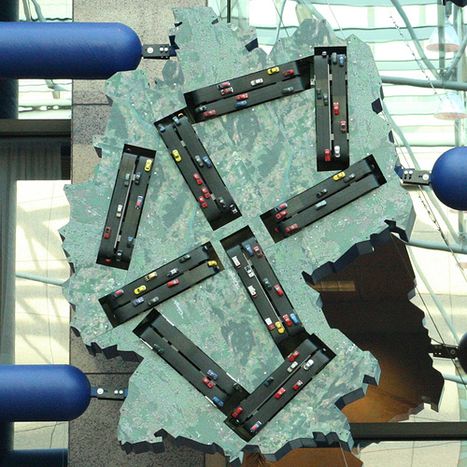 MasturbArt with David Cerny in Brussels
Published on
With touches of political incorrectness and impudence, the iconoclastic Czech artist is teaching tourists in Brussels about European geography. His 'Entropa' installation - which cost £350, 000 - sends up European stereotypes, and remains a hot topic amongst politicians and the inquisitive
'Is this meant to piss off the Italians or what?' Ciccio, a young economics student at the University of Taranto in southern Italy, demands to know. We're in Brussels, sheltered under the crystalline glass in the large entrance hall of the Justus Lipsius building - headquarters of the European council. Dozens of curious visitors file through the metal detector at the entrance in a bid to photograph Entropa, Czech artist David Cerny's controversial creation. So controversial in fact, that the Czech ambassador was summoned to Sofia after an angry reaction from Bulgaria, which was portrayed as covered in squat toilets.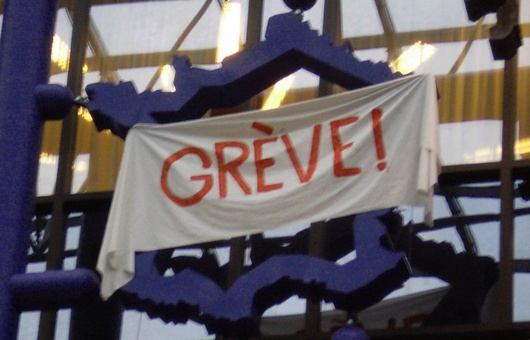 Milling about in the middle of the room, straining their necks as if waiting for an eclipse, a group of Italian trainee economists on a study trip are horrified by their country's representation - a football pitch full of players masturbating with footballs, obscene movements and all. 'Is Italy the only place that's being messed with?' asks Anna, another student, before sitting down, relieved to see that no other member state has been spared. At the same time, she discovers that Scotland isn't a member state and that the squirrel monkey shaped like a set of bagpipes pointing with its finger is actually Ireland. The United Kingdom? An empty space - its Euroscepticism evident.
The smaller countries of the EU must often resort to something outlandish to attract attention. It's been a media success, or as it is usually called in cyberspace, a 'buzz'. However, it was all born out of Cerny deceiving the Czech government. He gave them the impression that they were commissioning work from a collaboration of 26 European artists, but in the end he decided to undertake the project alone in order to exercise complete control over it. 'I'm sure someone was in the know because this is far too big to keep under wraps, with brochures and everything else. If not, the Czech government must be stupid,' a European council employee assures us, preferring to remain anonymous.
Ignasi Guardans, Spanish liberal MEP, has not yet had time to view the installation, but believes 'it's positive that art makes us reflect and question European stereotypes.' Similarly, Hungarian conservative MEP Lívia Járóka reckons that 'Europe also needs to build itself with a sense of humour.' Fellow socialist countrywoman Zita Gurmai does not completely agree: 'It's time to talk about the positive things that Europe has, instead of always suffocating us with everything negative.' Of those who took part in the on-line survey about the installation, organised by the six-month rotating current EU Czech presidency, 71% see it as positive. Generally speaking, people have fun contemplating Cerny's new work. His sarcasm is ingenious and he cleans the dusty conscience of political correctness that permeates Europe.
How Cerny sees Europe
Germany is transformed into a Scalextric track of motorways in the shape of a swastika
Spain isn't beach, sun or flamenco anymore, but a field covered in cement
 France is on strike... as usual
Greece disappears under its flaming forests
Lithuania is covered with children urinating over Russia, its traditional scapegoat for everything
The Netherlands is submerged by a flood, leaving visible only the innumerable minarets of its new mosques
In Poland, priests put the rainbow-coloured gay pride flag in the place where Catholic radio station Radio Mariya started
The Czech Republic is now a screen on which president Václav Klaus' most eurosceptic utterances are displayed
Romania, of course, is overtaken by Count Dracula's getaway castle.
Translated from MasturbArte con Cerny en Bruselas