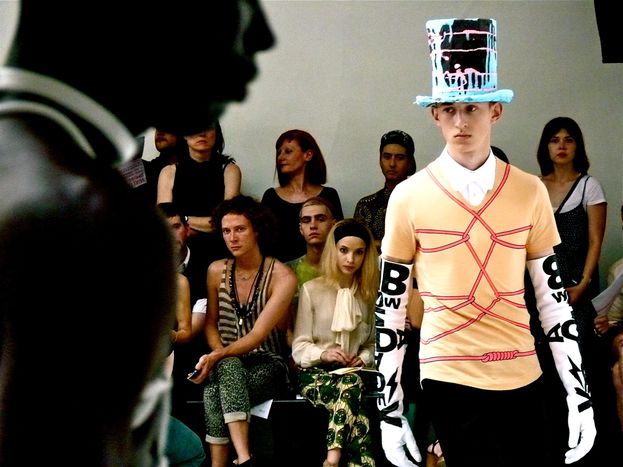 Masculinity in Paris: a journey through fashion, floats and football
Published on
The poor alpha male went from hunting mammoths to rummaging through the chicest boutiques to tidy up their wardrobes. A feverish inquiry through men's fashion week, gay pride and the end of the euro 2012 football championships gives three different insights into approaching masculinity - all on the same day, in the French capital
Supposing masculinity derives from the cave where a prominent figurehead masterminded war and economics to ensure the safety of the tribe in exchange for glory and obedience. Supposing that role was idealised with traits of health, strength and confidence, and preserved for millennia by traditions that democracy and social progress have managed to relax, question and fragment to reveal a panorama as varied as the human race. What is it and how does this masculinity express itself today?
Muted tones, browns and greys
The projection of a vase of dead flowers on the wall explodes: the sound of the explosion becomes techno music while models enter on one side of the stage. They are all the same, ambiguous and slim like German teenagers made of marble. 'The designers use models with subtle characteristics. If they were very masculine or muscular, they would overshadow the clothes,' a guest tells me. In front of the models, a group of photographers fire their camera flashes as if they wanted to literally shoot them.
'Masculinity?' asks Matt Piker. 'I would associate it with security, stoicism and power, qualities that are not always linked to gender or sexual orientation: look at drag queens. Don't they have self-confidence?' Matt is the founder of the design firm Majeur Won and is willing to hunt in the fashion jungle, a harsh field which exists to redesign concepts like masculinity, represented by the Parisian blogger Damien Lorenzi, through muted colours, browns, greys and simple shapes. However, several designs seen in Paris point to another direction: 'If you look,' says Damien, 'this year there were gay-themed collections or S and M, such as the designs of Walter Van Beirendonck.' S and M? 'Sadomasochism: leather, bondage ropes... '
Some industry voices claim that women's fashion evolves much faster than men's, where many designs just do not make it onto the street and remain the privilege of a small elite. So says Samuel Schler, a 20-year-old journalist for LA Fashion Magazine. 'Fashion is a gay world. The designers dress their models as gay, because most are gay and their friends and their environment is gay. And that is not going to change. If you notice, in the end it is only what people wear that changes.' For Samuel, clothing serves not only to cover oneself with a certain taste, but to define oneself: it is an active expression that shapes personality and which the industry, perhaps by tradition, gears far more towards the feminine side.
Masculinity undressed
This afternoon, gay pride honours sexuality, stretches it, exposes it and dresses it up right in the middle of the street. If fashion shows play with shapes and colours, pride takes off its clothes in order to be uncouth, as an American parade-goer explains. 'Pride is a celebration of sexuality, a claim to open doors, whether you are straight, gay or transsexual.' That seems to be conveyed by the floats, where the makeup and poses are so excessive that they speak for themselves, as if to say: What's wrong? I am wearing leather and am topless, who cares?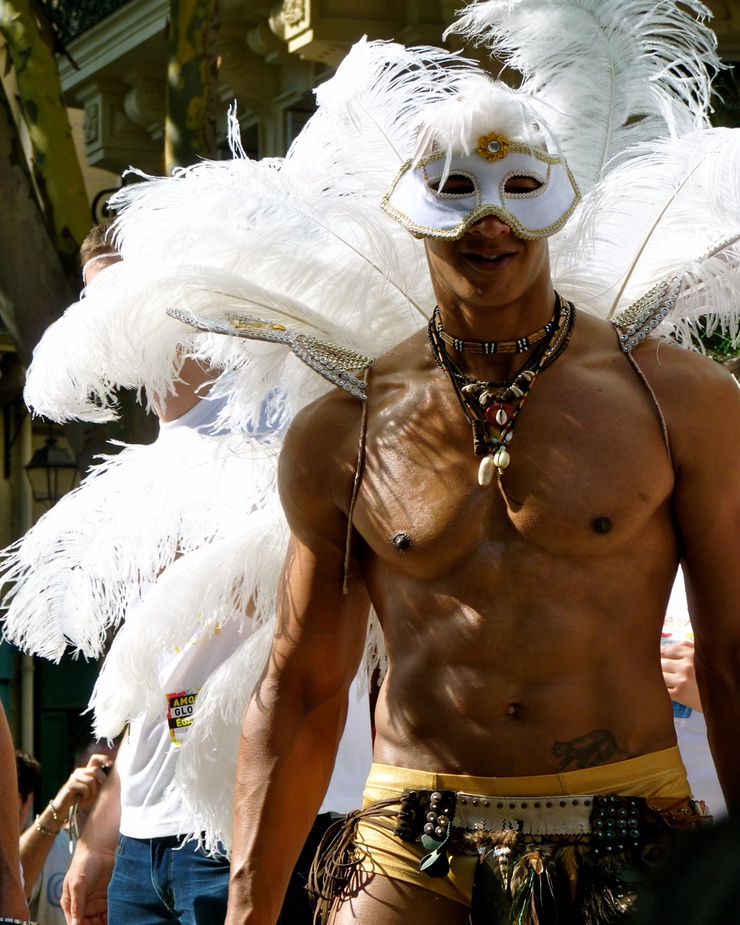 If you sit down to watch the parade pass by, one hour is enough to observe all the possible types of masculinity (including the very conservative, as someone is putting up posters labelling homosexual marriage as unnatural. 'The gay community has sub-communities,' says Octavio Maciel, manager of an LGBT association in Paris. 'There are the two extremes: those who claim a hypermasculinity (the bears) to the most feminine, also in reference to them. Sometimes these groups discriminate against each other. Pride has been trying to represent that diversity for years.'
'I am very masculine and gay what's the problem? The difference is that you sleep with a man, not a woman, and that's it'
Football is like one hundred thousand years of hunting. Scoring a goal is like spearing a deer; raising a trophy, is like sharing meat cut in the firelight. In a Spanish bar called El Papi Chulo, watching La Roja (as the Spanish national team are nicknamed) come face-to-face with Italy, the crowd, who scream and clench their fists to encourage those chasing after the ball like a wild boar in the forest, roar. Behind the bar is Jori, a muscular type with a raspy voice who serves glasses of beer at the high speed of a bartender and evokes the image of Manolo Escobar every time Spain scores a goal. Jori likes football: he is Madrilenian through and through. Jori is gay. I pose the question. 'I am very masculine and gay what's the problem?' he replies, smiling. 'The difference is that you sleep with a man, not a woman, and that's it.' Is it worth continuing to slip into clichés? If you are looking for a moral (which are are pompous and pretentious, or unmanly), I would say that masculinity is like sport: go out and play regardless of gender or clothes or sexual orientation, and do it fairly: shake hands if you win, congratulate if you lose, and keep your chin up.
Images: main and in-text © Argemino Barro/ video (cc) euronews/ youtube
Translated from Moda, carrozas y fútbol: tres píldoras de masculinidad