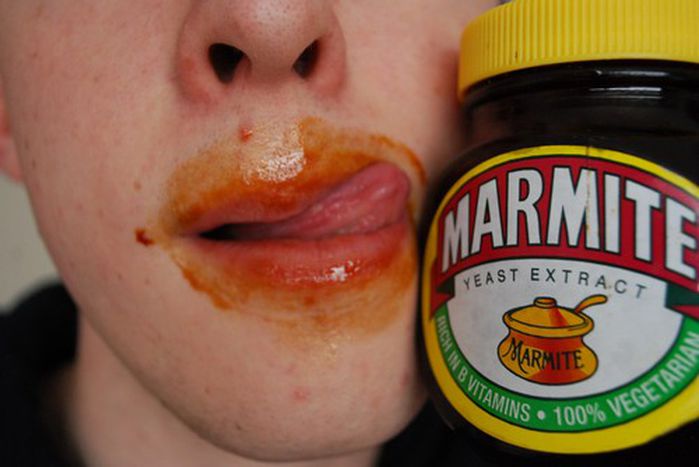 Marmite and co: disgustingly debatable foods in western Europe
Published on
Travelling around Europe, you're never safe from a bad gastronomic surprise, be it vegetable yeast spread, bull's tail, pig's head paté, mushroom spread and much more ... brace your guts. Plus, a recipe for stewed oxtail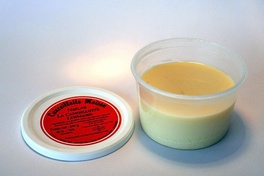 '25% of Brits pack a pot in their suitcase to go on holiday." This could easily be the gastronomic scoop of the year… but rather than a saucepan, it's their jar of Marmite, the main ingredient of which is vegetable yeast (made of microscopic moulds and very rich in vitamin B1), that a quarter of the population cannot live without for two weeks in a row. The sales and marketing team at Marmite (born in 1902!) needed nothing more to produce an amusing publicity campaign. Because Marmite, and its bitter taste, divides the English palette. It's black or white, as the slogan says: Love it or hate it.
Smelly cheese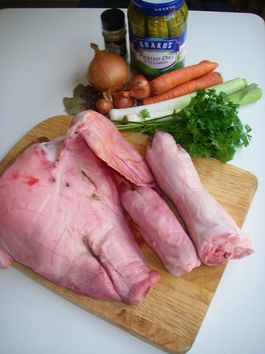 Between two slices of sandwich loaf, spread a layer of Marmite and another of fromage frais, put them together and stuff it down the throat of your French friend over to stay for the weekend: it all depends on the level of politeness from your guest but it is possible that he sweats more than usual, that his brow forms a triangular frown, and that his Adam's apple refuses to swallow: 'Oh, what a drôle de taste!' Let's keep it polite… In Europe, foods which spark this kind of reaction exist in every country, and best to keep that in mind before cutting all ties. Imagine a Spaniard on a jolly in the east of France: in a Franche-Comté supermarket, he stumbles upon a small pot of Cancoillotte: '¿qué es?' Liquid cheese, says the label. Rather a sort of Camembert spread with a 'slight' touch of garlic. Obtained from curdled skimmed milk, Cancoillotte would wake even a corpse's palette … What's more, this cheese is so runny that certain Luxembourgeois (who also enjoy it for breakfast) often claim 'that it's useful for putting up their wallpaper'
Tail in sauce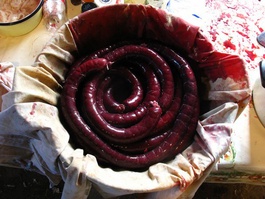 But the Spanish also have their own little explosive recipes, hidden away behind the tapas bar, to make the tourists run a mile: the rabo de toro stew, bull's tail cooked in a sauce, is a typical Andalusian dish. Do the cooks work together to remove all the hairs? We could ask the same question of the fine Italian gourmet chefs who prefer to pop an oxtail into their cooking. It's all about the coda all vaccinara. But to find yourself a good piece of meat, head for Germany: there, they hack up pigs heads to make pâté. Cheeks, snout, ears, tongue… dissected into little pieces, marinated in vinegar and set in jelly! This is called Sülze across the Rhine, but the recipe has its variations all over Europe, as far as Poland, where they still prefer using pigs blood to make sausages: Kiszka has things in common with black pudding, or the French boudin noir which generally goes well with cooked fruits (good for anyone anaemic…) So, how about a little pork blood mousse covered in intestine and delicately served on a bed of baked apples? Never! I'd rather have the Marmite!
Stewed oxtail
To serve 5 people: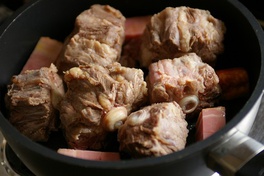 1 ox tail 2 onions 1 clove of garlic ½l of beef stock or 1 cube of beef Salt and pepper Dried mixed herbs
To accompany:
Potatoes Mushrooms
Heat 2 tablespoons of olive oil in a casserole dish. When the oil is hot, gently brown the ox tail all over while peeling the onions and the garlic
Add the onion and the finely chopped garlic and onion and stir. Season with salt, pepper and mixed herbs. Put the beef stock in the casserole (so it covers all the pieces of meat), cover and cook over a gentle heat for a minimum of 3 hours
Peel the potatoes and rinse the mushrooms. Uncover the casserole and add the vegetables 20 minutes before serving
To finish… you may leave the oxtail to cook for even longer but take care that it does not burn. To know if the dish is ready: the meat must detach easily from the bones. Enjoy!
Translated from Cauchemars culinaires