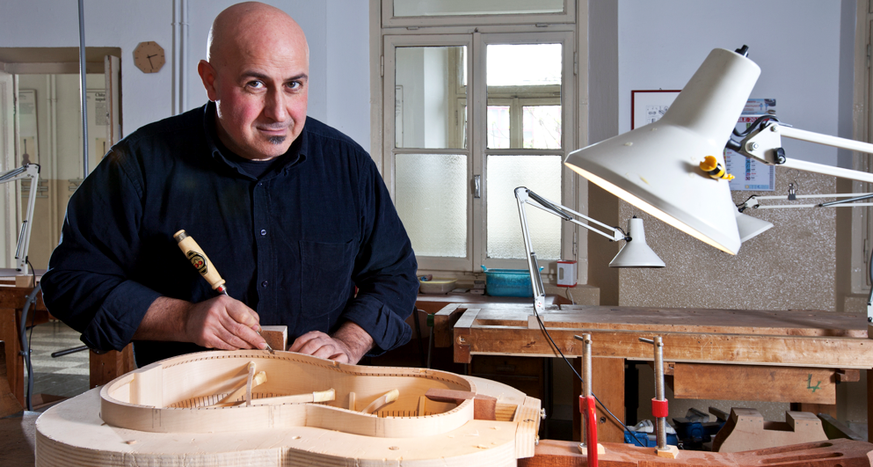 Mario Rubio and the secret life of guitars
Published on
How do you make a handmade guitar? A meticulous choice of raw materials, a long manufacturing process, attention to detail, great passion and unlimited patience. Check out the guitars of Mario Rubio, master luthier at the Civic School of Lute Craft of Milan.
In Milan there's a world famous lute craft school  which is little known to the people of Milan. Here both modern and old instruments have been made for nearly forty years in the Lombard lute craft tradition. Mario Rubio is one of the teachers at the school. In his laboratory in the Ripamonti area, he has been designing and making classical guitars, which are totally handmade, for nearly twenty years.
It's a slow process that begins in val di Fiemme, on the Dolomites, where the fir is first cut during nights where the full moon shines bright, then taken the workshop, where it is carved together with other fine woods like ebony, cedar and rosewood. Getting to the finished product takes a long time, at least 300 hours of work, from the first carve until the last coat of paint. In between, there's a lot of patient and careful work which demands competence and absolute passion.
The Spanish guitarist Andrés Segovia used to say that playing the guitar is like watching an orchestra with upside-down binoculars: all its instruments are included in it but in smaller auditory dimensions. There is an infinite range of colours, tones and qualities to be discovered. A technically perfect instrument is not enough. You also need soul. And maybe this is the secret of Mario's guitars:
Translated from Mario Rubio e la vita segreta delle chitarre