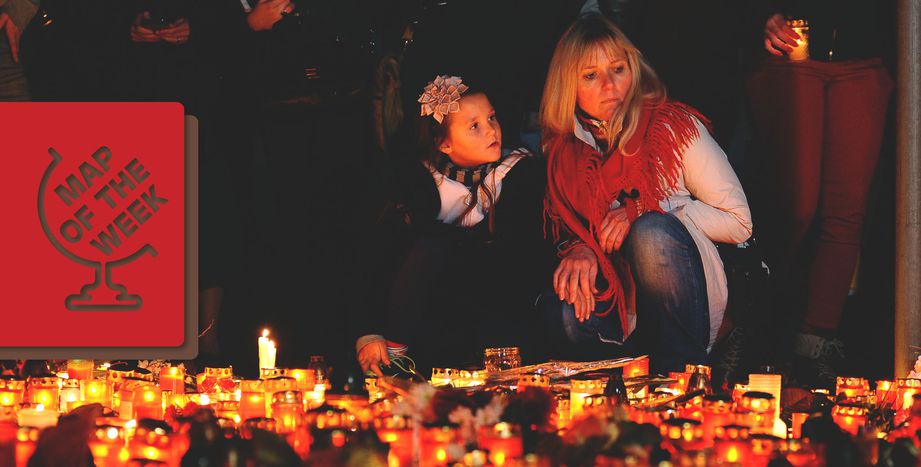 Map of the week: Terrorist attacks in Europe
Published on
Europe has been subject to numerous terrorist attacks over the course of the last 15 years, but where and at what frequency did they hit? We present a brief history of European terrorism through our interactive map.
Since 2001, Europe has counted at least 1,800 dead and 6,500 wounded due to terrorist attacks. According to statistics from the French newspaper Le Monde, more than 80% of these victims perished through a combination of the ongoing Chechen-Russian conflict and attacks conducted by jihadist fighters often acting in the name of al-Qaeda or Daesh. 
Le Monde has further categorised the perpetration of attacks across Europe since 2002. Like this we can see that the largest number of victims were killed between 2002 and 2004 in multiple attacks hitting cities such as Grozny, Beslan and Moscow.
Other attacks often fall into the category of "Islamist" terror. The last major attacks claimed by Al-Qaeda in Europe comprised the bombing of the Madrid metro in 2004 and the London attacks in 2005.
More recently, it's Daesh who have been responsible for many of the deadliest incidents in the Old Continent. First in France, on the 7th and 9th of January, at the offices of the satirical newspaper Charlie Hebdo and at a Parisian kosher supermarket, then on the 13th of November, which will remain one of the French capital's bloodiest nights. On the 22nd of March 2016, Daesh claimed responsibility for two further attacks at an airport and metro station in Brussels, leaving 31 dead and 270 wounded. 
---
---
This article is part of our Map of the Week series: charting the stats that matter to Europe, one map at a time.
Translated from Carte de la semaine : les attaques terroristes en Europe