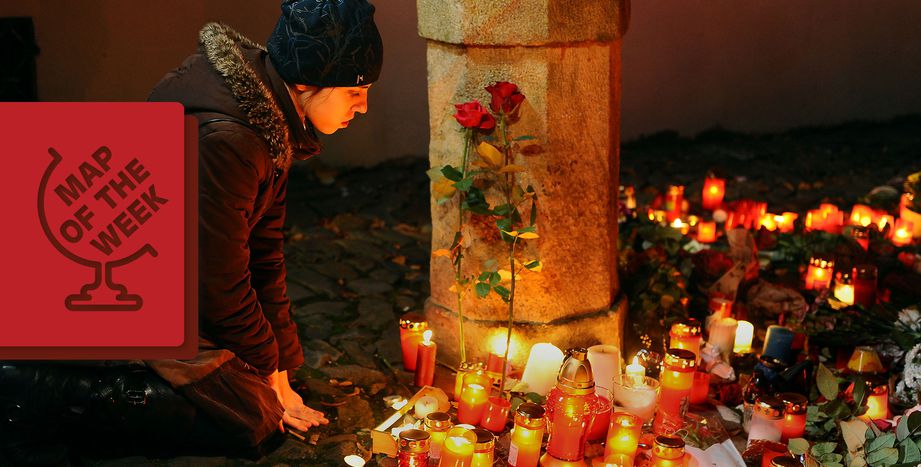 Map of the week: Solidarité in Europe
Published on
For the whole of last week, much of Europe has been draped in the bleu-blanc-rouge of the French flag. Displays of solidarity have manifested in many forms, from flower displays in public spaces, to candlelit vigils, to the illumination of buildings in France's national colours. Our latest Map of the Week showcases displays of solidarity from across the continent. 
It's been one of the hardest work weeks that cafébabel has ever experienced. Following the devastating terrorist attacks in Paris on the 13th of November 2015, much of the news has been difficult to stomache. However, amidst the sorrow and pain of recent events, Europe and the wider world have exhibited a breathtaking level of solidarity. 
In Place de la République alone, thousands of bouquets of flowers have been lain to honour the 129 victims of the attacks. All week, vigils and gatherings have been held to commemorate those who died. In Trafalgar Square, London, thousands gathered holding aloft candles, or their mobiles phones, while the National Gallery lit up in the colours of France. Flowers have also been left in Pariserplatz, Berlin, beside the Brandenburg Gate.
At public gatherings all across Europe, the Marseillaise has been heard time and time again, ringing out from squares filled with dedications in honour of the victims of the terrorist assault on Paris. While debate has raged over the use of the French flag on social media, it has appeared time and again illuminating the edifices of buildings around the world.
Cafébabel has collected together just a snapshot of the full extent of this outpouring of support, seen across the continent and the wider world. You can use the map below to scroll through pictures and video of displays of solidarity from cities such as Prague, Barcelona, Turin and Vienna, as well as many more.
---
This article is part of our Map of the Week series: charting the stats that matter to Europe, one map at a time.