Map of the Week: Press freedom in Europe
Published on
Since 2002, the international NGO Reporters Without Borders have compiled a global ranking of countries according to press freedom within their borders. Not everywhere in Europe comes off as well as you might hope.
For example Turkey is ranked 151 out of the 180 countries evaluated. It's hard not to associate such a low ranking with President Recep Tayyip Erdoğan's current government, which seems to have declared all out war against both national and foreign media.
It's easy to predict how recent events could influence the country's future ranking. For example, one of Turkey's most respected journalists, Can Dündar, was recently sentenced to five years in prison. Just before the announcement of the judge's decision, the editor narrowly avoided an assassination attempt.
The data used to complete the rankings were collected with the help of an online questionnaire consisting of 87 questions, translated into 20 languages and distributed to specialists in the world of media, law and sociology. Questions relate to issues such as media pluralism and independence, censorship, transparency and the quality of media infrastructure.
The results of the survey, in conjunction with data analysis of abuse and acts of violence aimed at journalists, make up the World Press Freedom Index: the higher the ratio, the worse the situation in the country. The map found below illustrates current circumstances across Europe. Countries are divided according to their position in the rankings.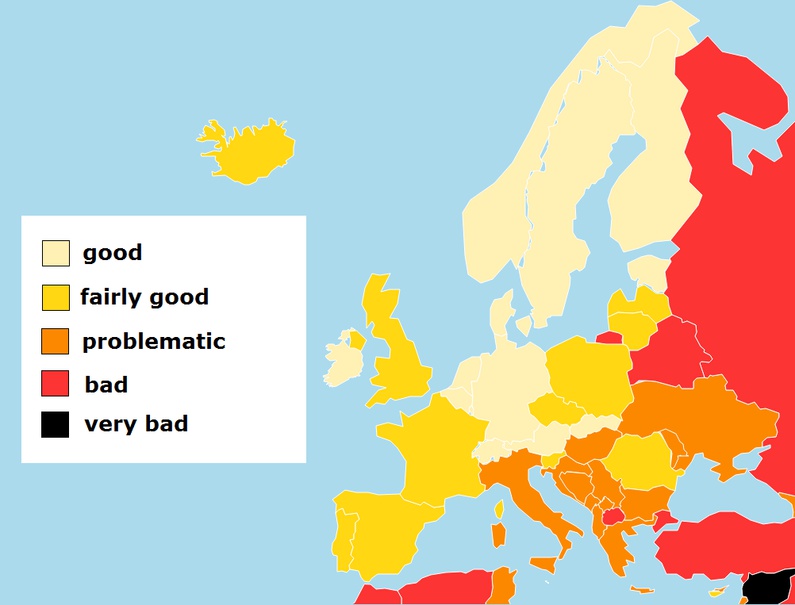 ---
This article is part of our Map of the Week series: charting the stats that matter to Europe, one map at a time.
Translated from Mapa tygodnia: wolność prasy w Europie