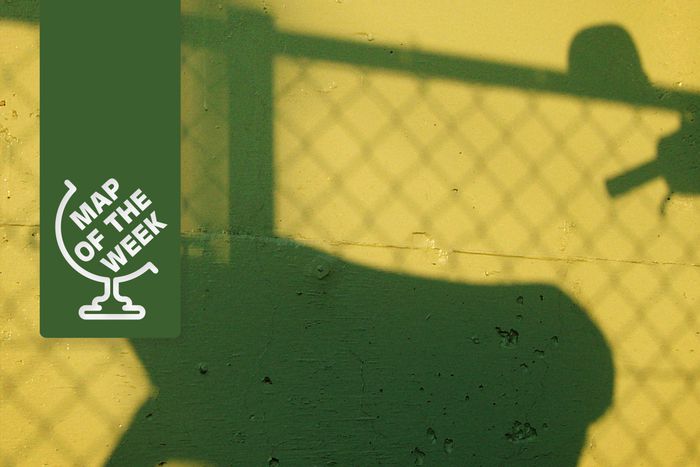 Map of the week: new walls for Fortress Europe
Published on
Translation by:
Nicholas Lanigan
Hungary is now planning to strengthen its border with Serbia against the flow of refugees. The situation in Europe is already reminiscent of a new 'Iron Curtain'. But the country is by no means the first to seal its borders against illegal immigration.
On 17 June, the Hungarian Defence Minister, Péter Szijjártó, announced that Hungary would use wire fencing to seal its 175-kilometre border with Serbia against the current flow of refugees. The news of the new 'Iron Curtain' spread like wildfire. It is no wonder that the right-wing conservative government of Prime Minister Viktor Orbán has long faced criticism for its xenophobic rhetoric and immigration policy. This is also shown by a current anti-immigration campaign by the Fidesz, which is intended to influence public opinion against immigrants and terrorists. 
But Hungary is by no means an exception. Several EU-border states had already fenced off their borders against the growing tide of refugees years ago (see map). At the end of 2014, almost 60 million people worldwide were on the move after having been forced to leave their countries due to violent conflicts or political persecution. These alarming figures are drawn from the latest annual report from the UN refugee aid agency UNHCR. 
Welcome to Europe
A particularly large number of refugees are streaming into Europe from Syria. What does 'particularly large' mean? Almost half of the Syrian population is on the move - that's 12 million people. Most of them, however, have found refuge in the neighbouring countries of Turkey, Lebanon and Jordan. In Europe, which altogether has 500 million inhabitants, so far just 250,000 Syrians have sought asylum. That's less than 2% of Syrian refugees.  In the future, those seeking to follow them will have to overcome a new, barbed-wire hurdle not just in Bulgaria and Greece, but also on the Serbo-Hungarian border. 
---
This article is part of our Map of the Week series: charting the stats that matter to Europe, one map at a time.
Translated from Map of the week: Neue Mauern für Festung Europa