Map of the week: European progress on same-sex marriage
Published on
Italy is one of several European countries where there has still not yet been any form of legal acknowledgement of the union of same-sex couples. However, following the historic Irish referendum, the situation could change at the end of the month. 
In 2015, the traditionally Catholic country Ireland took Europe by surprise by voting to legalise gay marriage, a result that led to renewed debate across the continent. In Italy the situation surrounding the recognition of the civil union of same-sex partnerships is now firmly back on the agenda. Still, hundreds of thousands of people marched in Rome last year with the aim of protesting against plans drawn up by the centre-left government concerning the formal recognition of homosexual partnerships.
Over the course of the year, three gay Italian couples successfully submitted complaints to the International Court of Human Rights in Strasbourg, as the courts judged that Italy had infringed upon their right to a private and family life. On the 28th of January, Italy will now come to a decision on the latest proposals of the Renzi government. Perhaps it will be the case that Chef Barilla – who was criticised following his comments in 2013 about the "perfect little Italian family who cooks noodles" – will ask himself again whether it won't be long before his adverts show two mummies or two daddies in front of his ovens.
As for the rest of Europe, some countries still assert in their constitutions that marriage is a sacred union that can only be between a man and a women. The majority of these countries are in Central and Eastern Europe: Poland, Slovakia, Romania and Bulgaria, as well as two of the Baltic States, Latvia and Lithuania. Here it remains impossible for same-sex couples to get legal recognition for their relationships. In Hungary and Croatia, some form of registration exists, though gay marriage is still not legalised.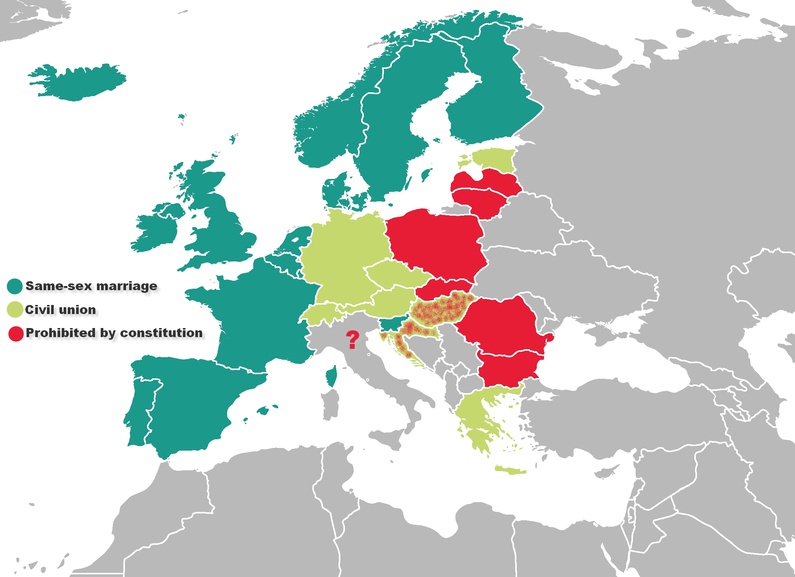 ---
This article is part of our Map of the Week series: charting the stats that matter to Europe, one map at a time.
Translated from Map of the week: Homo-wie jetzt in Europa?