Map of the Week: Europe is deeply separatist
Published on
Multiple peoples, multiple nations, one European Union. It's just too bad that, despite the dream of a united Europe, there are so many independence movements, many of them nationalist in nature, demanding greater freedom and in some cases even secession. 
Long live Europe (Brexit permitting)! But with a growing number of independence, separatist and nationalist movements, there is very little to cheer about. 
The UK leaving the EU has served as a catalyst to the already present call for independence in Scotland, but they aren't the only ones wanting to split from Her Majesty's Kingdom: there are also varying degrees of pressure to secede in Wales and Northern Ireland. However, we should not forget other milder forms of separatism scattered across the island, nor should we forget the cry for independence from the British London, expressed in a petition after the vote that confirmed the UK's exit from the EU. 
A similar picture can be painted in Spain. There are calls for secession in Catalonia, Andalusia, the Balearic and Canary Islands, not forgetting of course the violent separatist demands from the Basque Country, proclaimed in the not-so-distant past by ETA.
Basque nationalism also affects France, which also has to deal with separatist demands from Occitania, Normandy and Brittany, alongside aspirations for autonomy in Alsace and Corsica. 
In Central Europe, two cases stand out. Firstly, the Bavarian Party in Germany wants Bavarian independence as part of the EU, and secondly, the historic ethic and cultural conflict in Belgium between Wallonia and Flanders, which has so far been resolved by a total division of the two regions in every sense, including language. 
Even in Italy there are calls for independence and demands for autonomy. There's something for everyone: from independence movements in Venetia to demands for autonomy in Padua from the Northern League, through to genuine secessionism in the nineties due to the desires of residents of South Tyrol to reunify with Austria, and finally, Sicilian and Sardinian nationalism. 
Looking to the east, it's easy to see the separatist forces at play in eastern Ukraine, in the regions of Donetsk and Lugansk. This is without even taking into account the precarious situation in former Yugoslavia, which is clear to see in the current state of Kosovo: it doesn't recognise its ties to Serbia and is an independent entity, even if it is not universally recognised as such.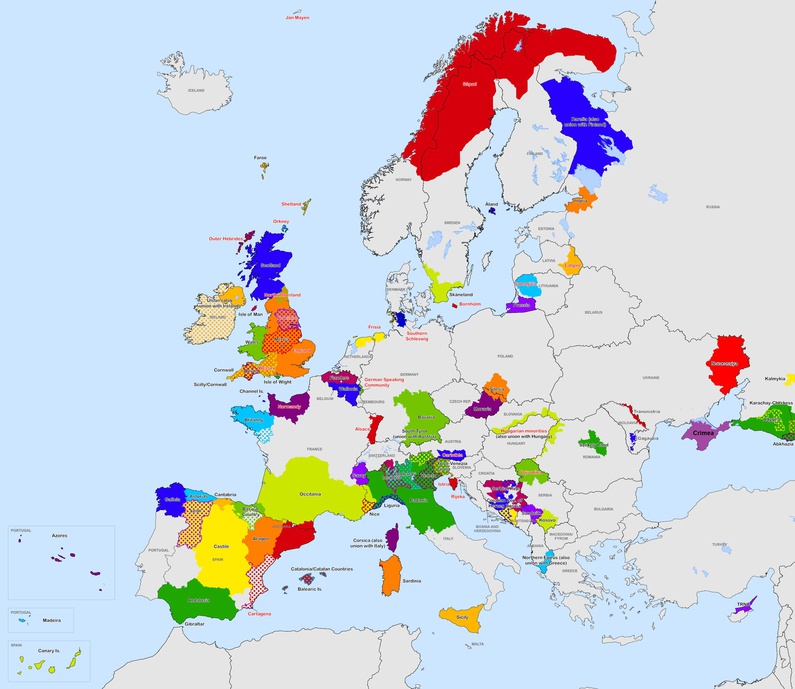 ---
Click here for the map in its original resolution. The map tracks separatist and secessionist movements and movements that call for recognition as national minorities. 
This article is part of our Map of the Week series: charting the stats that matter to Europe, one map at a time.
Translated from Mappa della settimana: l'Europa unita è profondamente separatista