Map of the Week: Does Europe participate? Or put its feet up?
Published on
It can't be denied that Brexit has sparked off a renewed interest in EU politics, to an extent that we just haven't seen in recent years. The contrast between citizens' participation in the most recent EU elections and the previous ones is striking. We take a look at 2014.
Europe is great, but its political institutions seem in a disastrous state. The Brexit vote has surely kick-started a debate across the continent about the current state of the Union's affairs, but there's little doubt many EU citizens seem to have forgotten how few people seemed, just two years ago, to be actually interested in the institutions they now so berate.
Cast your mind back to 2014. That was when you were last given the opportunity to shape Europe's political future. In our latest Map of the Week, we compare the participation rates of citizens in different countries at those European elections.
Two years ago, the English electorate expressed a rather modest interest in their European elected representatives. At the time, only 35.6% of the population cast their votes – yet this number nearly doubled to 71.8% in the Brexit referendum.
It seems that some of the member states that joined the European Union post-2004 are struggling to accept their European identity. Voter turnout was the lowest in Slovakia, where only 13% of eligible voters filled in a ballot. Belgium and Luxembourg had the highest turnout, with over 85%. Perhaps a smaller Union could have its benefits...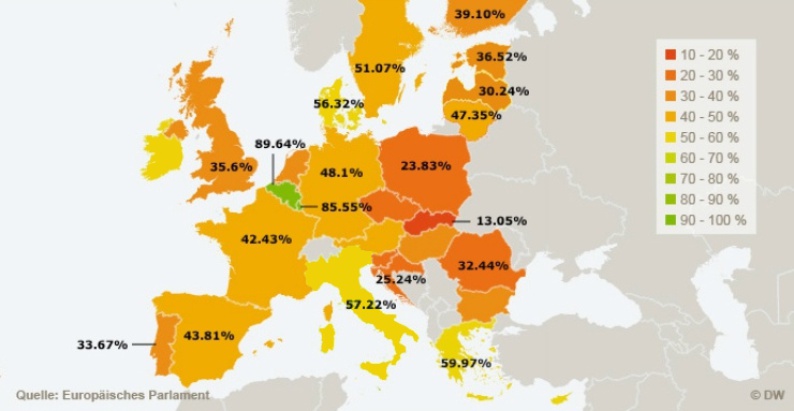 ---
This article is part of our Map of the Week series: charting the stats that matter to Europe, one map at a time.
Translated from Map of the Week: Machen statt Motzen