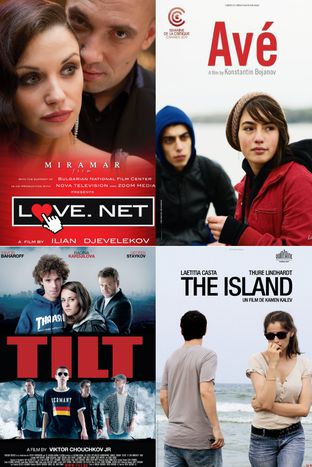 Lowdown on Bulgarian cinema in 2011
Published on
Of the at least dozen films released in Bulgaria this year, two were screened at the Cannes film festival whilst seven were backed by the national film council. Here's hoping for a better 2012
For the first time since 1990, Bulgarian cinema was well mediatised in France in 2011 after two films were screened at the Cannes film festival. The Island by Kamen Kalev was in competition in the 'directors' fortnight' category, whilst Avé by Konstantin Bojanov was shown in the 'critic's week' section – both have been bought for distribution in France. Love.net by Iliyan Djevelekov was presented to the market whilst Doroteya Droumeva's debut film The Letter picked up the top prize at the Cinéfondation awards on 21 May 2011.
Read 'Sofia's directors and playwrights boom despite barebone budgets' featuring an interview with Kamen Kalev
The Island was filmed in France as well as its native Bulgaria, and could well be the European film par excellence since its main actors are French (Laëtitia Casta) and Finnish (Thure Lindhardt). The film depicts a couple holidaying on a small island in Bulgaria and finding themselves fast disconnected from the rest of the world, as well as themselves. Kamen Kalev, a popular young director in Bulgaria, already tasted 'directors' fortnight' success in 2009 with his debut film Eastern Plays. The film features the characters of two brothers living in a suburb of the capital Sofia, one an artist and former drug addict, and the other an extremist. In playing the first brother Itso, Hristo Hristov's acting was not far removed from reality, as the character is based on his former life. Ovanes Torosyan plays the second brother with the safety cape of fiction, nevertheless reflecting a disenchanted youth which is a recurring theme in current Bulgarian cinema. Torosyan also takes on the lead role alongside Anjela Nedyalkova in Avé, starring as two young people on a road-trip through Bulgaria.
Love and youth central themes
Bulgaria's youth are also the themes of other films released in 2011 such as Podslon by first-time director Dragomir Cholev, Sneakers ('Ketsove') by Ivan Vladimirov and Valeri Yordanov and Lora From Morning Till Evening ('Lora ot sutrin do vecher') by Dimitar Kotsev. In Tilt from brothers Viktor and Borislav Chouchkov, Stash (Yavor Baharov) and Becky (Radina Kardjilova) are two old friends who dream of opening up their own bar before the fall of communism. In the period of tough political transition that ensues the story follows them as they fight for their love – revealing a second recurring theme in Bulgarian cinema. Youth, political transition and its recent past aside, Bulgarian cinema is bursting to the seams with the metaphysical. Footsteps In The Sand ('Stypki v pyasyka', 2010) by Ivaylo Hristov is a tragi-comedy on Bulgaria's changing regimes.
A good dozen films were released in Bulgaria in 2011, but Bulgarian cinema is still suffering from financial troubles. The Bulgarian national film centre executive agency could only support the production of seven movies in 2011 compared to the 28 it backed across all genres in 2010. The future of Bulgarian cinema could lie in co-production, as was the case in a pan-European frame with Eastern Plays and The Island, which were both made with Sweden. Stefan Komandarev's The World Is Big And Salvation Lurks Around The Corner ('Svetat e golyam i spasenie debne otvsyakade', 2008) was a festival favourite which was co-produced with Slovenia, Germany and Hungary. French and Bulgarian culture ministers Frederic Mitterand and Vejdi Rachidov even signed a co-production accord on 22 September, so things are looking up in this part of Europe for Bulgarian cinema at least. The quasi-absence of distribution is the other real problem which young Bulgarian cinema is dealing with. In Sofia, only three cinemas regularly screen European films. Outside of the capital, art cinemas are harder to find. It's nice then to know that films of excellent quality which address the present as well as the past are still being produced.
Images: main © http://www.themovielove.net/; videos via youtube
Translated from 2011 : le cinéma bulgare a la banane !