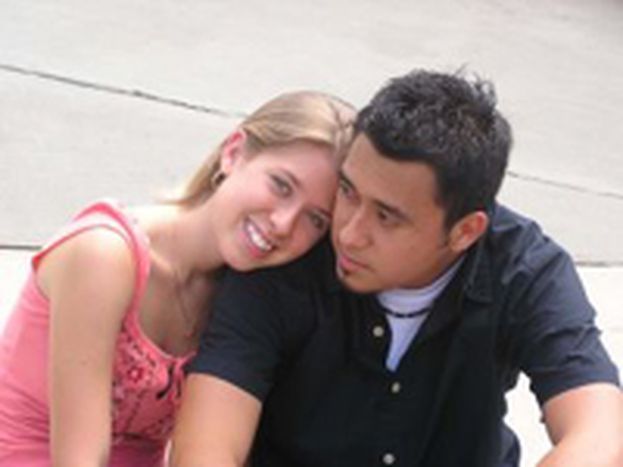 Love with no borders – the future of lovers in Europe
Published on
Translation by:
vicki bryan
Since the gift of the Erasmus exchange programme, more and more young Europeans have fallen in love abroad. But on return to their home countries, euphoria soon gives way to everyday problems. Three couples tell their story.
Guillaume could not have wished for a better opportunity to talk to a tall, slim blonde- Henrike had rented the attic room in his mother's house for 6 months, she had only just arrived in France and would have been feeling incredibly lonely. So, even though all he could hear was his heart pounding loudly, Guillaume plucked up the courage to ask the attractive German exchange student if she would like him to accompany her on the way to her first day at the university in Tours. A few weeks later, they were a couple.
Tongue twisters and skinny-dipping
The first tender declarations of love had a somewhat cryptic quality to them. "You cannot exactly ask someone for a vocabulary list when they are in the middle of describing their love for you. Feelings cannot be explained just like that", smiles 23-year old Henrike. It took her no end of time to teach Guillaume the perfect pronunciation of the word 'Schätzchen', the tongue twister of a German word for 'darling'. Nevertheless, Guillaume has taken up the challenge of learning German. Sometimes he mixes the long-winded German words up, but then, who wouldn't?
Both of them notice cultural differences in even the slightest things. For example, Henrike only learnt the varied and extremely vital polite forms of French speech slowly and through several rather embarrassing faux pas. "I also had to learn not to rush straight into things", she says, "but get used to waiting longer to order in restaurants, for example." Guillaume, on the other hand, was upset by the way in which Henrike and her female friends splashed around naked in Dresden's lakes, an activity that seems perfectly natural to most Germans. "I had to drag him to a nudist beach near Berlin, so that he could understand for himself. Now, he is a complete advocate of naked bathing", giggles Henrike.
Across Europe between a floor lamp and a bookshelf
It started perfectly for our next couple: Parisian Rachel and Lukas from Prague got to know each other as Erasmus students in a café in Leipzig in 2002. After returning to her studies in Paris, Rachel worked several evenings a week, often falling asleep in her lectures the next day, in order to be able to visit Lukas every two months in Prague. Lukas also did the same. The two now have some great stories to tell of the long journeys between Paris and Prague which they organised through the 'Mitfahrzentrale', a German association that puts young European travellers in touch with each other to share the journey. "Once I travelled with a German lad who had crammed everything he owned in his car. He was moving from Prague to Spain. I spent 12 hours trapped between a floor lamp and a bookshelf", laughs Rachel.
But everything has changed since Rachel finished her degree. She would like to do some research, perhaps on French literature of the Middle Ages or on political theory. However, as a first-time foreign student she has been refused a research place at the Charles University, mainly because her Czech is not good enough. But it is also the university in Prague that offers Lukas the best prospects for his future – he has already been offered a place to do a doctorate there. However, Rachel does not intend to draw the short straw. "Why is it always women who are expected to follow the men? What is the point of my studying if I am not able to get a job afterwards?"
The couple long to return to their carefree Erasmus days. At some point, however, they are going to have make decisions that will alter the course of their lives. "You cannot go on dreaming forever", sighs Rachel.
Clashes with the mother-in-law
You cannot possibly imagine a more European couple than Liv and Kostas. The German woman and the Greek man met in the English town of Bath, where they were both following the Euromasters course. They were married in October 2004 and now have a baby. Liv and Kostas do not find the fact that they speak to each other in English a problem; "It even has its advantages – you choose your words much more carefully. People speaking in their mother tongue can simply blabber away sometimes. It is more important to focus on what is behind the words", says Liv.
The family back in Greece found it an absolute scandal that their son had had a child outside of wedlock. Kostas' mother would have preferred them to get married before the baby was born. Clashes with her mother-in-law are becoming more and more frequent, particularly as Liv finds her over-bearing nature hard to take, "She fusses around my son so much that sometimes I feel as if I am just the babysitter." When Liv and Kostas were choosing a name for their child, they wanted something that everyone would be able to pronounce. Greek tradition, however, demands that the baby receives his grandfather's name, but Liv thought this idea was terrible. The baby's name is therefore Gabriel Nikolaos. It annoys Liv that in Greece they only call him Niko. She admits she should have been more sensitive, but still believes that the difficulties can be overcome. She is looking forward to the exciting future that awaits the young family, no matter where, no matter what culture.
Translated from Liebe grenzenlos – Das Europa(ar) der Zukunft