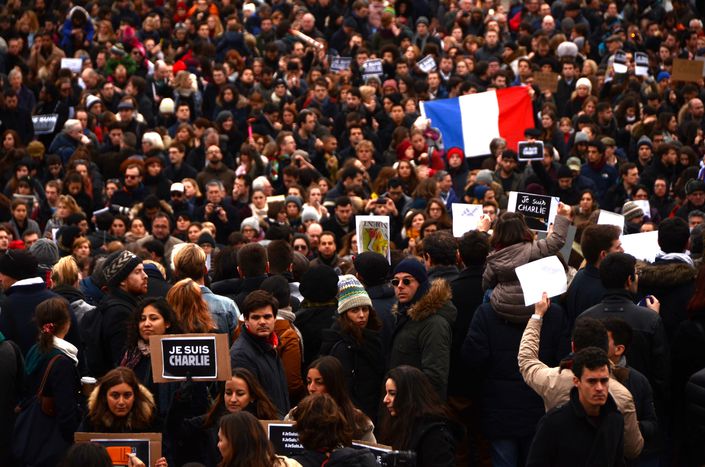 London Remembers Victims of Paris Attacks
Published on
Under grey skies and evening sleet, France was in London on Sunday, as the Tricolore colours lit up many a London landmark, flags flew at half-mast, and fountains flowed red, white and blue. A summary of what happened where in London on a day when London, Paris, and the rest of the world, remembered France's fallen heroes.
Trafalgar Square was the place to be on Sunday to remember the victims of Wednesday's attacks in Paris. You could either stand and clap with the crowd, and perhaps glimpse Nick Clegg toss a penny to represent your country on the chalk-drawn flags provided, or lay down a pen(cil) on the citizen-made memorial, just in front of the National Gallery.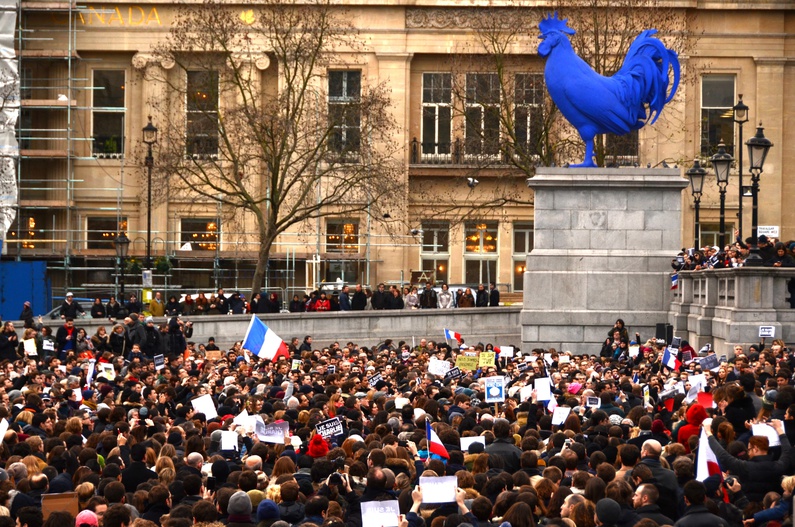 But it wasn't just the citizens doing their thing. Visitors could also admire the huge blue coq, which, for the occasion, had taken its place up on the Fourth Plinth. The flag on Victoria Tower, on the corner of the Houses of Parliament counterweighing Big Ben, could be seen fluttering at half-mast. As darkness descended, the fountains were both illuminated, throughout the evening, showing double combinations of the colours of the Tricolore. The latter flag was also projected onto the walls of the National Gallery, in full view of Lord Nelson, who must, I'm sure, have turned in his grave today.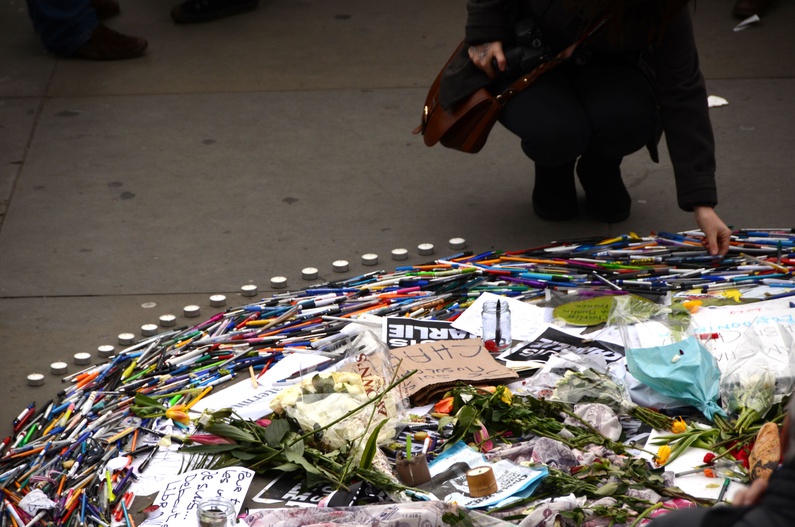 Elsewhere in the capital, graffiti artists made sure East-London street art included a (very fair) depiction of Charbonnier's face, along with the everlasting slogan "Je Suis Charlie" scattered on walls around Shoreditch and Hackney.
Tower Bridge had its own light show going, the Tricolore lighting up the towers one colour at a time. The London Eye went dark at some point, then burnt blue for the rest of the evening.
So it was not only London's citizens, but also its authorities who took steps to ensure London stood with Paris in spirit and deed as it remembered France's fallen victims, the brave vanguard of Western freedom and free-speech.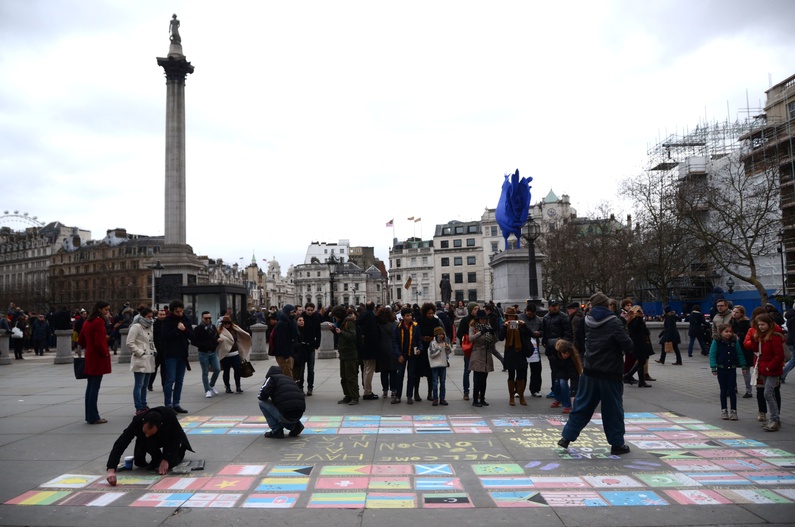 On Sunday January 11th 2015, London too, was "Charlie". As one Tweeter (an accountholder called Will Antonin) tweeted, "I wonder who we will be tomorrow, and stand by next week"? Will there be a demo to support Mohamed Cheikh, condemned to death for simply criticising the Mauritanian authorities' policies promoting slavery and a caste society? Or for Raif Badawi, a blogger sentenced to ten years in jail and 1000 public lashings in Saudi Arabia for setting up a forum for debate and for apparently insulting Islam?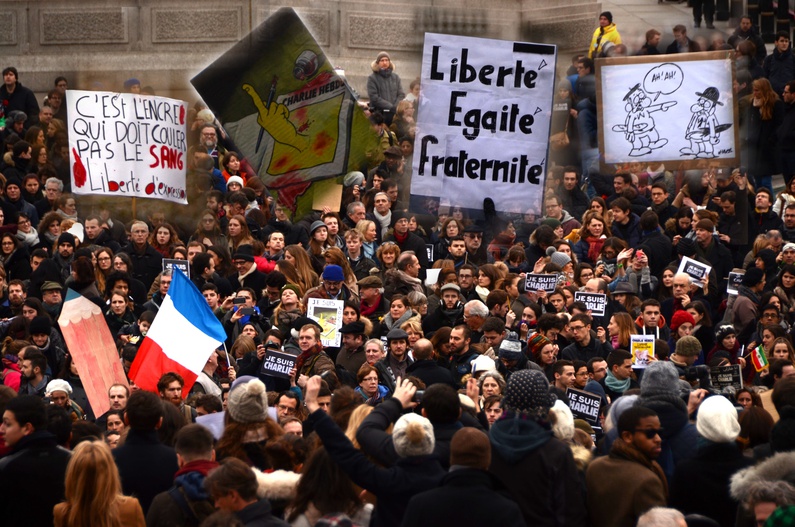 What I dislike most about this whole affair are the heads of state pushing their narrative that 'they', the enemy, will not win because 'we' stand united etc etc ... those cartoonists, police officers and those taken hostage might still be alive if France had healed its wounds with Algeria sooner, and if Western states stopped supporting corrupt regimes or invading countries in the name of 'the War on Terror' they helped to create. We are blind citizens who choose to accept such narratives and choose not to learn more of those 'foreigners' we welcomed into our democracies. There must be better alternatives. History does not lie, and if we do not learn from it, we will learn the hard way again and again, and politicians will take advantage again and again. But enough. Call me naive, after all.
A very eventful week comes to a close, here in London too, in pictures: