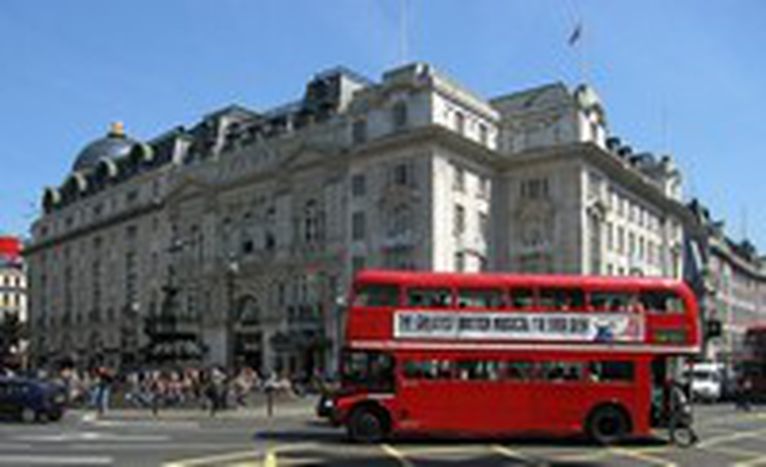 London, buzzing and bizarre
Published on
Translation by:
amy daw
In January, Oxford Street is swarming with people from all corners of the earth. You cannot help but feel at home.
London is a zoo in which the urban tribes and the solitary extraterrestrials never cease to surprise me.
A Circus in more ways than one
The Underground is full of pseudo Chris Martins, Lennons and even confused Mick Jaggers. Above ground, Phil, the radical Christian who loiters at Oxford Circus, shouts into his megaphone that we "need Jesus in our lives". Meanwhile, British Hare Krishna devotees (indistinguishable from followers elsewhere in the world, except they are squeezed into overcoats to keep out the cold) annoy the Nike shop assistants with their chanting. Another striking example of eccentricity is the loner to be found leaning against the railings by various traffic lights, with a far away look in his eyes. And then, of course, there are the fashion victims that defy winter with their revealing summer dresses, strolling along Oxford Street dressed almost as they were when they first came into the world.
Authentic London
But the tourist trap of Oxford Circus and its environs, however entertaining, is not the real London. Indeed, the beauty of London is, perhaps, that there is no one part that is representative of the whole city. From the upmarket areas of Notting Hill and South Kensington to the ethnic Brick Lane; from Clapham in the south to Camden in the north, the capital is best described as a collection of villages, each of which has its own personality reflected in the houses, shops and people. To get around these disparate zones, we included in our survival kit a map of the bus routes so as to avoid the tube which, apart from being expensive, functions badly: there are regularly hold-ups and you have to find your way in its labyrinth of corridors and trains.
Polite to the extreme
But wherever you go in the city, there are some things that don't change. If we Spaniards go to a pharmacy with a cold and tell them we are constipado (blocked up), instead of aspirin they give us a laxative. Apart from making sure you know your linguistic false friends, it is also advisable to learn the basic rules of British public-spiritedness: queue for everything, even walking down the street. Don't try to jump the line: it is impossible because people insult you, shove you and try to trip you up. Also, make sure to apologise for everything, even when you haven't done anything wrong, it goes down well. Elton John was wrong: 'sorry' isn't the hardest word to say, rather a word used all the time without any reason.
Meanwhile, the rain alternates with afternoons when the sun sets just behind Big Ben and it looks like thousands of tower blocks have caught fire. When it is sunny, London changes within minutes: suddenly the parks fill with people strewn across the grass and children on scooters with rosy cheeks making a racket. It doesn't matter that it is cold, the main thing is to be out in the street. So we can see that London is a lively city and from the sober buildings in the centre – grey and imposing – emerge a stream of people eager to shop, go for a stroll and in search of fun.
PRACTICAL INFORMATION
Language
Everyone speaks English, don't they? If you're one of the 'exceptions' make sure to invest in some lessons because you're unlikely to get anywhere with any other languages.
Universities
In a city this big, there are lots. Among the most prestigious are the London School of Economics (LSE) and University College London (UCL).
An original place
Asia de Cuba (St. Martin's Lane): one of the most innovative restaurants in London. Decorated by Philippe Starck, the combinations of food take creativity to the limit.
To do
Shopping. For those of you with cash, get to the Kings Road. If you're on a budget, try Portobello and Camden Town markets.
Not to do
Don't go to the pubs at 22:00. They close at eleven and everyone is already drunk.
Accommodation
Wherever you are it will be expensive, but on the up side there is lots of choice. Aim for areas such as Clapham or Islington which are outside the centre but good places to be in themselves. Try university notice boards for house-share opportunities – you are unlikely to be able to afford to live on your own.
Translated from Londres: todos caben en la ciudad destartalada