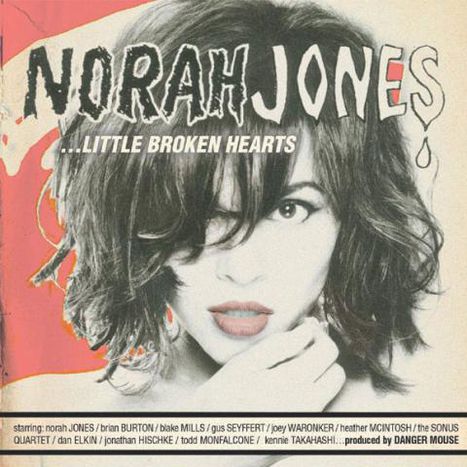 Little Broken Hearts: Norah Jones' musical road movie
Published on
Translation by:
Tansy Larsen
Ten years on from Come Away With Me – which saw over 20 million copies sold – and following a number of jazzy records, Norah Jones released her fifth album on 1 May. In the wake of success as well as heartbreak, the brunette songstress, 33, has created a dramatic and intense album
A Cadillac crosses a North American desert. The woman at the wheel has a gentle, serene face. Her lips form a mischievous smile. It's the opening scene of the film, but the end of a story. The audience members ask themselves: what could she have possibly done to have such a curiously wicked smile on her face? Escape? Murder? Such a scene could easily accompany Good Morning, the opening track of Norah Jones' latest album. It's a song that heralds a fresh start after a string of troubles, false hopes and heartbreaks. It's with this calm tone that the character's agonising tale is told…
Good girl, man killer
Produced and composed in part by Danger Mouse (of Gnarls Barkley fame), Little Broken Hearts is still a bit on the smooth side, but overall less easy-listening piano jazz than Jones' previous offerings.The album is fit for the soundtrack of a classic American road movie, described by American songwriter magazine as 'the most dramatic and rewarding departure she's made in her career.' Jones also plays the guitar and bass throughout the album. Her change in musical direction can even be seen within a single song, the rather sombre and violent Take It Back; it opens with a tune being played on the piano, and then in comes the guitar, which rapidly dominates the track. Norah Jones had moved towards a more folky sound with The Fall (2009), whereas this latest record delivers bluesy beats with a hint of melancholic, hypnotic pop.
Her long-time fans might well be disappointed, but the velvety vocals of Ravi Shankar's daughter certainly haven't lost their power. In fact, the opposite is true. Her recent painful experiences – in short, another woman stealing her man – lend her voice an intense and sometimes disturbing strength. The result is a sound not dissimilar to Cat Power. Don't let yourself be misled by the single Happy Pills and the sweet and impish first two tracks of the album; the rest of it is obscure, dark, even chilling. Taking a peek at the clip of Happy Pills, we also see the brunette lose the good-girl persona and kill the man who cheated on her, knocking him out with chloroform and leaving him to drown in a lake. All without a trace of emotion on her face.
Angry chick flick road movie
In this fifth album we witness an angry and vengeful Norah Jones exploding in a calm, meticulous and classy way. It's no accident that the album cover was inspired by Mudhoney (1965), a film by the fabulous American auteur Russ Meyer, whose forte was creating female characters that were both gentle and Machiavellian. Little Broken Hearts has this cinematic quality to it that makes you feel as though you've been transported into a tough-chick road movie. The songs cover every emotion, from anger to resignation, and every kind of scenario possible when it comes to break-ups and the suffering that ensues.
'The songs cover every emotion, from anger to resignation'
The album echoes the sweet and peaceful side of road movies, like the film My Blueberry Nights featuring Norah Jones herself, in the ballads Travelin' On and Say Goodbye, or the tougher Thelma and Louise side in Out On The Road. Sounding menacing and hungry for revenge, the heroine becomes a kind of Beatrix Kiddo (Kill Bill protagonist) in the eponymous track Little Broken Hearts and Miriam. In the latter, the woman gets revenge by killing the woman who stole her lover (just after the poor bloke had been murdered in Happy Pills!). Without a shred of remorse, she congratulates herself for her deed with disturbing delight: 'Oh Miriam / That's such a pretty name / And I'll keep saying it / Until you die.' It's amusing but incredibly creepy.
The album closes with, a lingering final track in which the woman realises she has lost everything. With painful resignation she recognises that the romance was only a dream: 'My stomach starts to churn / And the curtains in the wind begin to burn / And now I know it's all a dreamAll A Dream.' So what becomes of the woman driving the Cadillac? She has left everything behind her, she's serene and fulfilled. She has simply crystallised her resentment into a musical work of art.
Released on Blue note/EMI
Images: courtesy of official Norah Jones website; videos: 'Little Broken Hearts' (cc) SexReflex , 'Happy Pills' (cc) norahjones/ both via youtube
Translated from Little Broken Hearts : le road-movie musical de Norah Jones