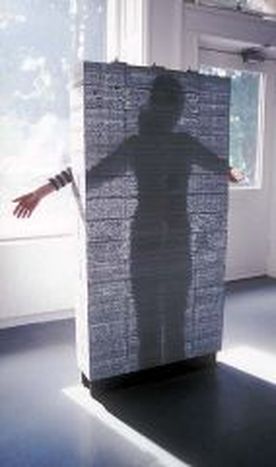 LiTraCon has lighten buildings up!
Published on
Áron Losonczi won Ernst & Young "Innovator" award for 2008 and this prestigious award was mostly thanked for his invention, the light-transmitting concrete which is a translucent concrete building material, made of fine concrete embedded with 4% by weight of optical glass fibres. The idea of creating this innovative building material came in 2001 during his postgraduate years in Sweden.
His company LiTraCon was founded in 2004, and located in Csongrad, Hungary.
Since then, LiTraCon has been invited to various exhibitions all around the world and thousands of international articles have been published about it. Even the Time Magazine calling LiTraCon the most significant invention of 2004 which brought fame to its inventor. It also won various design awards e.g. red dot: best of the best (Germany), LEAF Award (UK) for Best Use of Innovative Technology and Thoughtful Design in a Small Scheme and iF Material Award (Germany). No other Hungarian product has ever been granted these awards and prestigious titles before. Anyone, however, can marvel at this special material in Komárom in northeast Hungary, where a public sculpture called the "Gate to Europe" was built from Losonczi's world-patented fibre glass concrete in 2005. The new invention can also be seen in Washington's National Museum of Architecture, where a sample of the LiTraCon produced in Csongrád is on display and used in award winning Iberville Parish Veterans Memorial, Louisiana, USA.
According to NationMaster Encyclopedia, the usage of LiTraCon is fitted into the concept of New Brutalism which is an architectural style that spawned from the modernist architectural movement and which flourished from the 1950s to the 1970s. The early style was inspired largely by the work of Swiss architect, Le Corbusier.
Although the invention is protected under the Swedish patent law, other patents were to be pending in other jurist regions until September 2008 when the Munich Court has made his decision in the favour of the Hungarian innovator. The Court stated that the HeidelbergCement (HeCe) AG, a German cement multinational company, pursued an infringing act by using and representing the light-transmitting concrete as one of its own invention. The decision was preceded a long and complex legal procedure which was commenced in 2006 and finally settled down last year with this appeasing verdict and giving complete patent protection for the LiTraCon internationally. We should not expect, however, to see the cityscapes transformed into lightening buildings just yet. Production costs and the optic fibre content currently make this a luxury product but Áron Losonczi looked forward to being able to reduce its cost. Áron Losonczi not just received the honourable award from various professional fora but is one of the 23 ambassadors appointed for Creativity and Innovation by the European Union in the framework of the thematic year 2009, dedicated to Creativity and Innovation.
You may find an exhausted and detailed article about the legal dispute in Hungarian on the website of Népszabadság here.
Read more about the Year 2009 of Creativity and Innovation here and about the ambassadors here.
About the European Patent protection for LiTraCon you may find a technical overview here.
Read more about the invention from Áron Losoncz on the website of Építészfórum (Artcitect Forum) (in Hungarian) here.