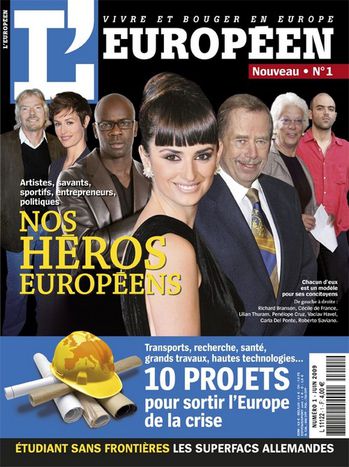 'L'Européen': new French magazine breaks down concept of 'Europe'
Published on
It's defined by a 'French-speaking readership aged between 35-55 who travel at least once a year in Europe'. It launched as a print magazine before the European elections in June 2009, its cover gracing an image of Penelope Cruz amongst others. Now the English e-version of 'The European' is en route, offering you the chance to get 'better acquainted' with your EU neighbours.
More from chief editor Renard de Chazoumes
At the end of May 2009, the media landscape was covered by the European elections; the editorial staff of the magazine L'Européen preferred to run a story on 'Our European heroes' on its front page: Pénélope Cruz, Cécile de France, Lilian Thuram, Carla Del Ponte... Incumbent EU commission president, the Portuguese Jose Manuel Durao Barroso, is the figurehead of those who say nothing. The choice is announced by this new colour editorial press title as Europe 'on a day-to-day basis'. The monthly, French-language magazine consisting of a hundred or so pages is crammed with unedited reports, and is available at newspaper kiosks. They've also been allocated their own website. Renaud de Chazournes, the editor-in-chief, tells us more on this new private initiative. 
Whilst the written press seems to be crumbling around us, is it not somewhat utopian to launch a new European magazine?
The economic model of a basic website is not easy to support without grants. We have therefore started off with a 'bi-media' model. The printed press costs a lot but it allows us to gain an additional exposure aside from that of the site we're developing at the same time. Regarding the latter, there are original papers and more breaking news to complete the magazine. The site will be available in English soon too. It remains that the two are designed to compliment each other. If the reader visits the site, they will be able to buy the magazine too on a day when they will need to take a train journey, for example. As far as our finances are concerned, we maintain our independence; we don't benefit from any subsidies and none of our investors hold more than 10% capital either. These small investors – French and Belgian – are 'business angels' who are spending a tidy sum for sure, but above all they see sense in our project.
Where is your magazine on sale and what are your sales targets?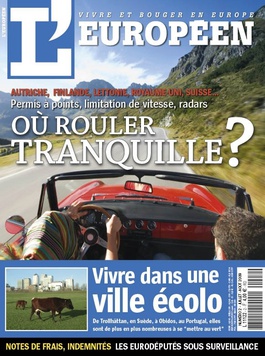 Aside from France, where we are selling well, L'Européen is on sale in Brussels; in the city centre essentially. We have sold several thousand copies in Switzerland and have responded to several requests from Portugal and Canada too. We have already amassed several thousand subscribers and have set ourselves the target of 45, 000 copies in total (kiosk sales and subscriptions). According to a study carried out by Ipsos, our readership is French-speaking, between 35-55 and travel at least once a year in Europe. As this is a relatively mature age group, that's why we added a section called 'l'étudiant sans frontiers' ('students without borders') and developed the website to attract more young people. We only have estimates at the moment but at the moment we're happy with the initial figures.
Tell us about the concept of the magazine.
Our aim is to show this disembodied Europe in in all its glory. Our slogan is vivre et bouger en Europe ('living and moving around Europe'). We are interested in Europeans, and more so in European politics. Cultural status is changing a lot, as well as starting businesses and the environment too. We talk about those things accordingly. We are 500 million Europeans who are facing similar problems. By inspiring our neighbours, we are able to find solutions to our concerns.
We are 500 million Europeans facing similar problems. By inspiring our neighbours, we are able to find solutions to our concerns
We have a comparative approach and our 22 correspondents in Europe reel in information for us. For example, in issue two we wrote an article on road safety. In certain EU countries there are two to three times fewer deaths per kilometre covered than in others. In France, we opted for speed cameras, but in the Netherlands they removed a number of road signs and even traffic lights!
How are current affairs in the EU handled?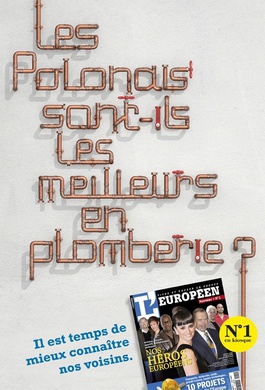 We speak of decisions for Europeans specifically those really concerning EU citizens. Take the EU parliament elections in June 2009 - we spoke of them but only to highlight the fact that they were still not very 'European'. We speak of the facts and not of the institution. Europe is suffering by selling itself with Barroso on the cover. Our aim is to show this disembodied Europe in in all its glory. Personally, I think that the founding fathers laid the foundations of Europe which is becoming a reality day by day through mutual exchange, whether we are federalists or not. I noticed that the middle ground between French media and culture makes us live in a closed-community; it's essential we create a European one! To put it briefly, I want to share this belief of Europe as being our whole world on a daily basis.
What is your craziest dream for L'Européen?
For it to make an echo around Europe, for other clone magazines to be born from this project around the continent, and finally for non-French speakers to also benefit from it.
Translated from Renaud de Chazournes : « L'Europe ne se vend pas avec Barroso à la Une »