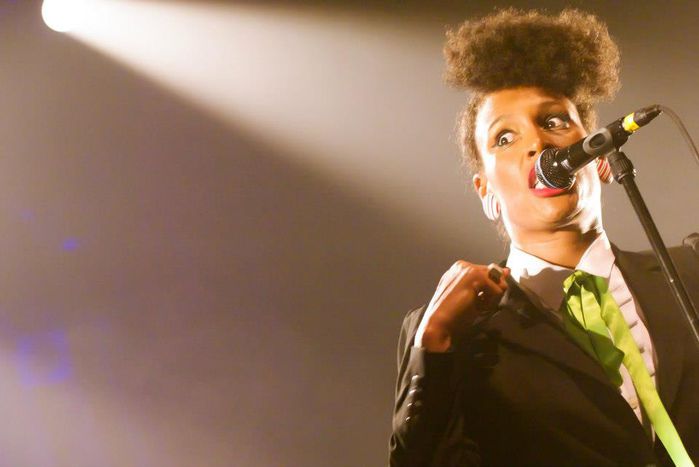 Les Nuits Européennes
Published on
To kick off the Nuits Européennes Äl Jawala and Electrik G.E.M come to Offenburg By Séverine Guthier and Aleksandra Lendzinska
It is 7pm. In the Offenburg Riding School the final preparations are taking place. In the former exercise hall of the French armed forces you can hear both French and German instructions. Everything is perfect.
The chairs are out, the lights are working and the sound is promising. We meet with Jean-Etienne Moldo from Arcane 17, Organiser of the 13th Nuits Européenes in Strasbourg and Offenburg. He seems slightly nervous but very confident.
To the interview on Radiodistrict by Aleksandra Lendzinska…
"The idea of the festival Nuits Européenes is to use music to discover Europe. How do you show people that Europe is not complicated or something to be scared of? Instead, Europe is something that we should be optimistic about. We are using music as a means of communication that can be understood all over the world."
While we speak with Moldo, about the planned programme of today's opening evening and the next five days, an audience slowly but surely gathers outside the door. The audience are mainly from Offenburg and have been lured by the "Elektrik Grand Ensemble Méditerranée (Electrik G.E.M.)" with expectations of a Mediterranean evening. And with good reason. The young French band Electrik G.E.M. have come with good intentions. Guests from Strasbourg and Mulhouse have also come for this evenings events. "Actually it's not that far" said a young guy from Strasbourg, who admits he rarely goes to Germany just for a visit. Overall, the audience is mixed. They are looking forward to this evening, looking forward to enjoying the relaxed and friendly atmosphere, even if they do not know which language to communicate in. "It has not always been like this", noted one guest, "Such a simply terrific evening –moving forward while looking back to history. We must keep building bridges. We want to be able to cross the European bridge from France to Germany, we want to be able to show that others can easily come to us. I look forward to a Balkans evening!" A young couple from Strasbourg are looking forward to the second band of the evening "Electrik G.E.M.". In their opinion such an evening should take place more often as there are too few opportunities to get to know music and bands from other countries.
"We want to get artists from other countries known here, to offer people an enjoyable and exciting evening and also discover new bands," said Moldo. The programme Nuits Européenes, which will run until the 18th October, is very varied. For example, after the Franco-German evening this Saturday, on Wednesday 15th October there will be a Russian evening. There will also be music from the Norwegian artists Bjørn Berge, Jewish music from the American David Krakauer, Solvenian music from Longital and Slovakian music from Terrafolk. Moldo is particularly looking forward to music from the East because it is so unknown. Proof that the programme works well is the band from Freiburg, Äl Jawala. Their music combines typical sounds and rhythms of the Balkans with modern Funk, Jazz and Electro.
8pm, people stream into the riding school which has a very special atmosphere. The artists are very satisfied with the technical equipment. Coincidentally we come across one of the band members of the young French Band, "Electrik G.E.M."- not difficult really as there are 14 members. Soon after we meet the other members of the bands who are eating in Pascha, a small pub just behind the riding school. Yves Beraud quickly puts his cutlery to one side and accompanies us outside, where we have a question and answer session. He plays the accordion, which initially confuses us, because the likeable young man with his short modern haircut does not look like a typical accordionist. The 'Elektrik Grand Ensemble Méditerranée' is a good project for young talented musicians. They see themselves as musical travellers in the Mediterranean. They draw up new borders to jump over. The whole Mediterranean region regards them as one big metropolis as they play so many different sounds and styles, from gypsy music, modern rock to strange sounds from the Maghred. They unite their musical traditions and modernity to create a new harmony. For them, this festival is "a good opportunity to get known in Germany", said Yves Beraud. Because, although Germany is quite close, I never go there. I think that will change in the future".
9pm - The stage is free for Äl Jawala and their Balkan Beats. The riding school is well attended and the audience listen relaxed to the music of the young, unknown band on the stage. By the second song peoplehave got out of their seats and the audience mix on the stage. By the end not even the 70 year old woman from Cottbus is in her seat. She mixes with the dancing audience and dances equally elated.
The music from Äl Jawala is intoxicating. Both happy and sad, it is full of emotion. You can understand what the saxophonists, Steffi Schimmer and Krischan Lukanow, want to say when they talk of their struggle. Defiant and angry, like a discussion between a child and his mother, and in the end the mother gives up with a smile and the son wins. Quieter sounds begin. The didgeridoo, played be Daniel Pellegrini, starts. Contemplative sad sounds rise up to euphoria. The Frenchman, Daniel Verdier, animates the audience, getting them to sing along to the rhythms and then the bassist plays a solo. Then there is percussion dual between Markus Schumacher and Daniel Pellegrini. Five characters, each has their freedom, all play a game on their instruments and with the audience. And together they make music with "head on, dirty Gypsy and Kelzmer Grooves and beats that deliver drum 'n' Bass and Ragga effects", notes the critic Richard Schuberth, Artistic Director of the Balkan Fever Festivals.
After the concert we had the opportunity to meet the five young artists. Steffi (Saxophone) was "totally crazy" about the atmosphere in the riding school and was pleased with her concert. It only matters to her that she has fun on the stage and the audience also have fun. "We play and everyone dances and has fun. That's the way it should be!". Äl Jawala do not describe themselves as a mainstream group. They do what they do and that we were able to see this evening. The music, full of life, reaches out to every age group. The styles are well mixed and jazz-up modern music.
Daniel (Bass): "Äl Jawala comes from Arabic and means the nomads".
Steffi (Sax): "Despite that, we don't make Arabic music! But we started from there. At that point we didn't have a concept in our heads. We got to know each other, we met up and we jammed together. Very easy. A friend, who played percussion, was half Egyptian. And at this point we thought up our name. It was simply that Arabic music was closer than anything else. Also, the music that we played that that point was partly from Magreb or, rather, was classically oriental. But it was also jazzy, funk and was already open to all. Also, even if you can't find much of it today, we know where we come from and we can prove it!
Markus (Percussion): "It shows in our music. In the Arabic music world, there are many mixes of major and minor chords which combine opposites like happy and sad. The feelings are different and you can play better like that".
Arabic origin, Arabic name, Arabic logo. But today your connection with Romania is even more pronounced. Where does that come from?
Markus: By coincidence we've gotten to know one of the most well known bands in Romania. They were looking for bands for a festival. They invited us and we drove there with a VW Bus and it was quite simply unbelievable.
Steffi: So we arrived and that's where it all happened! This concert, at this festival with these people, got the crowd going. We had such a crazy time! We thought, hey, we come as German dudes and didn't realise the Romanians could have such a good festival with such music. We were really sceptical. It was either sink or swim. We had no idea how it would pan out. But the response was more than positive.
Markus: The story of the last three years has brought us to the main square in Bucharest where we played to over 5000 people.
The current album is called "Lost in Manele". What does that mean?
Steffi: The phrase Manele is the absolute ubiquitous mainstream music in Romania and I think it also reaches a bit out to the Balkans. Romania used to produce music that was rooted in musical tradition but at the moment the music is quite tacky. That is in principle what hip hop music is doing here, by that I mean it is actually only cheap and trashy with undemanding texts. It's all about money, women, flash cars and success. And the musical content is low. This "Manele" is, in the Romanian context, hated by people who love music or who love their traditions. So we come and play our Manele and as feedback we get completely overjoyed Romanians who say that "hey- somehow you manage to bring our own culture back to us. But in a way that our culture respects. That is something that mixes the old with the new and raises something else: other grooves, other contexts other images but at the same time with respect. Hence the title "Lost in Manele"
At the moment the five are taking some time to record their first proper studio album that will be released in May next year. After that they are looking forward to their tour. Since their inception the artists and their music has changed a lot but there is one thing that they want to hold on to. For them their tradition, both musical and cultural, is very important. They treat their tradition with respect, even if they change it with their music.
Steffi: I think the worst that can happen is to forget where you come from. I think as the world becomes smaller it is even more important for people to know where they stand and where they come from.
At the end of the evening they are all pleased. The bands, the audience. Even Moldo. In our interview he said "Tradition must be preserved, but you must also always be open to new things". With the European festival he wants to show Europe his music and bring people together. The different traditions show how something new can develop without damaging their origin. The warm-up couldn't have been better. The two bands, both from different backgrounds, have immersed themselves in different cultures to create something new - and they get great reactions not just here but in the home countries as well.