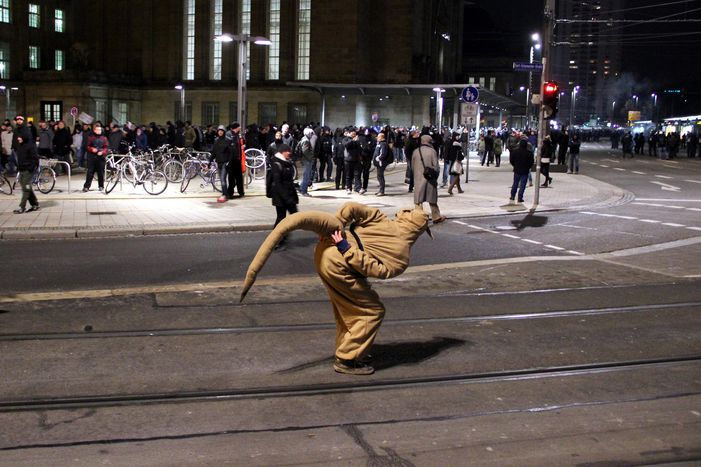 LEGIDA in Leipzig: for disgruntled Germans?
Published on
The anti-Islam LEGIDA Alliance, Leipzig's own PEGIDA offshoot, held their second demonstration on Wednesday 21st January.
But who are the demonstrators chanting "Wir sind das Volk" ("We are the people") and "Lügenpresse" ("lying press")? We try to get up close and personal with the people behind the group's "evening stroll".(Part 2).
The number of LEGIDA demonstrators willing to comment to the press is surprising. Two men from Paderborn in their mid-twenties have travelled here to join the demonstration for their values, which they say are conservative: "More and more families are splitting up because of 'genderisation' – that's what we're against. In politics, I'm envisaging the French family model; as far as refugees are concerned, I want to see an allocation formula in Europe. They are all feel free to come here – I've got no problem with that – it's just that Germany shouldn't be exploited as a welfare state".
When I asked about the attack on Charlie Hebdo in Paris, they said, "Well yeah, now it turns out that the Rothschild family has taken over the magazine." They say they got this information from the Internet. You don't have to look very far on the internet before you stumble upon conspiracy theory magazines like NEOPresse and Contra-Magazin. There you can read how the attack was only carried out to boost sales figures.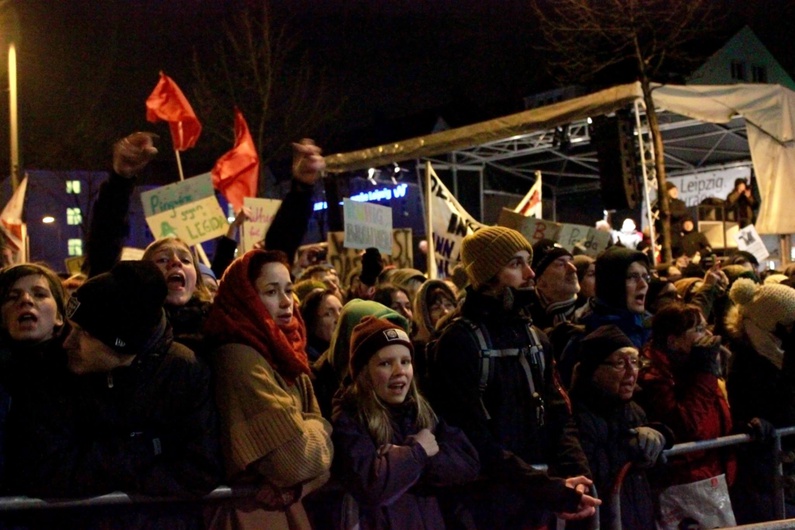 Waiting for their colleagues from Dresden
Small crowds of people huddle together as the start of the rally is announced. But people are still waiting for their "colleagues" from Dresden who are yet to arrive… Could it be down to the two arson attacks on the railway line? They finally turn up at 18:45, approximately a couple of hundred of them. Several wearing bomber jackets and hoodies stand out. Most of them look no older than 20. There generally aren't so many women to be found on the entire square, and those who can be seen often stand out with their dyed hair or facial piercings.
Attendance figures are being bandied about for this "evening stroll": 15,000 LEGIDA demonstrators and 20,000 counter-demonstrators. However, this was later marked down to around 5,000 for LEGIDA by the end of the week. As we walk, helicopter engines can be heard above us and barking police dogs around us, while middle fingers are being flashed at residents watching from their windows. You can't see any real violence in this spot, but according to one journalist, who shows me his scuffed-up lens and torn trousers, that's exclusive to the front of the march. He claims that a mob of protesters immediately charged at the journalists when they began to take photographs, suggesting the police only react when everyone is dusting themselves off and examining their broken cameras. 
Violence between the two groups only breaks out towards the end, while the LEGIDA press spokesman, Jörg Hoyer, is still belting out his rallying cry. Around a hundred demonstrators begin to leave the square, at a quick pace in baggy jeans and followed by the police, but with only one row of officers, they do  not manage to keep the demonstrators away from the counter-demonstrators.
On the tram platforms in front of Leipzig Central Station, things finally escalate as flares and bottles are thrown: Two men from LEGIDA go after a woman; she lies on the ground screaming and holds her hands high above her head, even after both of them have been arrested. The two groups disperse before they get to the Central Station, and you can't quite tell where the hordes of people have suddenly gone. The tension between the autonomists and the police remains for another half hour, but the officers are surprisingly quick to deal with the Black Bloc anarchists.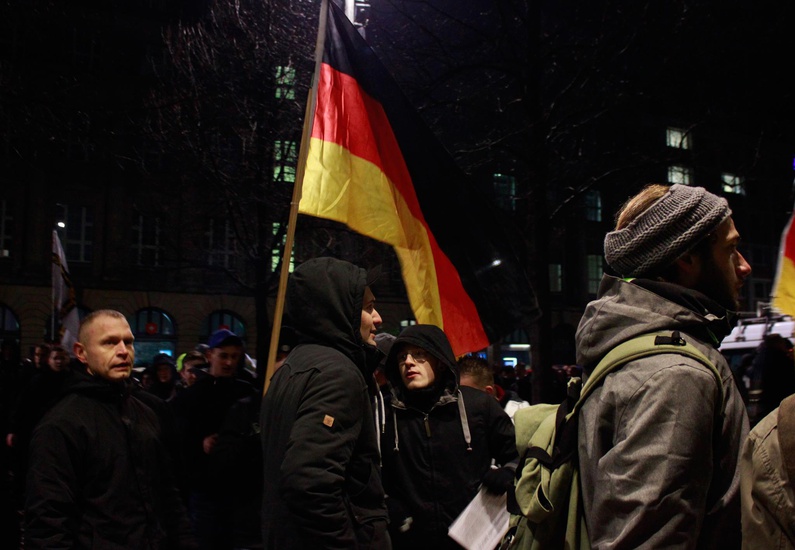 All disgruntled Germans are roped in by LEGIDA's tentacles
At the end of this long evening, you're left wondering about one thing in particular: How do all of these different people fit under the same LEGIDA umbrella? Perhaps the organisation can be described as having tentacles, because LEGIDA is certainly good at one thing: reaching out its arms to all disgruntled Germans. And they're really skillful at it as well, changing their jargon to suit them best. If all the talk in the beginning was about Germany's "war guilt obsession", now people are talking about the "dignified remembrance of our history, but without our generation accepting responsibility for it". The broad terminology alone is certainly enough to persuade more people.
And then there's Jörg Hoyer standing there at the end of the rally, belting out words with such vehemence that you just can't help but make the "Führer" association. Some people are sure to be roped in just by his way of speaking: "We're not xenophobic, but we're not going to go all 'multiculti' by command. We'll decide when our culture needs to be changed. Wir sind das Volk [we are the people], because we are Germans, and we think that's obvious".
LEGIDA focuses on 'fear for the German identity'
Hoyer  speaks of the "puppet state of the Americans and the economy", which "turns the people against each other". In this vein, LEGIDA is completely against the TTIP free trade agreement between America and the EU. That's understandable, as nobody in Germany or elsewhere knows exactly what it will consist of. This fear is understandable, as nobody now knows it could affect the food industry, or for example, the publishing or pharmaceutical industry. LEGIDA has jumped onto the bandwagon which has so far driven this red-green outcry, but with the addition of its "fear for the German identity".
What we should be fearful of these days is precisely one thing: a power of expression – be it spoken or written – which carries an intrinsic arbitrariness which anyone could latch on to. It's this kind of rhetoric which helps listeners forget that PEGIDA founder Lutz Bachmann's rallying cries and "values" were just cobbled together. This is a man who, with his "joke" photo of himself with a "Hitler moustache", represents what PEGIDA and LEGIDA are hiding beneath their façade: racist, discriminatory and xenophobic philosophies.
Click here to read the first part of our coverage of LEGIDA in Leipzig.
Translated from Leipzig: Alle unter einem Legida-Hut