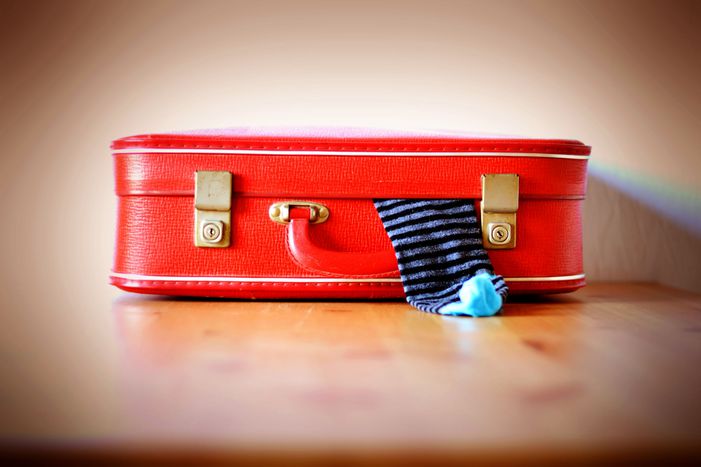 Leaving home: The objects that travel with us over borders
Published on
At Le Musée de l'Histoire de l'Immigration in Paris, there's a permanent exhibition: La Galerie des Dons. Here, the stories of migrants who have found a new life in France throughout history are told using the objects they bought with them on their journeys. We posed the same challenge to a new generation of migrants—Babelians who've made the one-way trip away from home.
Elettra - Italian in Edinburgh

She arrived in Scotland the long way round. Six years ago she left Italy for Berlin—to Elettra, a city of emancipation, of cutting ties with the old and diving headlong into the new, embracing adulthood. During those early days in Germany, her mother sent her a hand knitted blanket. As she crossed the continent from Genoa to Brussels, before finally settling in Edinburgh, it helped her tackle the one key factor that connected them all—a deep feeling of homesickness that wouldn't go away, no matter what. More than this, it was vital for helping this Southern girl adapt to the frozen North. Ever since then it's helped her feel protected and, somehow, at home. 
When moving from country to country like this, it's not just sentiment that gets disrupted. Simple life tasks, such as joining a gym, require the navigation of new systems and even languages. As such, Elettra carries running shoes—the easiest way to keep in top-notch health. As she sets a pace through whichever streets she's currently calling home—new paths and hidden secrets open up before her. Running also acts as therapy. Come rain, wind, or scorching heat—she can't imagine life without it.
In work, play and family life—all of us have our necessities. For Elettra this takes the form of breakfast. One of the hardest adaptations she's had to make to Nordic culture is the savoury tradition attached to the most important meal of the day. In Italy, mornings are a little sweeter—with continental croissants and other sugary treats. On top of this, there's coffee—a beverage she grants almost religious status. Not content with the simple espresso, her arsenal includes barley, spelt and chicory coffee—and through it all, her favourite mug. Carried from country to country, this simple vessel kicks her into gear each morning—by swearing at her in Italian.
Mila - Macedonian in Copenhagen

Up until 2 and a half years ago, Mila's biggest dream had been to study abroad. Moving to Denmark was a splendid opportunity to make this dream reality—though it has always been accompanied by sporadic nostalgia for family and friends. For Mila, thoughts of Macedonia are inherently connected to those she left behind. That's why she selected her Capricorn cup as her first item, a gift from a friend who lived on her street in one of Skopje's northeast suburbs. Baring her sign of the zodiac—"The best one," she asserts—it's always proudly displayed on her desk, providing a scholarly "first-aid kit" of pens and highlighters for university. Having survived many a tumble and fall, it's also a symbol of strength and endurance—proving that childhood memories remain important, even so far from home.
For Mila's second choice, she turns to her family, and to another gift, this time from her Mum. This well-loved copy of The Monk who sold his Ferrari—in her native Macedonian—was considered so important for two main reasons. Firstly, her mum wanted to make sure she was always doing the things which made her happy—in essence, the message of the book.  Secondly, owning a copy in her mother tongue connects it even more strongly to her family. Reading it is like having a conversation with her mother—a worthy companion when one needs a pick-me-up or some moral support.
Speaking of pick-me-ups, those close to Mila know she's partial to a nice cup of tea. Immersed in coffee-addicted culture, she finds drinking tea to be a socialable and relaxing routine. When leaving Macedonia, she brought the custom with her wherever she went, accompanied by this white-and-blue tea set she picked up in Ukraine. Despite the fragility of the porcelain, it survived the plane ride without a scratch—just as in-tact as its strong connection to her idea of "home".
Angelo - Italian in London

When we asked Angelo to name three objects that made him think of home, he replied with conviction that he only needed one: his well-loved and well-used Mocha coffee pot. When he settled in London in 2013, it was the one piece of home he was sure to bring. Timing his arrival for the Notting Hill Carnival, he ventured to the capital to try and get into journalism. As the internships and hours of writing built up—in the hectic confines of the UK capital—the pot was always there to help see him through. "For an Italian coffeeholic journalist," he explains, "A mocha is your best friend."
Up until recently, he might have added another object to his list—the traditional Tortellini made in his hometown of Piacenza. However, his recent vegetarianism scuppered his ability to call on this particular taste of home. Proud to be a part of the growing vegetarian and vegan movement in Italy, he's fortunately saved by its cheese-based counterpart Anolini, so when he heads back for the holidays, he'll be able to keep up this local tradition.
Joseph - Brit in Paris

As Joni Mitchell so rightly sang: "You don't know what you got 'til it's gone." That's doubly true for things that makes you think of home. When Joseph left his UK hometown of Norwich, he had little taste for the city's most famous export: Colman's Mustard. Yet as the years go by and he stays away, the simple condiment takes on stronger symbolic meaning. Nowadays a jar perpetually rests on his shelf—whether or not it ends up on his plate.
It takes pride of place next to a picture of two dinosaurs, dressed up to the nines in veil and tie. It was drawn by a friend as a going away gift, when he quit his home country for the City of Lights. A Jurassic depiction of his wedding day, it shows two happy T-Rexes immersed in the French capital. An amalgamation of what's already happened and what's left to come, it connects an old life to a new one—encompassing 'home' in all of its forms.
In La Galerie des Dons, many of those interviewed speak of the importance of the tools of their trade. A chef carried a wooden spoon across borders—a musician their precious violin. For a child of the digital generation, nothing is more debilitating than to be lacking in tech. Even more so than the language barrier—a challenge entered into with force and enthusiasm—this communication hurdle was one step too far. That's why a QWERTY keyboard is Joseph's last selection. Undoing years of muscle memory is just not an option for a young British writer, in a land where AZERTY is king. 
---
---
This article forms part of our special end of year dossier for 2015, this year themed around the notion of 'Home'.
---
Author: Joseph Pearson