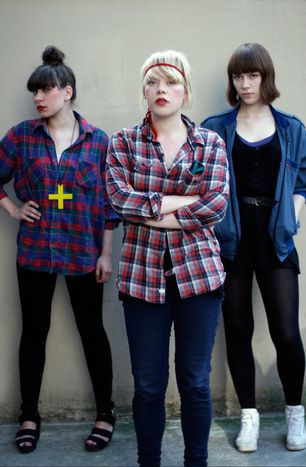 Le Corps Mince de Francoise: 'fuck off saying we're trendy. We sing about what we are'
Published on
The trio hail from Helsinki, record in Berlin and are managed in the UK. We meet in Paris to dissect their pan-European wanderings and find out why exactly they diss boys and Finland so much in their screamy surface pop-experimental sound
'Two days ago a big hippie who was really high and really drunk climbed onstage and started jumping me. He stole the whole last song.' LCMDF guitarist Mia Kemppainen, 19, is recalling her worst stage experience in a thick, dry Finnish accent, as her bandmates erupt in laughter. 'I was like what the fuck am I doing here, is it worth this!' exclaims her big sister and lead singer Emma, 20, with a slight lisp.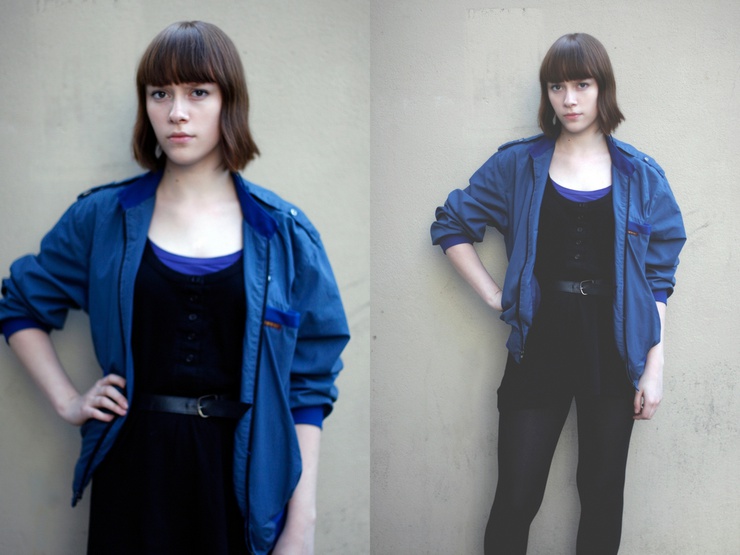 They look like any other tartan-clad, red-lipsticked chicks having a drink on the terrace of La Maroquinerie. In an hour though, they're due to whoop onstage at the 500-seat venue, which lies tucked away in the east of Paris. As a live act, Emma, Mia and Malin Nyqvist, 21, are noisy, glittery, bouncy and casual. Now, they look bored, in ode to their hand-clappy, computer-trappy hits Cool and Bored or Bitch of the Bitches (pronounced 'Beach of the Beaches'). 'We play every night,' Emma explains. 'We're more concerned about our voices - sometimes I can't control mine because it is so huge.'
Bedroom heights
LCMDF started off as Emma's solo bedroom project outside of school in summer 2006. 'I put some poppy songs on myspace; we were like 17 when we wrote them, there's a lot of self-irony, a diary of Emma M 2008. I got an immediate reaction,' she explains. 'I dropped out of second year graphic design at university in Helsinki because the band took up so much time.' Mia had studied two years of classical guitar before joining Emma for a show. 'It was the first time I played electric guitar. We never stopped gigging after that.' Malin shares the classical background. 'I never played synth because I've played classical piano for 13 years. But I've known Emma since kindergarten and we've had so many music projects together.'
'It's probably more annoying to work with two best friends than two sisters'
'I like to work with my friends in a band and have fun. That's like the point,' Emma declares, shunning a sibling connection with the epics of the Gallagher or Davies brothers. 'We get along really well. It's probably more annoying to work with two best friends than two sisters.' The Kemppainens' mother runs a countryside magazine, whilst their 'hippy, drug-taking' father (they say they're joking) set up the first radio show for young people in Finland. 'They're both authors too. Dad is writing a novel.' Malin shrugs off her more 'normal' teacher parents. But the name Le Corps Mince de Francoise – 'The Slim Body of Françoise' – pays respect to her late anorexic cat, she offers, as means of interesting family detail.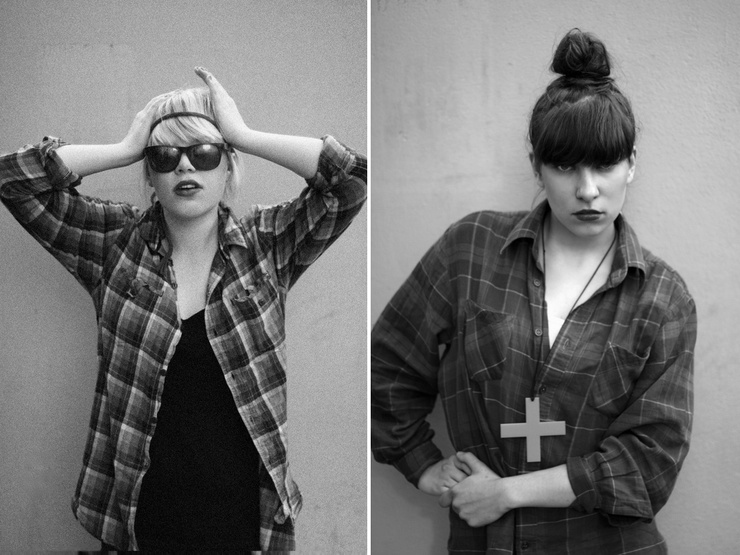 Once the myspace songs were posted on to renowned music blogs like Big Stereo and Discobelle, the band signed in the UK. 'We love London, the culture,' says Emma. 'We've done a lot of gigs. We don't have any fans there, but a lot of support in the industry.' As main songwriter, Emma works with a producer in Berlin, where she relocated in January. 'We'll be touring a lot,' Mia reflects, 'so I'll stay in Helsinki a year or two, be with my friends. It's like a vacation when you've been away a long time.' 'I feel really good in Helsinki,' adds Malin. 'But Berlin is so much cheaper,' replies Emma. 'Well I've been paying rent there, but I'm never there. Helsinki is really up north, really small, as expensive as Paris but you get much less for the same price.' 
The dark side of Finnish music
Now, the Finns are seeing 'Le Korrps Mince de Frankoisy' (as they pronounce the band name) all over local TV channels, magazine covers and in 'appreciated venues' in Helsinki. But the band only came so far by rejecting the smaller record companies back home and embracing global e-networks. 'There's no music industry in Finland,' Emma complains, 'or its really small, everyone knows each other, unlike Sweden, which is massive. Finland has a lot of heavy, emo music. I think we're the first electro pop band who sing in English,' she adds, pronouncing pop as 'pope'. 'People got really disturbed by us in the beginning.' It's not a question of doors not being open to young people, they emphasise. 'Well, nobody does anything,' Emma shrugs. 'Finnish culture is to hide back and not show anything of what you do before it's perfect. My garage band demo has been totally public; that's why people in Finland couldn't see the potential in it. There's a lot of jealousy. Some ask me how is it possible. Oh my god you should be a professional! I'm just a girl! Anyway, there's a Finnish forum online which has got explosively big, lots of young people from the countryside! Some find us embarassing, so last year, but at least somebody is doing something. I'm almost doing Finnish music history right now.' Their typical fans are '16-25 year old women, 25-35 year old men in basically every gig. Front row girls, guys at the back. We have something about us that a lot of freaks come our way, I love it.'
'Finnish culture is to hide back, not show anything of what you do before it's perfect'
LCMDF's next album will stay poppy, the girls say, but be more experimental. Will they also be preserving their man-bashing songs like Ray Ban Glasses, which have frightened The Guardian's male journalists? ('I won't date a guy if he's still wearing Ray Ban glasses' runs one lyric). 'We diss hipsters and ourselves at the same time,' Emma explains, Ray Bans perched on nose. 'We're like ok fuck off saying we're trendy, we'll sing about what we are. You just want to be a band playing pop(e). We're just people playing music. I'm tired of that feminist blah. People put you in categories you don't want to be in. And there are so many guys who write lyrics like shake that booty,' Emma laughs. 'The minute you play around with words about guys, everyone gets like ha ha, offended.' Ha, ha, I don't wear a bra-hah, they'd probably snort, in the spirit of another of their notorious lyrics.
Catch the girls on tour in Germany, UK and France this autumn
18 October Karlstorbannhof, Heidelberg (Germany), 22 October Smash and Grab @ Proud London, 23 October Club NME at Koko London, 24 October Play It By Ear Club @ The Monarch London, 26 October The Lexington London, 28 October The Cavern Club Exeter, 29 October We Are The Universe at New Herp Brighton, 30 October Korova Liverpool, 31 October Kitsune Maison party @ Hearn St Warehouse/ w Yuksek, Delpic, Two Door Cinemaclub London, 1 November Kasbah Nightclub Coventry (UK), 3 November Les Inrocks Festival Paris, 14 November Le Cargo, Caen (France)