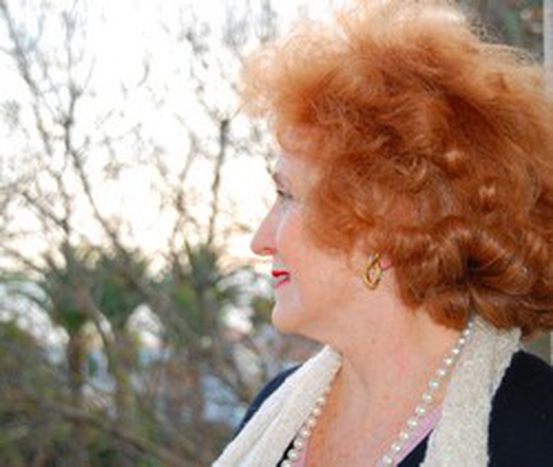 Laura Cesana: 'There should be more Erasmus programmes for teachers'
Published on
Translation by:
kate stansfield
A linguist and voyager, the Italian painter transported her Jewish origins from the United States to Portugal, where her multiple identities are exhibited by a flourishing brushstroke
Cascais, a chic Atlantic seaside town to the west of Lisbon. Its cultural centre is ideally located between a marina packed with pleasure boats and a newly restored citadel. Beneath the sunshine, strong waves break against the cliffs: winter has well and truly begun. During the night, Laura Cesana seems to have rediscovered the use of French. It is in Molière's language that she briskly approaches the conversation that we had arranged to have in English.
'I am Italian, but the language of my emotions is English,' she begins. 'In my opinion, nobody is 100% anything.' Cesana was born in Rome during a dark period in Italian history. At the age of two, her family of Jewish origin was forced to flee aboard the last boats leaving the Adriatic ports, headed for America. Ten years later, she made the journey in reverse, coming back to Italy to complete her education in economic sciences. Por acaso, she says in Portuguese - 'by chance'.
Bouquets, from Klee to Chagall
Then she met her first husband, who took her to live in Portugal. During the Carnation Revolution, she recorded short stories for her friends in the United States but, in particular, drew many rough sketches in little notebooks that have never since left her possession. She followed her husband as he moved to Finland, Sweden and Brasil. Cesana soaked up a little of all of these cultures and set about reading the major authors of every one.
Impossible however to get her to say which authors or painters have influenced her own style: Cesana is no one's discipline, but the heroine of her own story. She prefers to speak of what critics have said about her work. 'Some of them have referred to Henri Matisse, Swiss artist Paul Klee or Pierre Bonnard.' Others have mentioned American artist Paul Jenkins, a reference that suits her. She likes how this parallel expresses her American side. 'Spaces have a major influence on the work of the artist and on the perception of works of art. This dimension is essential among American artists,' she believes.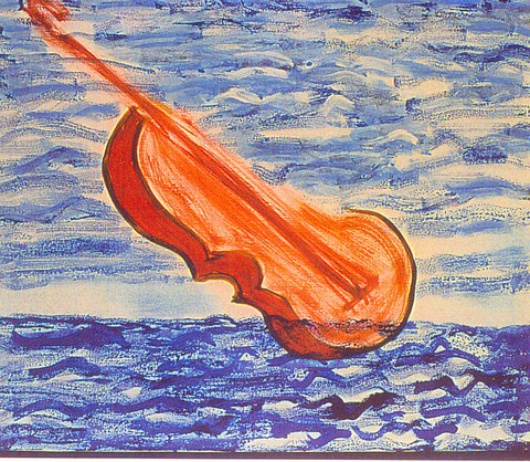 Laura Cesana's work is currently being shown in Portugal, Luxembourg, France and Italy
Bouquets of flowers with long, green, fruit fly-ridden stems, musical instruments swaying in the wind along a washing line, and weightier collages of leaves or musical scores, pages from books laden with nostalgia. It's difficult not to see a very strong link to the chromatic onirism of Russian-born French painter Marc Chagall in the paintings of Laura Cesana. All things considered, she doesn't think this connection is so bad!
Jewish vertiges in Portugal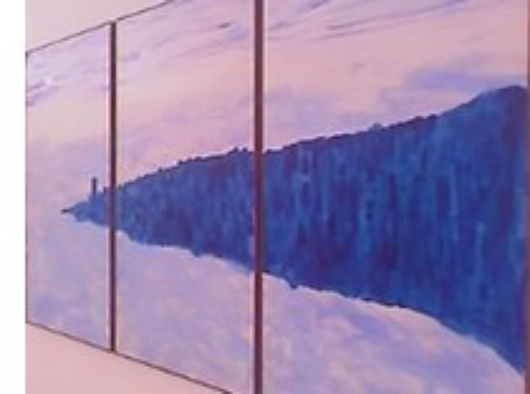 In winter 2007, Cascais cultural centre presented a retrospective of Cesana's work, with a series dedicated to the sea and to music, two elements at the heart of this coastal town's identity. Its famous jazz festival was in fact inaugurated in 1971 by Miles Davis and Dizzy Gillespie, despite opposition from the authoritarian regime in power at the time. Twenty years of Laura's work in pictures were put on display, taking in more than two hundred exhibitions.
Each piece tells a story. The techniques are varied, numerous materials are present, even cement. Each painting portrays something from Cesana's life: notes on a score evoke, for example, the artist's mother, violinist, who passed away very young. Many of the canvasses are dedicated to Fernando Pessoa, the most famous Portuguese poet. Another series of works bears witness to the research undertaken with the support of the Gulbenkian Foundation on Jewish vestiges in Portugal: rare iconic symbols in this southern European country to which Laura Cesana has even dedicated a book.
Building bridges in Europe
Cesana never moved far away from the literary world. She has studied and taught a great deal in the prestigious universities of Portugal and US, but she doesn't see her work as that of a researcher. She asserts the sensibility of the artist. Our discussion is occasionally interrupted: Laura is attentive to the questions of visitors and gives endless explanations of her work. She speaks Portuguese and notes down some ideas, in Italian, in one of her numerous notebooks.
Cesana demands that the world is opened up, allowing us to better identify, understand and experience its own diversity. 'There is no risk of cultures becoming uniformised,' she says confidently about Europe's future. But mutual knowledge seems essential to her. 'It is very important to build bridges between countries. We all have different political and social experiences and that isn't going to change.' Education must play a major role. 'Initiatives like Erasmus offer a lot of hope and it would be useful if exchange programmes for teachers were increased.' Night falls, the visitors to Cascais cultural centre go home, dazzled by a luminous artist, who promises to text me her news, though I am not sure what language that'll be in.
Photos homepage: (lauracesana.com), in-text images (Laura Cesana)
Translated from Laura Cesana : « Construire des ponts entre les pays »