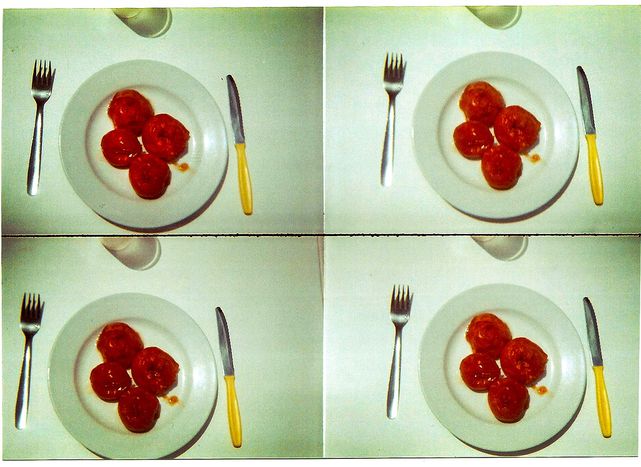 Latin Seville: stomaching multiculturalism through gastronomy
Published on
Traipsing from bar to bar and restaurant to bar is a tough job for any journalist in a city where eight out of ten chefs come from South America. After the property bubble burst in Spain, gastronomy has followed hot on the heels of construction to become the privileged ground of Latin migrants in Iberia
The La Rana restaurant lies on the periphery of Seville. After a short wait a good-looking thirty-something Venezuelan appears. Miguel Angel moved to Spain in 2001 to study at hotel school in Barcelona, wanting to learn more about Mediterranean cuisine and what kind of methods the Europeans used in their cooking. Three years later, he ended up in Andalucia. 'People from here are incredibly closed to anything new,' says Miguel. 'Integration is not their strong thing, and that hasn't changed in two decades.
Tostada and tapas life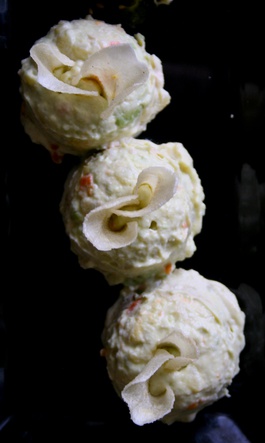 'Many Bolivians, Peruvians, Ecuadorians and Brazilians live in Seville, but the Venezuelans are the most modern and European migrants,' says Miguel. 'Of course, I could isolate myself and only associate with them if I wanted too, such as those who belong to the Aves association, but to be honest I don't feel the need. The Bolivians and Ecuadorians are the ones who really live according to their own rules and patriotism. They have their own lifestyle model, food and parties.' The Latins in Seville may claim to be well integrated, speaking the language as they do and all, but it seems they live double lives according to these traditions which they don't want to have mixed up.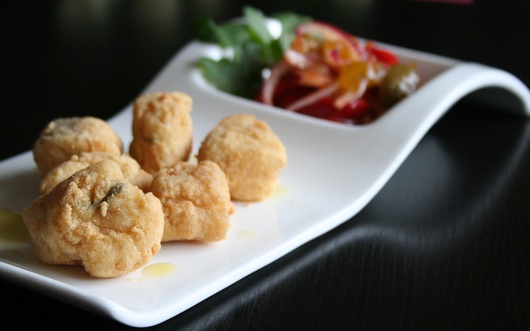 Miguel's daily routine runs to the beat of the traditional tostadas – a piece of crunchy baguette with Spanish ham aka jamon serrano, cheese aka queso or tomatoes – and tapas (for lunch and dinner equally), which have seen a post-crisis peak in popularity. Fusion cooking, he says, is about adding Spanish tastes to recipes and ingredients from home, such as the arepa (a cornflour chappati) which he uses to spice up the traditional tapas. He adds fried fish (pescado frito), a typical local dish seasoned with coriander and lemon juice to give it that Latin American edge. Miguel is equally proud of his Reina Pepia salad comprised of chicken, avocado and agave chips.
Bolivia in Macarena
The Bolivian ghetto is in the heart of the Macarena district, and stays true to life at the top (or at least at 3000m of altitutude), though the buildings in this part of town aren't the best indication that I will soon be ending up in the heart of this other Latin American community. I wait in the 'restauration' area, though it seems a bit exaggerated a concept. 'This used to be the cloakroom,' explains Roman, a Bolivian man who is a bricklayer by profession. He orders a durazno syrup which would be called peach (melocotón) in Castilian Spanish. The Bolivians call this drink Mogochinche. The freshness of it, the lack of chemical taste, is pleasantly surprising.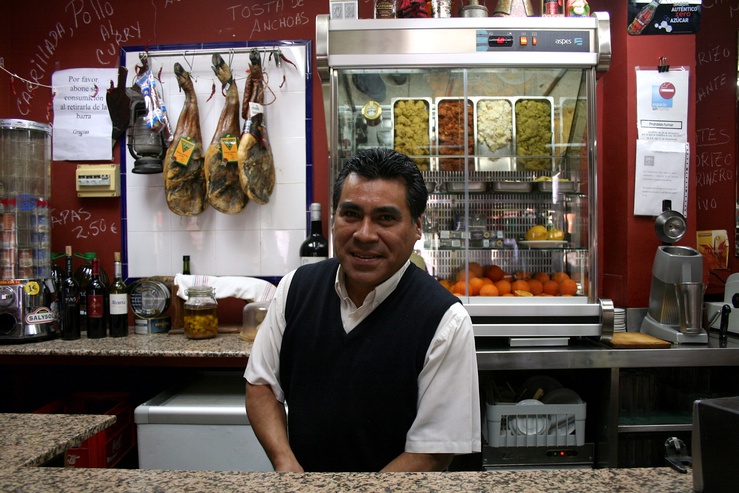 'We import the fruits from Bolivia,' says the manager, Romulo de Cochabamba. 'They pass from an altitude of 3, 000 metres above sea level. We dry them; that's why we don't need to add mineral ingredients.' Romulo came to Seville in 2004 to earn his living as a bricklayer, but the company went down after some juridical complications, and so he had to find another job. After helping his wife now and again in the kitchen he realised that he should get into the restaurant business. The quantity of meals they offer here is astonishing. 'Of course all of the ingredients are imported from Bolivia. 5% of the meals are cooked according to Cochabamba tradition,' adds Romulo. Looking around, the customers are mainly Latin. 50% are from Brazil, Ecuador and Guatemala. Only 10% of Spanish people actually come here, and say that they discover the joint thanks to the recommendations of their South American colleagues.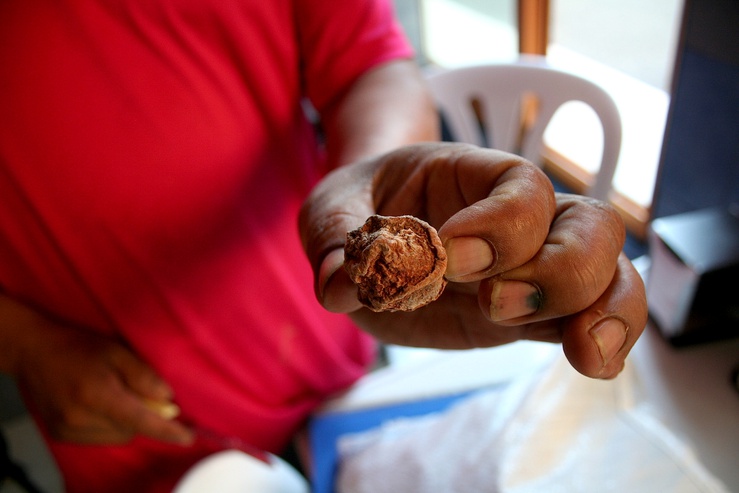 Cosmopolitan Venezuela 
Arcelia and her husband are the real cosmopolitan deal. Jose worked for the Hilton hotel chain in Venezuela and New York before he opened the Taberna Macuro near the Plaza de Cuba in Seville, a city where he had previously lived as a student. That's also how the couple met. Their restaurant is a real mix of cultures, a place where you can be promised visual as well as culinary art (blog here). The huge restaurant looks almost like a warehouse, with a an artist's colour palette hanging by way of greeting at the entrance. In fact, the venue is made out to look an artist's workshop. 'My husband always loved creating,' she adds modestly; in fact, Jose's work has been exhibited in Paris and New York. 'We just invited an Englishman to start a residence here yesterday.'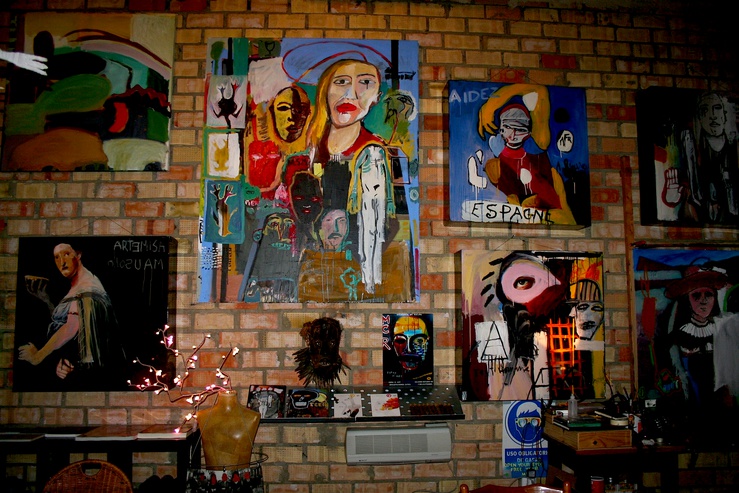 Taberna Macuro is a veritable temple of multiculturalism, exactly what I've been on the hunt for in Seville. If I hadn't met Arcelia, I wouldn't have found that idyllic place where we could debate the mechanisms of multiculturalism. But then there's the food too. 'We haven't really invented anything when it comes to our cuisine,' Arcelia explains. 'Our friends have just sent us recipes from all over the world. I learnt the secrets of Japanese cooking from the Spanish ambassador to Japan.' Arcelia, feet firmly on the ground, adds that her customers are mostly tourists and people who have a slightly more open view of the world than the majority of the locals. 'I can only serve Andalucian wine here,' she offers by way of example. 'Our locals are so conservative they just wouldn't listen if we tried to explain than there are other flavours than the ones from Andalucia.'
This article is part of the fourth edition in cafebabel.com's 2012 feature focus series on multiculturalism in Europe. Many thanks to the team at cafebabel.com Seville
Images: main (cc) anikaviro/ flickr; in-text ©Agata Jaskot
Translated from Sewilla: tradycja kontra multikulturalizm