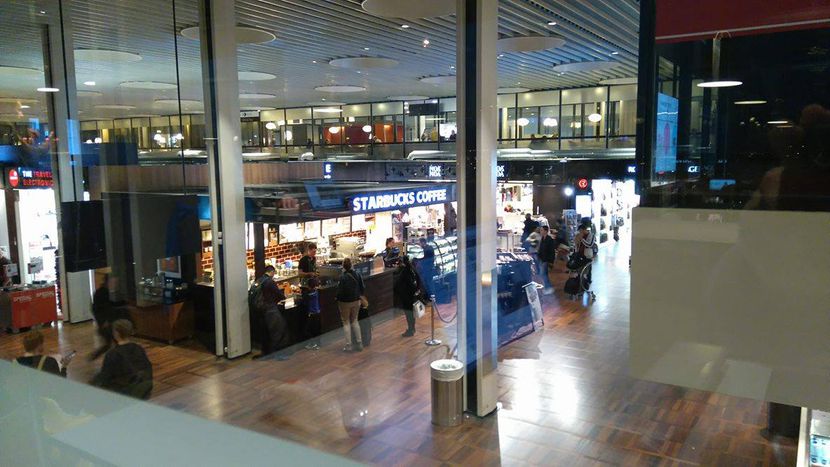 Lack of sleep and empty pockets: My night at the airport
Published on
The trials and tribulations of spending a night at the Copenhagen Kastrup Airport.
After four days of non-stop walking and photographing the wintry cold streets of Paris, France (and four drunken nights of tasty red wine), Copenhagen was in sight as a pit stop to Reykjavik, Iceland.
The last day of February started out as a cold one in the City of Lights with the alarm going off at 6 am and me having to quickly pack my bags and leave. I was on my way to my first ever morning date, set up by the friend who kindly allowed me to crash on her sofa for a few nights. We were both sleepy and knew I had a plane to catch, which meant there wasn't much that could've happened. She promised to visit me in Denmark so we exchanged numbers, parted ways and I grabbed another coffee on my way to Charles de Gaulle International Airport. By 10 am it felt like it was already past lunch time so I got myself a beer. I would have to wait another three hours for the plane, after all.
My mind was rambling about how the Northern Lights would look like seen through my naïve Portuguese eyes. That and the fact that I was going to spend an entire week on an island that's practically a half-asleep volcano in the middle of the Atlantic Ocean. Quite scary when you think of it like that, but I would still have to spend a night at the airport.
When I stepped foot into the busiest airport in Scandinavia, "Do I really want to spend a night here?" immediately popped into my head. It was a fair question. Airport prices are off the charts, there are no showers anywhere and I didn't even have a sleeping bag, but when you're a cheapskate like me, there are a lot of things you're willing to do in order to save money: taking low-cost flights from a European capital to another, crashing at a friend's place and now sleeping at an airport. Comfort is a little price to pay when you decide to focus on offbeat experiences.
By 4 pm I was already hungry again. I calculated the estimated time until the next flight and it was awfully long. I sat down and started planning what I was going to do for the rest of the time.
Strolling through the airport alleys was an option but bumping into stressed-out tourists running late to catch the plane revealed less than pleasant and there was also nothing romantic about looking through industrial-sized windows into huge airplanes being rapidly refueled.
Not even the orange sunset was able to take away the greyness. I'm pretty sure that's not where writers like Hemingway got their inspiration from, so I decided to head to the place where I knew he would have gone to: the bar.
Of course, I wasn't expecting any alcohol-fueled literary discussions or pin-up looking women to show up, but there was beer and I was thirsty so I sat at the counter and chatted with the bartender for a bit. O'leary's is the kind of place where people can eat ribs, a burger and fries and drink beer while watching sports on TV. It's designed to make you feel at home while you're waiting for a plane. The walls are covered in American sports memorabilia with several mentions to the Boston Red Sox, making it look legit. It keeps people cozy on lonely evenings while unsurprisingly keeping their pockets empty. Regardless, it's one of the most crowded joints inside the airport, even on a Monday.
I met an English business man named Phil, who was killing time before the flight back to London. The conversation was mostly about Italian football but it cheered me up for the rest of the night.
Hunting for bargains, it was time to leave momentary bohemic pleasures and go find a place to settle for the night. The goal was to find a confortable place where I could lay down and catch up to some sleeping time but also plugin my computer if I needed to kill boredom by watching a movie. Got some supplies for the night and breakfast before the shops closed and went on my quest for the perfect sleeping spot. There were not many options. The seats weren't comfortable or long enough for me to spread my legs and the massage chairs were comfortable but unavailable. Surprisingly there are two fairly comfortable lounge chairs in gate C10, perfect for night owls such as myself.
As I laid my belongings on top of my future bed in an act of territorial display, I noticed two other passengers had already reserved their own space. A teenage girl typed fiercely into her laptop's keyboard grinning at the screen while an older woman struggled to find the best sleeping position. It was certainly no five star hotel but with barely any money left, it was the only way to go. I stared at my computer for a while and made a guarantee to my dad nothing bad was going to happen to me on a completely empty airport. I was right.
I managed to sleep for aproximately five hours, which is considerably okay and I'm sure it could have been more if I was a heavy sleeper. The occasional noise wasn't much of a problem and I didn't feel cold either. But I did feel tired afterwards. Spending 24h at an airport is tough. There are no showers, the expensive food drains every coin out of the pockets and there's barely anybody to talk to, but it's an adventure every traveller should go through at least once.
I probably could have talked to people more often since everyone's more open when they are in bizarre situations, but I faced it as an inner experience and my goal was not to make friends, it was to survive the night. At some point I forgot my camera away from the place I was, but I managed to retrieve it untouched because, well, the airport was pretty much empty. So, the conclusion is: if you're going to forget your camera, do it in an empty airport.