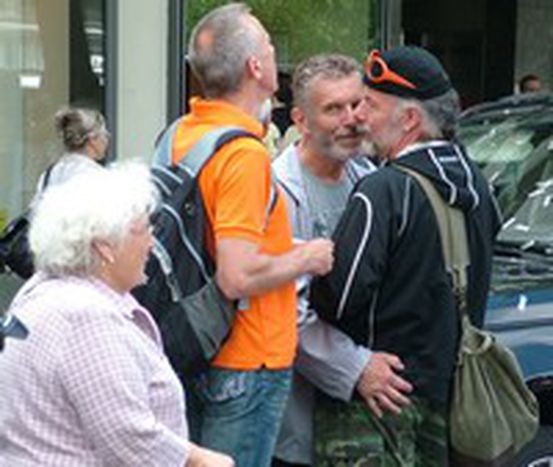 'La dolce vita' of gays in Berlin
Published on
The German capital is a real paradise for gays and lesbians. Despite the high level of general tolerance, the reality is that discrimination in the workplace and violent attacks still continue
For years Berlin has been an oasis for all those who wanted to express their homosexuality freely without feeling out of place. West of the German capital there are yet more places where it is fine to be homosexual, above all Paris, London, Madrid and Amsterdam. East of the city, though, are the EU countries of the former eastern bloc, where until now even loud protests from joint institutions have failed to muffle rising intolerance. The situation in Poland is the most sensational example, but by no means an exception.
Museum for Gay Culture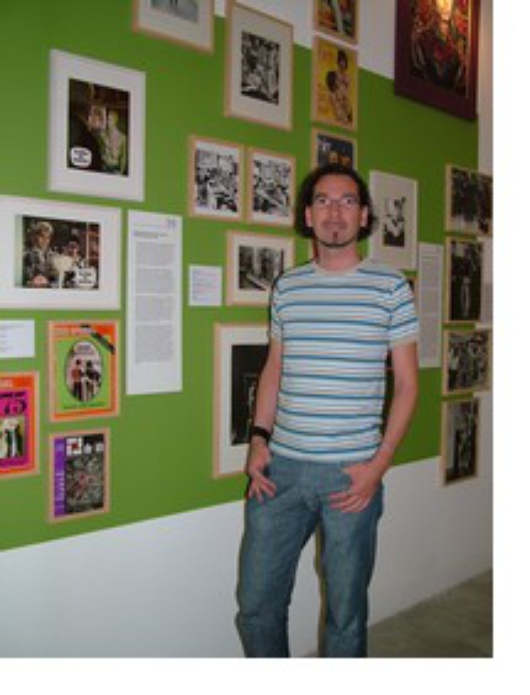 It was already like this in the Roaring Twenties: Berlin appeared as a dynamic capital, where the sexologist Magnus Hirschfeld was already protesting against discrimination, and where homosexuals were perfectly integrated into society with their own magazines, societies and cabaret. Then came Hitler, and with him a dark period that lasted at least until the seventies. This tortured history is told in the Gay Museum in Berlin, one of the few museums in the world specially dedicated to gay culture. Our journey of discovery through Berlin's gay scene starts here, at Mehringdamm 61.
'The museum was opened in 1985, when the gay scene was by no means so visible as today', explains Gerrit Rohrbacher, the museum's spokesperson, as he leads us through the rooms. 'Our goal is not just to display biographies and documents from the gay scene's history, but also to gain recognition for this multifaceted world'. The tour is really interesting and informative, even for heterosexuals. 'In Berlin today there is freedom and tolerance,' enthuses the shy Gerrit. 'However it's important to us to enjoy the same rights as straight people. And it's just as important that the gay movement shows its self-confidence publicly'. The Gay Museum is certainly a good starting point - now we have to discover the real Berlin.
There is no better place for this than the historic gay quarter of Schöneberg. We take Line 2 of the underground to Nollendorfplatz. Right by the exit there is a memorial to the homosexual victims of fascism - a large, triangular plaque made from pink marble. This pink triangle was the symbol which homosexuals were 'labelled' with in the concentration camps. Around 7, 000 died. Beneath the plaque someone has laid a bunch of flowers. Another memorial should be erected near the Brandenburg Gate by the end of the year – a large white cube, within which the work of Scandinavian artists Michael Elmgreen and Ingar Dragset will be displayed with pictures of a male couple kissing.
Tolerant city, but problems remain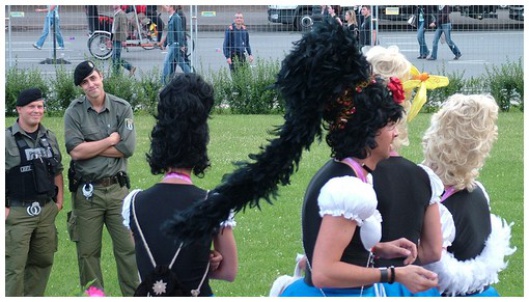 To be honest, the tour through Schöneberg disappointed us a little. Sure, you could see the historic Bruno bookshop and the 'Mann-O-Meter' homosexual information and advice centre, but there was little else to see. However Kreuzberg, once an up and coming gay quarter, offers a completely different picture: at the tables of cafes like SchwuZ or SO36, you can see numerous same-sex couples. Ale and Teo meet here too - two Italians who decided to move to Berlin after finishing school. Even though one of them is straight, both of them are regulars in the Berlin gay scene and appear to be content with their chosen home. 'The fact that Berlin is a tolerant city can distort reality,' objects Ale, however. 'Everyone can live out their sexuality freely. There are lots of groups and the mayor Klaus Wowereit is openly gay, but there is no shortage of problems - for example the aggression of right-wing extremist groups.' 'The gay scene here in Berlin is more diverse than in other European capitals,' adds Teo. 'Probably for historical reasons: the wall split the city in two for decades. German punks, communists and homosexuals gathered in the western part. That's how the diverse community developed, which made Berlin so tolerant and so unique.' 'Gays and lesbians live here in relative harmony together and even cooperate,' agrees Ale. 'There is a lot of space to be who you are for transsexuals too. At the moment the queer scene is opening up as well, which unifies all sexual preferences, without making a distinction between straight or gay etc.'
Integrating Turkish homosexuals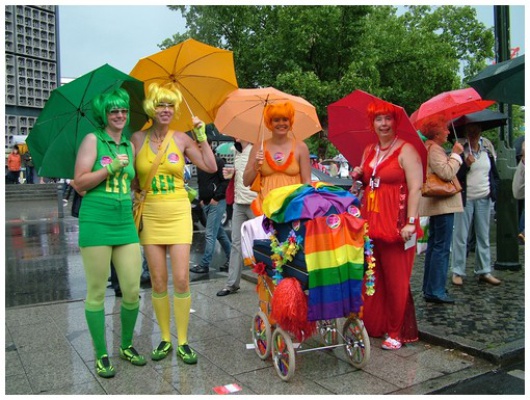 The final, unmissable stage of our journey is the Victory Column, the phallic symbol of Berlin's homosexuals which German director Wim Wenders immortalised in his 1987 film Wings of Desire ( 'Himmel über Berlin'). Holger Wicht is waiting for us there. He is the editor of the historic gay magazine Siegessäule ('Victory Column'), named 22 years ago after this same monument. All around is the noise of Christopher Street Day, the Berlin version of Gay Pride, that gets the city on the go each year with its colourful parade.
To escape the hustle and bustle, we take refuge with Holger inside the Column. 'Whoever or whatever you are: in Berlin you fit in,' explains the journalist. 'Even so, it's not paradise'. He tells us that young people still find it hard to admit their homosexuality, and that the word 'gay' is still understood as an insult. Holger points to the difficulties of integration for Turkish homosexuals. Turks are the largest ethnic minority in Germany. 'The situation is getting increasingly worse, especially as young people cannot reconcile their feelings with the attitudes of their families. There are more multicultural initiatives in the city, though.'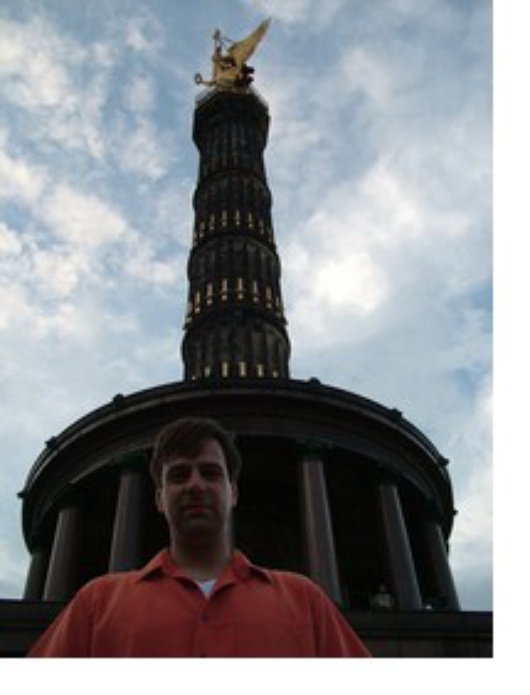 In Holger's opinion, there are still many serious shortcomings which have to be dealt with: discrimination in the workplace, for example, or the 2001 law on civil partnerships, which still does not guarantee homosexual couples the same rights as heterosexuals. These problems certainly cannot be overlooked. When you think that in Italy, Greece, Malta, Cyprus and other European countries there is not even any legislation on non-marital partnerships, Berlin truly seems to be a small paradise.
Translated from La dolce vita gay della capitale