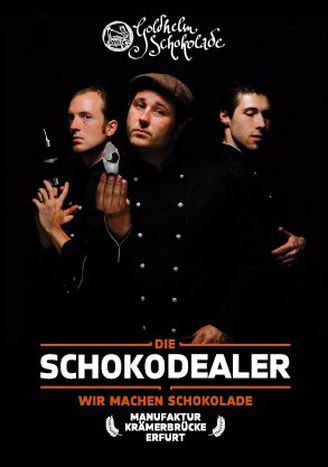 Kühn and the chocolate factory
Published on
The Goldhelm chocolate manufacturers thrives on one of the typical Tudor-style houses on Erfurt's famous Krämerbrücke. In 2004 10, 000 euros of private credit made a returning globetrotter's dream a reality and since then the firm has been growing constantly
The French-style workshop cafe in Erfurt's Kreuzgasse is filled with white and pink. Founder Alexander Kühn, who lives and works nearby, immediately offered a job to the builder of the large Parisian-style: 'Anyone who can build a piece of furniture with so much feeling can also make chocolate,' claims the passionate chocoholic. Most of his other colleagues were already friends or acquaintances for as Kühn says, 'a passion for chocolate isn't something you can learn'. The 35-year-old teaches his protégés everything else they need to know. Kühn himself learnt the basics of French cooking from chef and wine waiter Dr. Werner Freund. 'You have to be crazy about chocolate and be able to think in flavours to be a good chocolatier,' he says.
Good ideas
Alexander Kühn thinks a lot. Ninety different chocolate creations fill the shelves of the white cabinet. He develops up to five new varieties a month. 'My colleagues almost have to slow me down,' the chocolate artist laughs. Sometimes he comes up with ideas without even thinking about it. When he has a craving for chocolate at night Kühn goes downstairs to his chocolate workshop and tastes, tries, experiments.
The trained graphic designer also thought about becoming a musician, an artist or a director. 'Cooking combines all of these musical things,' he says about finding his true calling as chocolatier. Kühn can entirely indulge his creativity with the sugary craft. He even designs the packaging himself. Only the oval blob-like form of his chocolates was caused by necessity because he couldn't afford moulds. Kühn has now internationally copyrighted the distinctive trademark.
Good ingredients
The most important thing when making chocolate is good ingredients. Goldhelm tries to get most of these locally. Kühn buys apples, pears and plums at the market and he even gathers some of the herbs he uses himself. 'In asparagus season, we have asparagus chocolate. However, the oranges for the campari orange chocolage come from Mallorco,' admits the self-styled 'choco-dealer' with a smile. As a result, the chocolate on sale changes with the season. In winter Kühn's favourite is ganache chocolate filled with baked apple, made to his grandmother's recipe.
The most important of all ingredients is the chocolate itself. For that reason Kühn specially picks out the producers for his chocolate coating, which is conched for at least three days. The different cocoa beans he uses come from Ecuador (Forastero), Trinidad (Trinitario) and South Venezuela (Criollo). Particularly exclusive to Goldhelm is the 'Sur de Lago jungle chocolate'. This is made from wild criollo cocoa. 'That's pure chocolate with all its fine nuances of flavour,' gushes Kühn.
Good contacts
The cafe and workshop are connected by a large window. This is because the most beautiful place in the house for the passionate chocolatier is of course the kitchen. When Kühn cooks for himself, he needs an open kitchen with people around him. Even star chefs like Austria's Sarah Wiener and heads of state like American president Barack Obama have developed a taste for Goldhelm chocolate and pralines. However, Kühn had to turn down around sixty dealers in the run-up to christmas in 2010 because he and his twenty employees would have been unable to respond to the high demand. 'I would have had to have installed machines and that would have destroyed the soul of my chocolate production,' he reflects. It's only through sensitive crafting by hand that the most important ingredient is added to the Goldhelm chocolates.
Recipe: Original Goldhelm truffels
Cocoa powder
300 g dark chocolate containing least 70% cocoa
200 ml cream
85 g dark chocolate
Spices, fruits or alcohol
Slowly heat the cream (don't allow it to heat beyond 75 degrees). Break the 300g dark chocolate into small pieces and mix into the cream. Add spices, fruit or alcohol as you wish. Make sure that the consistency remains thick and smooth. Leave the mixture (known as ganache) to cool overnight, or put it in the fridge for two hours. Break the 85g dark chocolate into small pieces. Melt one-fifth of this in by placing the chocolate in a bowl over a pot of boiling water. Now add the grated chocolate to the melted chocolate. This process is called 'impfen' in German, meaning 'injecting'. Now roll the solid ganache in the 'injected' chocolate until it is completely covered. Finally roll the original Goldhelm truffen cocoa powder and put in the fridge for two hours or leave to cool overnight. Guten Appetit!
Images: © Goldhelm Schokomanufaktur/ goldhelm-schokolade.de
Translated from Der Schokodealer von der Krämerbrücke