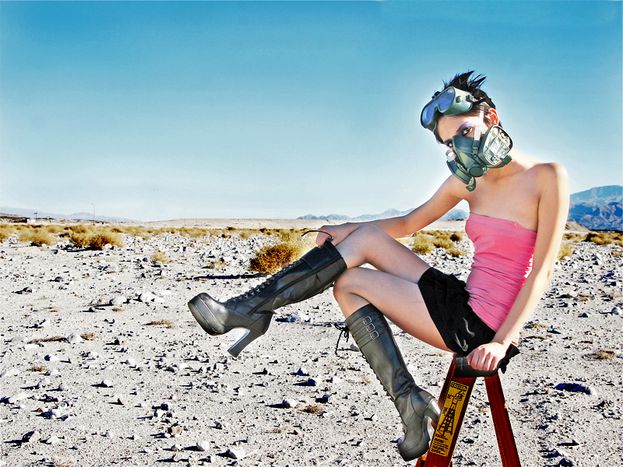 Krsko nuclear energy: source of Slovenian pride?
Published on
Across the world, the Japanese prime minister has stated that his country should phase out nuclear energy after the atomic disaster in March. But Slovenians stick to their guns. The country's only nuclear plant, which is co-owned by Croatian and Slovenian state energy companies and has been operating since 1983, is only garnering complaints by NGOs now
Apple trees line the gardens of Krsko, lending the tiny city the appearance of being some kind of Eden. In reality, we are far from paradise a few kilometres from the Croatian border in eastern Slovenia, in a place famous for the country's only nuclear plant. Co-owned by both Croatian and Slovenian state energy companies, the nuclear centre of Krsko (NEK) has been operating here for almost thirty years. For the Slovenians it was a matter of pride when the agency for radioactive waste interviewed 1, 650 people in 2008. Practically everyone was convinced that nuclear energy was the safest and most economic solution . The residents of Krsko, who enjoy the use of efficient services and infrastructures thanks to specially designated government funds, were largely of the same opinion.
Let's all move to Mendoza
Ask a random Slovenian in the capital, Ljubljana, what they thought of the minor incident in 2008 where the nuclear centre of Krsko experienced an automatic shutdown after power lines failed. It releases 2,000 MW of thermal power and under 700MW of electrical power which is equally shared by Croatia and Slovenia. But the accident didn't lead to renewed Chernobyl-type fears – in 1986 the reactor in Ukraine caused the worst nuclear accident in Europe's history after a systems test.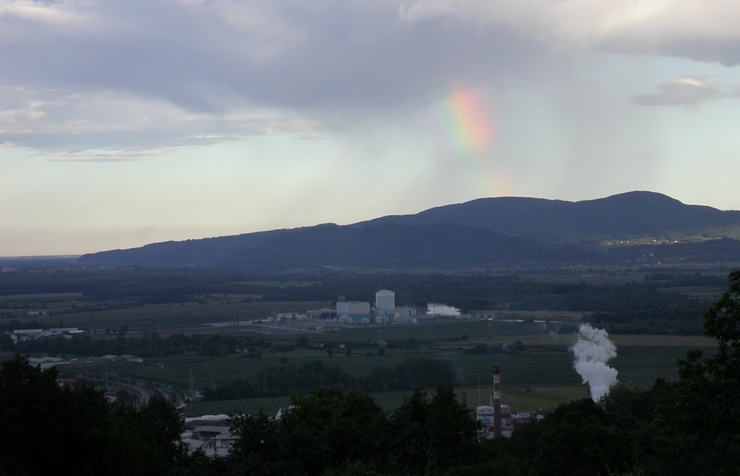 Instead, the average Slovenian will laugh and tell you that the media distorted events to make the whole affair look much worse. Even the word 'Fukushima' doesn't provoke a reaction; the 11 March atomic disaster was provoked by an earthquake and a tsunami. The country is now facing shortages as 35 of its 54 reactors remain closed. Yet geologists who monitor the seismic activity around the plant confirm that the risks do exist. 'If there were to be an incident at Krsko, Mendoza would become the biggest Slovenian city in the world'; a sizeable Slovenian community moved to the Argentinian city after world war two. Franci Maleckar clarifies that this essentially means no Slovenian would survive a nuclear accident. He is head of the ecologist network Adria Alpe Green, which also has offices in Italy, Croatia, Bosnia and Serbia. 'The life span of a nuclear power plant is no more than thirty years, so the same goes for the employment opportunities it offers. If we invest wisely enough in the renewable energy sector, we could create some 60, 000 long term green jobs, especially in a Slovenia where unemployment is on the rise every year (11.6% in May 2011 compared to 15% in Greece),' he says. However, no-one seems to be interested in this element. 
Media indifference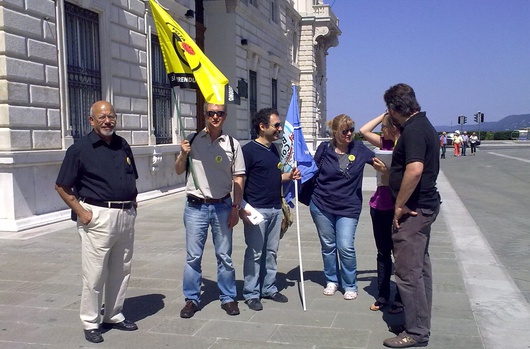 On 28 May a caravan took a group of Italian 'stop nuclear' activists from Trieste to Krsko. Each planted a flower or tree seed as symbols of the earth and fertility in front of the power station as a response to the Italian slogan 'Piantamola con il nucleare' (the play on words combines the verb 'piantare' (to plant) with the order 'piantamola', meaning 'enough' – ed). When I ask the Slovenians I meet what they think about this event, few had heard of it. A lack of media coverage is quite common when it comes to nuclear issues. Darko Kranjc, the young president of the SMS youth party-European greens, agrees. 'The media is financed by the government. All of that information which could potentially inform people that the Krsko power plant can damage your health, or on the protests going on around it or even official statistics on being exposed to nuclear energy in the long term is basically kept under wraps.'
On 10 June, one week after chancellor Angela Merkel promised to turn off all of Germany's nuclear reactors by 2022, and at a time when Italian referenda rejected government plan's to regenerate nuclear energy, the Slovenian government released their national energy programme (NEP), presenting an openly pro-nuclear position. Krsko is licensed to operate until 2023, but the authorities don't see it ending there. They want activity to continue until 2043, but also want to construct Krsko 2, a second reactor next to the first, despite the general European terror after the events of Fukushima, as renewable energy sources wouldn't suffice. In July, Italy also expressed its eagerness to be part of this project. 'The government should assign a bigger space for cleaner energies and exclude all kinds of thermal or atomic energies,' states the sustainable development NGO Umanotera, which is quick to speak out against the NEP.
Think renewable!
Yet the worst enemy of the anti-nuclear voices is the general indifference in Slovenian attitudes on the question. Slovenians are worried about other things, such as the TES 6 or Sostanj coal power plan, which is one of the biggest political issues. Under 20% of energy in Slovenia comes from hydro power, with the rest between nuclear power and thermal power.  The new block would power 600mW and cost one billion euros to build in the north-east of Slovenia. The brown coal fields would emit enormous quanities of carbon dioxide. The European investment bank (EIB) and the European bank for reconstruction and development (EBRD) have been asked by the NGOs to review their plans to provide 650 million euros in loans after allegations of corruption and mismanagement in June.
'We can build Slovenia on renewables, as solar power is stronger for Slovenia than wind'
Slovenia is supposed to be focusing on cutting down its greenhouse gas emissions from 95% to 80% by 2050 to meet EU climate goals. Luka Omladic, a professor of the philosophy of ecology, himself initiatied a movement against this plan in the east of the country. 'People are not caring about nuclear energy but about an anti coal-thermal plant,' he emphasises. 'It's the worst kind of thermal energy you can have. A window of opportunity in the next few years is using gas power plants instead. We can build Slovenia on renewables, as solar power is stronger for Slovenia than wind.' 
In any case, Krsko is becoming a bigger bone of contention between Croatia and Slovenia, who have been sharing the management and revenues of the plant since the days when both countries were part of Yugoslavia. In May, Austrian MPs even spoke out about Krsko being a potential obstacle in Croatia's bid for EU membership; the plant is based on an earthquake-prone region close to Austria. Should the energy, which provides 40% of Slovenia's annual electricity production, be connected to other sources, it would guarantee the country substantial energy independence.
This article is part of cafebabel.com's 2010-2011 feature focus on Green Europe; read the full set of city special editions. Read the official blog from the cafebabel.com Ljubljana team
Images: Krsko (cc) fluido & franz/ Flickr; caravan © Legambiente Trieste
Translated from Slovenia atomica: nessuna paura, solo amore per il nucleare