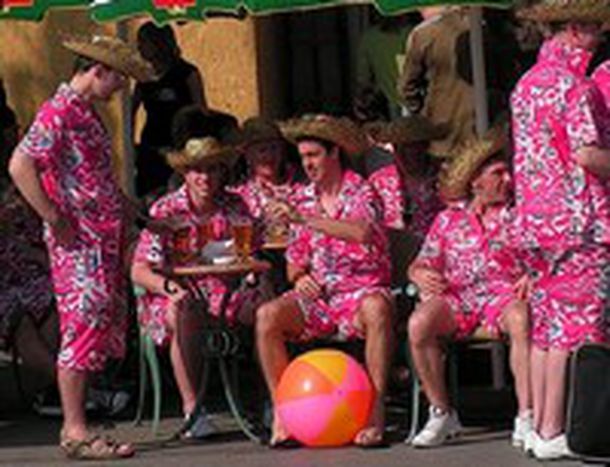 Kraków: a pearl in a sea of alcohol?
Published on
Translation by:
wojtek kubik
Attracted by tales of Slavic goddesses, hundreds of bars and a welcoming atmosphere, more and more Brits throwing stag parties in Kraków each year. Its residents have mixed feelings
Kraków has been dubbed an 'undiscovered pearl' by the English language press. The ancient capital of Poland has been referred to by many as the Prague of fifteen years ago – still unspoilt and authentic. Though the city attracts as many as 400, 000 Brits each year, only a small portion of these come for riotous bachelor's parties. It's these, drunken and raucous individuals – often in ridiculous costume – that linger deeply into the memories of Kraków residents. Though they leave behind nearly as much cash as memories, without causing too much damage, they aren't held in highest esteem.
Testosterone driven mania
Kraków's residents complain about the plague of drunken British bachelors bombing around the old city-centre, instead of noticing the increasing popularity of their city with Brits. 25-year-old Dominik Tarabanski complains, 'Most of the English tourists I meet during my nights out remind me of our native hooligans from Nowa Huta (a sketchy part of Kraków).' 24-year-old Aleksandra Ossowska, a student on a short training course in Kraków, recounts a recent run in with a young Brit. 'Last night one was running after me down the street...while taking his pants off.'
Monika Jarosz, the press secretary of the Kraków City Guard, has trouble stifling her own laughter as she relates the latest incidents she's heard from the city patrols. 'Once, the guard had to intervene in the case of a Batman, who aside from a short cape, was only wearing a very revealing G-string.' Jarosz also recalls an incident in which a young Brit 'was throwing shoes at Sukiennice (ancient shopping hall).' After the intervention of the city patrol, he paid a tidy little fine.
Their bark is bigger than their bite
The city's uniformed patrols and council don't consider the `British invasion` to be a problem. Katarzyna Gadek, 40, director of tourism, believes that the Brits that come in search of cheap alcohol are 'not representative.' She also adds, 'only 4% of surveyed foreign visitors noted cheap alcohol as the main goal of their travels.'
Even the drunkest Brits play like kids, not like hooligans. Jarosz claims that the English 'only inconvenience passers-by rather than cause serious property damage.' Marta Braczol, owner of 'Crazy Stag', which organises bachelor's weekends for Brits, confirms that problems are rare. 'After several years of running our company, we've only heard of 2-3 criminal incidents.'
Even this small group of misbehaving Brits have some basic manners. According to Jarosz, 'they come to Poland with a respect for uniformed officers.' When confronted by them, the game is over, and the issuing of fines begins, which the offending Brits usually pay immediately – because they'd rather not spend their weekend in court.
Why then, the bad reputation?
Fun during a bachelor's weekend can be well-behaved and it is easy to avoid a visit to the local police station. Many travel agencies organise attractive packages for Brits taking off to Kraków for a stag night. The programme includes quads, go-karts, a trip to the shooting range, a flight in a hot-air balloon, a raft ride down the Dunajec river, and at night – a pub crawl, or a visit to a casino. Braczol pokes fun that after a full day of organised events, the average British male 'falls asleep after two beers and is far too tired for any kind of excess.' Everything costs about £150 per person.
Gadek reminds us that English is an international language. 'Many tourists, not necessarily from Great Britain, use English to communicate, including Finns, Danes, and Swedes.' But the responsibility for any problems still falls upon the English. Jarosz has her own theory on the topic. 'These are people that use a different language than ours. They attract attention by being loud. Because of this people assume that this kind of behaviour is more prevalent than it actually is.' A simple, but true explanation. Because otherwise how can we explain that this goldmine of cash is disliked in Poland?
Translated from Kraków: perła w morzu alkoholu?