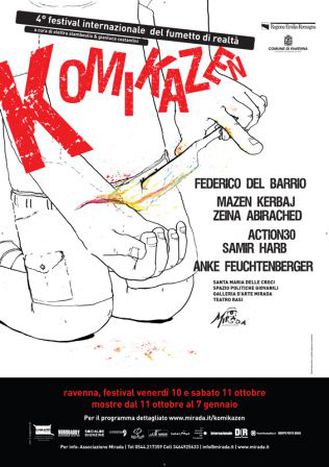 KOMIKAZEN: 4th INTERNATIONAL REALITY COMIC FESTIVAL
Published on
IN RAVENNA ON 10 AND 11 OCTOBER 2008 EXHIBITIONS IN VARIOUS LOCATIONS UNTIL 7 JANUARY 2009 Ravenna once again will become the centre of reality comics and experimental comics with the Komikazen Festival. Two days of exhibitions, meetings and workshops with a final performance on the occasion of the "notte d'oro" in Ravenna.
In this fourth edition of Komikazen, the International Festival of Reality Comics, Ravenna is happy to host the first exhibition of Lebanese artists in Italy – who will meet the public and schools of the city among others – and in particular it is honoured to have as one of its guest Anke Feuchtenberger, who will not only do two exhibitions, but also a seminar with the women of the shelter of the prostitution project in Ravenna.
Another guest of the Festival will be Federico Del Barrio, another unquestioned master of comic art from Spain together with Raùl and the writer Felipe Cava who has already been a guest in previous editions.
In addition to the German artist and Del Barrio, the young Lebanese author Zeina Abirached will also be present: the new Satrapi, acclaimed at the last festival of Angouleme, tells with delicacy and irony stories of a Beirut that has disappeared with a naïf and calligraphic style.
Another guest from the Near East will be the Palestinian artist Samir Harb: architect by profession (on the staff of the Riwaq Biennial, the only international contemporary art event in the Palestinian territory) who loves graphic novels however. Palestine had a great artist, Naji al Ali, who was killed in mysterious circumstances in London in 1988. Samir used the same disenchanted approach and proved how the weapon of caricature can be effective in revealing hypocrisy and injustice but also the joy of everyday life.
For the second year the best talents in comic art from the Region of Emilia-Romagna will be awarded prizes; in fact on the occasion of Komikazen there will be a presentation of two books by the winners of the last edition, Leonardo Guardigli (for Centro Andrea Pazienza) and Marino Neri (Kappa Publishing).
The exhibitions will be held in various locations in the city and will be open to the public for a longer period: some until 7 January 2009 (consult the detailed calendar in the site).
IN RAVENNA ON 10 AND 11 OCTOBER 2008
EXHIBITIONS IN VARIOUS LOCATIONS UNTIL 7 JANUARY 2009
For the detailed biographies of the authors exhibited and the guests visit the site www.mirada.it/komikazen
For information info@mirada.it tel. +39.0544 217359 or +39 346 4925633
Press office: Marcella Matacena 338.2028579 marcella.matacena@libero.it