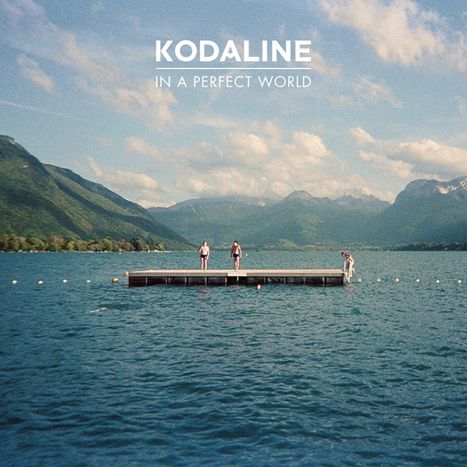 Kodaline : There's no perfect world
Published on
2013 was a big year for the four boys from Dublin who make up Kodaline. They released their first studio album, In a Perfect World, eagerly awaited after several years of hype. Their first single Give Me a Minute, made chart history in Ireland when it became the first independently released track to hit top spot. I spoke to the band at Eurosonic Festival in Groningen, Netherlands
Some people compare them to Coldplay, others to Keane, but Kodaline don't care. 'Comparisons are part of everyday life and to be honest we love both those bands,' say Kodaline in answer to my provocative question. These 4 Irish guys inspire a sense of Karma. You can see they know what they are doing. And they do it well. In Groningen they won an EBBA (European Border Breaking Awards), as well as being chosen by the public as the best European band of 2013. Their album In a perfect world went viral in Ireland and abroad. Before they went on stage we had chance to talk about what their imaginary world looks like, and about their home, Dublin, in an era of post-crisis and post-rock.
Cafèbabel: What does a perfect world look like?
Kodaline: There's no thing such as a perfect world. It's kind of open to interpretation. What do you think? It's really just for turning interviews upside down and confusing the journalists (laughs). Jokes apart In a perfect world was a single from our first EP and it was a very personal song, the spirit of which is still with us.
Cafèbabel: What's the meaning of the fascinating, bucolic cover of your album?
Kodaline: The 3 guys are alone and isolated, but they are still together. It can be seen as we 4 going through something together. And, by the way, it was a nice picture. We thought you can stare at it for a long time, so it must be nice. Moreover it fits well with the music, it's difficult to explain, but it goes along with the sound of the songs.
Cafèbabel: People say you're nothing but another Coldplay…
Kodaline: We are Keane, Coldplay or whatever you want…  Comparisons are normal, they are part of life. We compare everyday one thing with another. And Coldplay is a really good comparison: we grew up with their music, thus we don't take it so badly.
http://www.youtube.com/watch?v=mtf7hC17IBM
Cafèbabel: After several years of crisis and cutbacks in the cultural scene, what is the situation in Dublin?
Kodaline: We have a lot of friends finishing college and there're no jobs. A lot are moving to Australia and America. But as for the culture and the music and art scene, Dublin is very vibrant. There hasn't been a period quite like the last 10 or 15 years in terms of the number of bands appearing, even right now. It seems that social and cultural cuts force people to be pro-active and create: to act and to play music becomes an escape. When some time ago the country went down and financially collapsed, culture went up, so to speak. Hardship is the only thing which creates community: when everyone is, in their own way, going through the same kind of problems a common ground opens up.
Cafèbabel: How does the Dublin music scene look today?
Kodaline: There are about 20 gigs every weekend and about 50 bands who play. Among those about 20 are instrumental. Historically it's something new, because before there were mostly folk music bands. But now there is a whole bunch of post-rock bands which are popping up and doing quite well. God is an Astronaut and And so I watch you from afar are touring around Europe and reinventing instrumental music. Obviously, there are still a lot of rock bands around as well, but it isn't a cookie cutter scene anymore.
Cafèbabel: What have been your favourite European stages and crowds so far?
Kodaline: Everytime we come back to Holland it's been amazing. The Paradiso is just incredible. But we even once played in Switzerland and in terms of stage and settings it was unbelievable: all the alps around us. You couldn't even see the crowd. Moreover, event the first time in Italy, in Milan, at the Tunnel was great and unexpected:  the crowd was incredible and the gig was sold out.