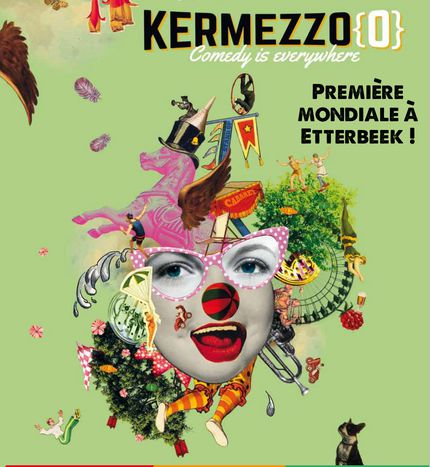 KERMEZZO(O): A Spring Festival with a Vintage spirit
Published on
Just when the sun and warm temperatures have finally arrived in Brussels, there's a new Festival called Kermezzo(o). An artistic and cultural space blossoming at Parc du Cinquantenaire.

Two weeks ago was the opening of a brand new Festival in Brussels: Kermezzo(o). This is a singular festival showcasing different spectacles for the general public. Theatre, comedy, cabaret, burlesque, music and even magic. Nested in a wonderful and emblematic scenario, this ambitious project is meant to gather all the Brussels citizens in a relaxed atmosphere just like in the 'old times' of popular festivals with open spaces, informal food and drinks with a 'vintage spirit' of "oldies but goodies". A successful recipe to please many in this multicultural and cosmopolitan city.
The Kermezzo(o) Festival is a perfect example of synergy between this new trend of "going back to the source" and technological progress. There are some free shows across the venue, but you can also buy tickets for the line-up shows performed in the two main tents; Aurora and Corona. As in the old-fashioned 'Kermess' you can buy tickets either on-site through the ticket office or like nowadays book and buy online. If you are high-tech this is your call as booking online comes with a bracelet using "NFC technology" which is convenient as you can recharge it with money for food and drinks (no need for your wallet) but it is also a handy place for all your tickets (so no danger of forgetting or losing them).
The main show is an Australian production with artist from three different countries; Australia, Canada and Belgium. Limbo is a circus-cabaret show with amazing music and performers. A complete sensorial experience going from laughing to amazement. CaféBabel had the opportunity to talk with one of the musicians performing for Limbo the Show, Mick Stuart.
Cafébabel : Hello Mick, could you tell us in your own words, where you are from and what's your role in the show?
Mick Stuart : I was born in Australia, my role in the show is a musician. I mean I do a bit of dancing but mainly I'm playing the drums and sometimes the bass, the electric guitar and also an instrument I've invented that is called "The Polymba". It's made up of 126 metal prongs all tuned through different lengths and pitches and it's amplified like an electric guitar.
It has small bits of metal that you pluck with your finger. It's like having a school ruler on the end of your desk, and when you hit it the longer it is, the deeper it pitches. It's basically lots of them and it's amplified, so you plug it in as if it's electric and you can make it louder through Fx or anything.
Cafébabel : Can you explain to us a bit more about the show. How long it's been around and why you like being part of it?
Mick Stuart : The show started in 2013. I've been part of the show ever since. That's two years and a quarter. I've stayed that long because I love it! I love travelling, I love performing and most importantly I love all the people in the show. There are so many skills and there are so many opportunities to learn from each other. We are learning skills from each other; the acrobats are learning music from us and also they are teaching us skills; hand balancing or dancing! It's a very healthy environment.
It is like a family, we are not lazy people. We are interested in each other's skills and that makes it a lot more interesting for everyone. It's not just a case of come in, do the job and go home. We all get along well; we spent time together outside this too.
Cafébabel : How often do you go back to your home country?
Mick Stuart : Well, only really if the show takes us there. Occasionally we have a little break, in this case I would go back if it's worth it, if it's only one week and we are here in Europe I won't go back, because it's a long way. But let's say that every few months I'm going back.
Cafébabel : Is this your first time in Brussels? How long are you staying here? Do you like it?
Mick Stuart : Yes, it's my first time here. I arrived on Sunday and today is Friday, so five days. We have not yet visited the city, because we have been very busy getting the show ready but once we've opened the show tonight, maybe next week then we will have more time during the day to explore and go around. At the moment we are working from 10am till midnight. We haven't had too many opportunities yet but we will 'cause we have a month here, we will have time to explore and visit.
I do like Brussels, the weather has been beautiful the last three days. When I left Sidney a week ago it was much like this. It was raining sometimes but also a bit sunny sometimes.
CaféBabel : Can you show us "The Polymba" for all our faithful Babelians?
Mick Stuart : Of course!