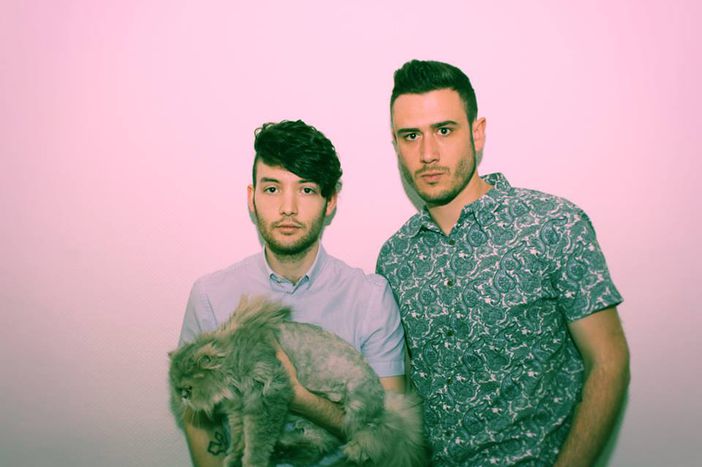 JUVÉNILES: soundtrack to an illicit summer
Published on
The Juvéniles are one of the shiny new successful groups who are singing and triumphing against the odds of youth unemployment.  These two lads from Rennes may just be the key to motivating you out from that rut you've found yourself stuck in
You don't have to be a music enthusiast to realise that we enjoy 80's revivals.  In 2013, artists everywhere are revisiting their 80's influences, although they never quite explain the reasons behind this penchant for the era of shoulder pads and glitter.  Maybe for some it's about returning to the age of the seemingly cryogenically frozen, timeless rock stars.  For others maybe it's nostalgia for their youth.
LIKE DAFT PUNK
The Juvéniles have chosen their territory.  We spoke with them in May, one month before the release of their album Juvéniles, which went on sale on the 10th June this year.  On the terrace of Paris' forever chic Hotel Amour, Thibault and Jean-Sylvain tell us of their intentions; 'We're trying not to do an 80's revival thing.'  Admit it, a declaration like that sounds about as believable as an MP's promise.  Surprisingly the two 25 year old French lads take it well; the album is not a tribute to originality.  While other bands are making mad, passionate, unprotected love with Monsieur Revival, Juvéniles protect themselves against such musical reproduction as if it were a sexually transmitted disease, pills included.  The morning after kind.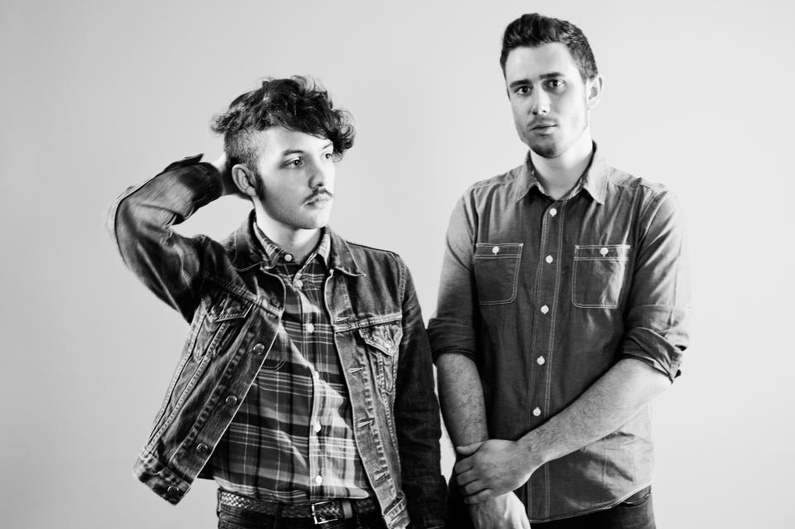 'There's still so much more to do after all.  We can't call it a revival, if we take a look around.  It's about approaching different styles of music, like Daft Punk did on their last album,' states Thibault. He has a more restrained style than that of his bandmate Jean-Sylvain, who is impeccable in his hipstamatic look with his hair closely cropped at the sides, a mussed-up fringe and a thin moustache like a lot of the modern Shoreditch types you pass in the street.  'I cannot reference things, in my writing or in my music, which have already happened.  Yuksek has truly helped us a lot in avoiding this.'  Yuksek is one of the biggest French music producers of electro-pop.  'He produced Bewitched Hands' second album, and so he was in touch with what we were doing too.'
NEW INFLUENCES
Juvéniles travelled to Reims for a short time, where Yuksek lives and where he gave them musical guidance in his studios.  He urged the group to overcome the ever-present influence of the Smiths.  'I think we've listened to them too much,' admits Jean-Sylvain whose voice, it's true, sounds a lot like Morrissey's own falsetto.  'Generally we are much too influenced by the British new romantics culture.'  Following such a statement it's difficult to ignore the shadows of that dark era in a Britain under Margaret Thatcher's mandate.  'Throughout our themes there's still a sort of coldness, a sense of something perturbing,' says J-S.  However, despite this the Juvéniles' sound is arranged in a way that avoids any suicidal tendencies in their listeners. Each one of the three themes which the band has chosen as their singles during their promo consist of a survival instinct which will render us incapable of staying still in our seats.  'Strangers' could be the soundtrack to an illicit summer; 'Fantasy' like a bad shag, with disco music; and 'We are young' evoking the innocence of summery parks, like in those TV period dramas.
PARADISE, FASHION AND PAPA BROSSART
This is what we get from the title of the album: a way of reminding those who still don't get it, that Juvéniles symbolise the prime of life, the bloom of youth.  Born in Rennes, Thibault and J-S were always surrounded by musical figures in a city known for its music production. J-S, whose father makes stringed instruments, affirms that 'Everyone is everyone's friend in Rennes.'  In Brittany, rock has grown in popularity.  The reason?  Jean-Louis Brossart, the manager of the UBU concert hall and programme director of the Rencontres Trans Musicales festival.  'It was him who suggested we play, him who advised us and introduced us to everyone.' To everyone?  Bands like the Popopopops, Manceau, O Safari and so many others who benefit from the support of such inter-relationships which play a key part when it comes to recording new albums.  'These guys saw our work before it was released.  We inspire them more than they're likely to say.' Their relationship to this French pop fraternity resulted in the band appearing in a compilation of new pop music being made in France.  
At time of writing the band had signed with Kitsuné, the Parisian laboratory which oscillates between music and Brazilian fashion.  'We were big fans,' says Thibault.  'The project has just begun and it's like a massive trampoline.'  Thanks to the position of this fashion house at the core of the French hipster scene right now, the band has been able to travel to England, playing in Manchester, Brighton, and at Heaven in London.  'The premises were rotten, the stage was threatening to fall apart at any moment. The room was closed off and we only had 5 minutes to sound-check. It was a moment in which we could easily have said 'screw it.''  But everything turned out 'amazingly well.'  J-S's voice – often reminiscent of Depeche Mode – and the band's electro-chic arrangements dissolved into the atmosphere like aspirin.  Great Britain does sound like a challenge for these Bretons.  'There are lots of people over there who like to make sure you don't feel at home doing your music, you have to fight against yourself.'  The question is, who are you fighting against back home?
Interview by Matthieu Amaré and Louise Monlaü
Translated from Juvéniles, juvabien