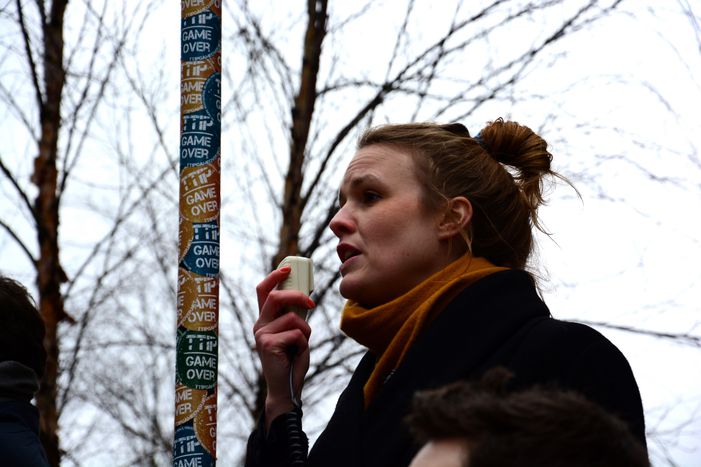 "Just Pay!": Interns in Brussels speak out
Published on
One hundred interns gathered in Brussels to protest against "exclusionary unpaid internships." The organisers, Brussels Interns NGO (BINGO), say that many NGOs, trade unions and firms hire people for free or for less than the Belgian minimum wage - an illegal practice.
Many graduates dream of having an internship in a European institution on their CV. But, this is not affordable for everyone, and many accept the opportunity work for top institutions or NGOs for no pay. On Monday 20 February, 100 such young graduates gathered in front of the European Commission to protest against unpaid internships, which they claim are "exploitative and exclusionary." The demonstration was part of a global strike, with support in Washington DC, Geneva and Vienna.
Many important people have recently come out against the practice. Emily O'Reilly, the European Ombudsman, concluded last week that the European External Action Service (EEAS) should no longer employ unpaid trainees. The service "hires" nearly 800 unpaid professionals in all their delegations. "Unpaid traineeships may perpetuate social exclusion by de facto preventing some young people from enhancing their skills and qualifications, which can have a knock-on effect on their further careers," O'Reilly said.
Speaking to Politico, EEAS spokeswoman Maja Kocijančič responded: "We took note of the assessment. (…) Unpaid internships were not invented by us. It is a tradition for several international organisations like the United Nations."
"It is unacceptable that young professionals are expected to work for free"
EEAS is not the only EU institution employing people for free. While O'Reilly says paid trainees are "the norm" across EU institutions, which hire around 1,000 paid trainees every six months, Brussels Interns NGO (BINGO) claims that the European Commission alone includes around 200 unpaid trainees - known inside the Commission as 'atypical trainees' - at a time.
The problem also concerns the European Parliament (EP). A recent survey of the EP's Youth Intergroup shows one out of three trainees there receives less than €600 pay per month, while one out of ten is not paid at all. "It is unacceptable that young professionals are expected to work for no remuneration at all," says Terry Reintke, MEP and co-chair of the Youth Intergroup.
BINGO estimates that 4,000 interns "not earning enough" are employed every year in the EU sector in Brussles; including NGOs, industry associations and public affairs firms. 
For such an outrageous problem, a protest of 100 people can look pretty small. Bryn Watkins, managing member of BINGO, explains that it is difficult to organise collective actions because "nobody has strong or special identity as an intern. Nobody wants to be an intern forever. They are more focused on the day-to-day issues, on trying to cope with a new workplace, a new country, thinking what they are going to do next, maybe doing a second job to earn money." Watkins adds that it doesn't help that trainees usually spend a short amount of time in Brussels for short periods of time: "you reach a batch of people, and then in six months they're all gone."
Watkins also says there is an "information gap" between interns and the employers, where companies know "so much more about how the market and legislation works and what a job exactly looks like." BINGO started the Just Pay campaign to make young people in Brussels aware that unpaid internships for graduates are illegal in Belgium. Watkins explains that EU institutions work under a different legal framework, but companies and NGOs in the European Public Affairs sector do have to follow Belgian laws –and can't hire graduates for free. They are also asking the national authorities to increase their vigilance to abusive and illegal practices of employers. 
The "exploited" in their own words
By allowing unpaid traineeships, "we are saying that exploiting another human being is OK," says Celine, 26. She did four internships, one of them unpaid, in different industry associations and public bodies. She denounces companies hire people with more than three years of experience for junior positions, which leaves 'real junior' internships as their only option.
She says her tasks and deadlines during her internships were exactly the same as they would have been if she was in a 'real' job: "you are not treated differently than other employees, apart from in your salary." Celine has now stopped accepting internships, taken a part-time job and created a young professionals network along with other volunteers. "Nobody should be working for free no matter their status," she says. Nevertheless, Celine admits internships helped her to get useful competences for her new project.
Nikolay, a law graduate who's also 26, says he has done 11 unpaid internships in different NGOs and companies in Bulgaria. Most of them where during his university studies: "I was working, usually full time (or if the internships were part-time I was doing two at the same time)." Still, he is having difficulty finding a job: he has sent more than 100 CVs to companies in Belgium, Poland, the UK and Luxembourg in the last year without success.
Having done an official and paid internship at the European Commission, he believes that EU institutions should set a standard: "Institutions should only allow unpaid internships if students are getting money from scholarships. The current system creates social inequality, and promotes the supremacy of the rich, white Western countries."