Juliana Guarany: Taking the street harassment fight global
Published on
Street harassment is common in many countries around the world, though it's often taken for granted. Not by Juliana Guarany. The Brazilian journalist and human right activist shares her experience of taking the battle against street harassment global.
As I watch a dialling icon pop up on my laptop's screen, I get really nervous — Skype interviews were never my thing. Yet, the moment I see Juliana Guarany waving at me, my anxiety disappears — I'm all ears.
I ask her what caused her to start out as an activist. "How did I come out of the 'feminist closet'? I always tell that story," she says seriously, before smiling and adding, "It's not like you wake up one day knowing that you're a feminist."
For Juliana — a 37-year-old Brazilian journalist and human rights activist — it took quite some time to find her way out of that "closet". Yet she admits that the idea had always been somewhere in the back of her mind. "I've always had a progressive pro women attitude," she continues, "Though I'd never really said that I was a feminist. It sounded a little bit like a bad word — too aggressive and combative."
Call for action
It was street harassment — a universal and constant experience for women across the world — that wore Juliana's patience thin. The incident occurred shortly after she finished the first year of her Master's in Journalism, flying back from Europe to Brazil for summer. "I was walking down the street minding my own business," she recalls, "when suddenly a guy just came up to me and whispered 'nice tits' in my ear."
The incident dragged Juliana out of her comfort zone leaving a bitter feeling of anger and vulnerability. However time spent in Europe had changed her once and for all, so she turned this incident into a call for action.
She started talking about her experience on Facebook, trying to attract attention from her female friends. Their responses showed that street harassment in Brazil was commonplace and could happen anywhere — from the supermarket to the nightclub. "People simply say that it is a part of culture," Juliana explains, gesticulating expressively. "That's the biggest problem of all."
The Feminist Map of Projects
Juliana came up with the idea of creating a mobile app that would report acts of violence against women. However, she soon began to realise that much had already been done. Many countries had their own localised platforms designed to battle harassment and abuse. Yet her research revealed that many of these local initiatives aimed at helping women would often repeat themselves.
"I saw all these projects and thought that maybe they just don't know about each other's existence, so they keep starting from scratch and don't draw on previous work for assistance," explains Juliana.
Drawing inspiration from the Internet Movie Database (IMDb), she decided to create her own "database" that would map activities and initiatives dedicated to gender equality across the globe. The Feminist Map of Projects — or FemMap — was born.
"I could spend hours on IMDb!" Juliana says. "The information is interconnected, so you can easily get the bigger picture. This is what I wanted to do with FemMap, but, of course, it takes years to build that. It's a lifetime of work."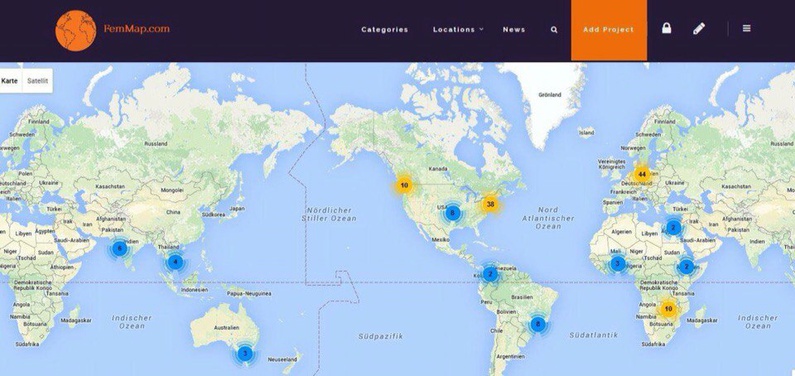 Meeting the German Chancellor
The search for financial support was a challenge. "My project is not profit-oriented, so it was hard to get funding," she says. Yet this didn't stop Juliana. With the support of Hamburg University — her host institution — she successfully competed for the German Chancellor Fellowship from the Alexander von Humboldt Foundation.  
This meant, among other things, that she got the chance to meet German Chancellor Angela Merkel. Juliana met Merkel on two occasions, even getting a chance to talk to her in person.
"I was in Brazil when Merkel flew there to meet President Dilma," she recalls, "First she talked to us, took some photos and then went to meet the President. She wore the same clothes in that second meeting, so I like to pretend that it was Dilma who took the picture of us."
It already seemed a happy ending, but what Juliana says next surprises me even more. The day after the FemMap website was launched, Juliana gave birth — proof that women are able to balance career and children. "It was insane," she exclaims, "One moment I was at the hospital, and then we are launching the project. It seemed crazy! I've managed to do both things at the same time!"
---
Mind the gap presents #Sheroes, a series of portraits about young people who advocate gender equality and campaign against discrimination.
---
Mind the gap: Changing the conversation about gender equality