Journeying through Berlin with a refugee tour guide
Published on
Although 'refugee crisis' has become somewhat of a buzzword recently, some of us hardly ever meet refugees in our daily lives. In Berlin, however, that is changing. Refugee Voices Tours is an initiative in which refugees are telling their stories in the form of a walking tour. That's how I met Mohamad, a Syrian refugee who allowed me to experience the German capital through his eyes. 
It's Saturday, and I am at the exit of the Mohrenstrasse U-Bahn station. It's just before 3 pm and I'm one of the first to come to the tour entitled: "Why we're here." A tall, young man with a colossal beard and a somewhat humble expression is waiting for us. It's Mohamad, our tour guide for the day who comes from a small city next to Damascus. He kindly asks us not to take pictures of him. He has relatives back in Syria and doesn't want his activities to be shown publicly.  
We start the tour at the Platz des Volksaufstandes, an ordinary small square between a shopping mall and the German ministry of finances building. It was here that in 1953, the People's Uprising in the GDR was violently suppressed by Soviet tanks. After this brief glimpse into German history, Mohamad switches stories and starts to talk about the 70s and 80s in his home country: Syria. We attentively follow him in this journey. We are in 1973 and after a military coup, Hafez al-Assad implements a new Constitution. As a result, we see the Muslim Brotherhood rise against the government and an uprising in 1982 in Hama, which ends in a massacre with tens of thousands of civilians killed.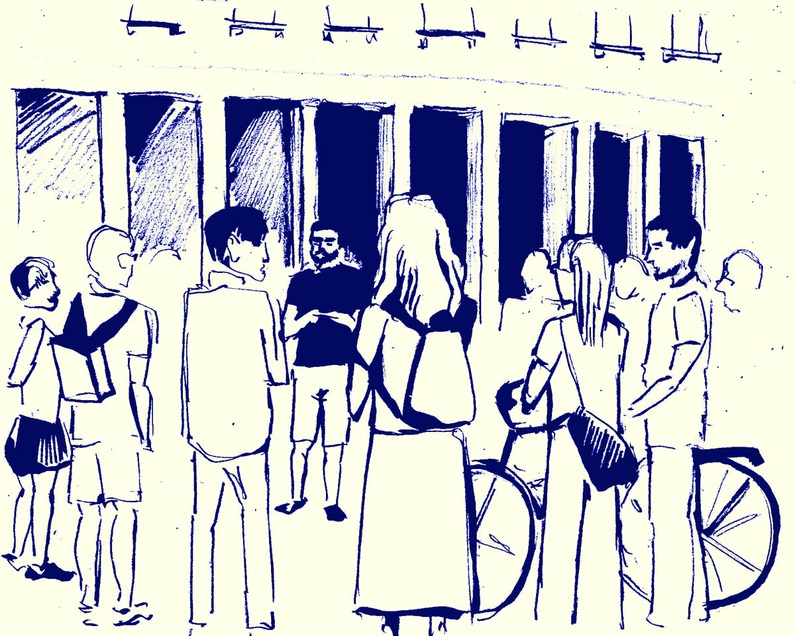 Between Syria and Germany
Drawing parallels between German and Syrian history is a hard task, there is not much connecting the two countries as both have undergone vastly different historical events. This is one way to look at things, but there an underlying theme that both countries share. The stories of ordinary people who want to live in freedom and in peace are surprisingly similar for Berlin and Syria. Mohamad's story is exactly that.
In sharing his personal story, Mohamad shows people what has been happening in his home country and explains why he had to journey all the way to Germany. "I want to answer the question: 'Why are we here?' This is the question people want to ask me but don't dare to, or don't find a place to ask it," he says.
Together with a British tour guide named Lorna, they created Refugee Voices Tours in 2015. Lorna was active in the refugee community from 2012 to 2014, until she realised that the refugees could shape and express their stories themselves. That's when the idea of creating a walking tour through the eyes of a refugee was born. And given Berlin's historical past, it was just the right place to start this project.
Why we are here
The next stop on our tour is the former Gestapo Headquarters. Bombs destroyed the buildings that housed the Gestapo and SS in 1945. Today, an outside and inside exhibition called "Topography of Terror" reminds visitors about the terrors that happened here.
Here, Mohamad tells the story of Bashar al-Assad's regime and the infiltration of the Special Forces in the everyday life of Syrians. With each pit stop, we talk less about Germany and more about Syria. This is why Mohamad is here and, in turn, why we are here as well. People who choose these tours are eager to know more about the lives of refugees. "It is hard to get people who are sceptical about refugees [to take part in the walking tour like this]," Mohamad explains.
I look around me. In a group of 20 people, there are no locals, only tourists and exchange students. One girl is fervently taking notes; she is working on a comparative research paper on refugee policies.  
We follow Mohamad further to Checkpoint Charlie, a symbolic place for anyone who has managed to escape an oppressive regime. Mohamad slowly starts to unveil his personal story. He explains how he studied maths in Syria, how he and his brother fled to Libya in 2014 and worked in a graphic design shop there, how when the situation got worse in Libya, they convinced a fisherman to smuggle them to Europe, how he undertook this risky 48-hour boat trip through Mediterranean waters and how he was lucky enough to moor safely. And finally, how he passed through Italy to come to Germany and settle here.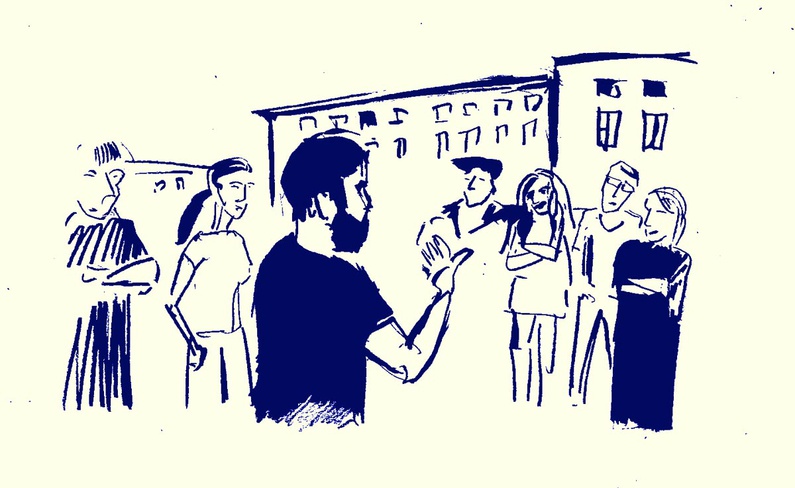 Sharing helps
I go up to Mohamad after the tour and ask him if it's easy to share a story like his. "At the beginning it wasn't. And even now I sometimes feel… I have been sharing this story many, many times and still sometimes it hits me," he replies. He tells me that many of his friends who went through similar experiences prefer not to talk about their past because it makes them relive the moment.
As for Mohamad, the sharing helps. He is very open to questions and having a conversation. Most of the questions come after he explains his personal story. What is life like in a refugee camp? What challenges does he face in Germany? What can the authorities do better? Questions about international politics and the involvement of Russia, the US and the EU come flooding in. "I live off the help that Germany is providing me," Mohamad says, without any hesitation, "but that doesn't mean I cannot be critical towards their actions."
The tour ends at the Gendarmenmarkt. Mohamad talks about the 1600s, when French Huguenots came to Germany as refugees. The French Huguenot Church is standing on the square just in front of a nearly-identical German church as a "beautiful symbol of welcoming."
For Mohamad, it is important to get his story across and to feel this connection to home in his everyday life. "I hope this tour will make people understand how desperate we were, so [that's why] we undertook a journey here," he says. "It is not like we have chosen it. We didn't have any other choice."