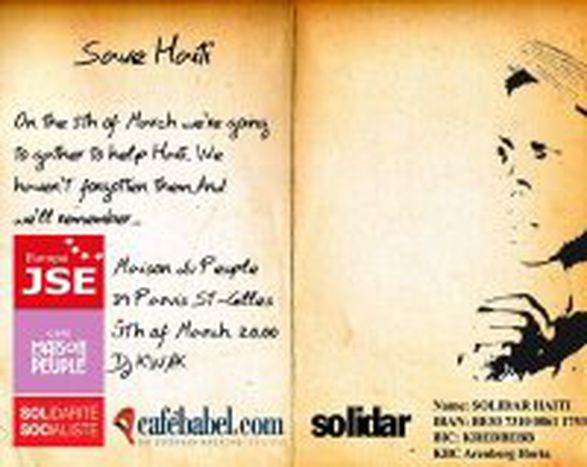 Join the initiative for Haiti, tonight in Brussels
Published on
Tonight in Brussels you can take part in a special social event where you will be able to taste special Haitian cocktail and feel the accompaniments of Haitian DJ Kwak. The café Maison du Peuple is hosting an evening of solidarity with Haiti, with photo and video exhibition of the island before the Earthquake.
Cafebabel Brussels has met Marta Alcalde and Ruslan Gogin, initiators of the project.
It is as trainees at the S&D Group in the European Parliamen that Marta, from Spain, and Ruslan, from Estonia, first met. When Haiti got hit by the disaster, they were overwelmed with information about victims, but left however without a clear idea on how regular citizens could help Haitians. Sharing a common interests in helping society, they naturally stood up with with an idea that would give to anyone in Brussels the opportunity to help.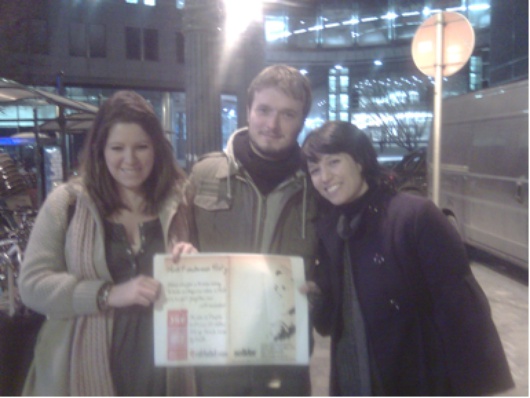 Marta Alcalde(Spain), Ruslan Gogin(Estonia), Beatriz Talegon(Gen.Secretary of JSE Europe)
Ruslan told us how fast the project took shape: "Once we launched the idea, it quickly developped and soon more and more people joined in. During the whole period of organization of the event, we've received a lot of help from different NGO-s and individuals. Ones helped us with contacts; another with publishing, third spread the news, forth helped in distribution. It's been a great pleasure to work with all of them. And each effort is certainly irreplaceable. We had a great pleasure to cooperate with Solidar, Maison du Peuple, and our socialists friends from S&D Group in the European Parliament, JSE Europa, PES and Solidarite Socialiste."
A lot of people are expected tonight, individuals but also from NGO-s and networks. "People can contribute in many ways", says Marta. "Firstly, donating directly on the place to special boxes and secondly just having a wonderful party!". Each drink bought in the Maison Du Peuple tomorrow will turn into bottle of clean water in Haiti!
What Ruslan and Marta are also very glad about, is that this initiative has contributed to the creation of a strong network of NGO-s and activists who are willing to cooperate to help Haiti, and will continue working in this direction.
They are waiting for you tonight as from 9pm at Maison du Peuple, Parvis Saint-Gilles 39, Metro Porte de Halle.
If you want to support the initiative but can't come to the event, you can make a direct donation to
Name: SOLIDAR HAITI
IBAN: BE53 7310 0861 1753
BIC: KREDBEBB
Bank: KBC Arenberg Horta