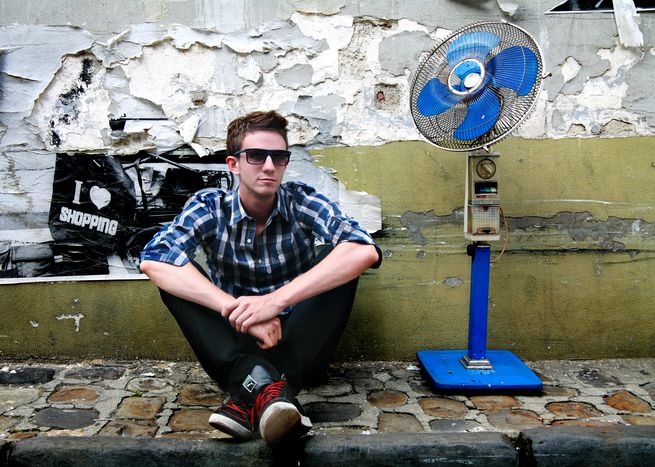 John Morillion: 'Cigarettes and booze made my voice the way it is today'
Published on
Translation by:
chri2928
This kind of rock really is quite something. It's not so much illusions of grandeur as simplicity that strikes you in an album where you can feel the influence of 'positive' rock stars who, instead of brooding, invite you to sing along with them around a campfire, on a summer evening. We meet the French singer, 27, a couple of days before his gig in Paris
At the age of seven, John Morillion was so deeply affected by his grandmother's death, that his parents decided to send him across the Channel for a change of scenery. Off to an English boarding school he went - though there was nothing sad about it, John recalls. Forget Oliver Twist. Picture a 'fairly smart' kid, surrounded by 'Chinese kids who could play the piano like concert pianists' and by other children from all over the world. It was quite an eye-opener for this little Parisian born near Gare Saint-Lazare, and one of six children.
Alone on stage, influences galore
Morillion moved on from his early 'fascination' with British culture and the language of John Lennon to spending his summers in Ireland perfecting his English. He finished school and did various jobs in New York before spending time in Vancouver, where he mainly hung out with Japanese and Indians. What's the point in travelling if not to meet people whose languages you don't speak? Although a fan of the great French singers like Jacques Brel and rock groups like Les Innocents since his teens, English soon took over in John's music. 'People often think there's no such thing as decent French rock,' says John. 'That's not true. I write in English because when I try to write in French, it ends up looking like poetry. I want my music to speak to everyone and English is the best way to do that. Plus, it's a language that ideal for singing in.'
'I write in English because when I try to write in French, it ends up looking like poetry'
In all this, was Morillion suffering from a bout of travel mania or an impulse to flee the nest? He says it was both, captain! 'When I was fifteen I was going through a teenage crisis and I asked my parents to send me away again,' he admits. He ended up in Reims where he started playing the guitar, initially with a teacher for a few lessons before perfecting his art on his own. 'I was actually listening to a lot of rap at the time, despite my middle-class upbringing,' he smiles. Just the classics, mind: the French legends NTM, who seduced him with their 'beautiful violence', and America's Nas. Morillion thanks the 'magic of the internet' for being able to have a bash at playing the guitar. 'I used to download free sheet music, stuff by the Smashing Pumpkins and Radiohead. That's how I learned.' 
Ray of the blues sunshine
Today, Morillion is accompanied by three professional musicians on stage. He has tried being a member of a group, but the set-up didn't really suit him. 'I'm not a natural leader,' he says. 'I tended to quickly fade into the background and was a bit excluded from the creative process. I wanted to escape all of that.' His role models are the only ones that keep him company on the road, he says. 'There are loads of people who inspire me, be it Ray Charles or Beck. There are also all the artists that no one knows and who are still waiting to be discovered. I have always sung but my voice has changed quite a bit,' continues Morillion, as we move on to the topic of what is probably his best asset. He sounds mature, deep and raspy when he exerts a bit of pressure on his voice; rather like the voice of a blues singer who is not completely tired of the world. 'Before a concert I do exercises but never at mine because it really makes a lot of noise. I know it's a bit clichéd to say it, but cigarettes and booze made my voice the way it is today!'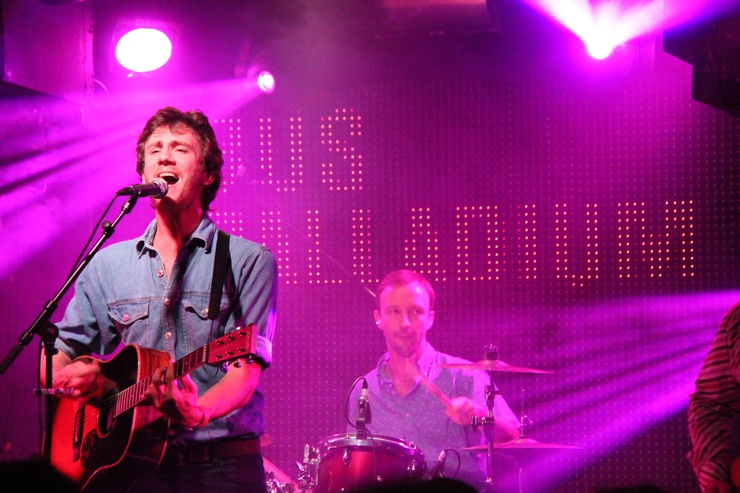 Sensible John goes on to order a coke, proving he is not pretending to be Johnny Cash. Once summer's over, John Morillion will be heading to New York - not really to go sightseeing, but more to explore the city's bars and discover its up-and-coming performers. 'You hear all sorts of myths surrounding rock stars,' he adds. 'I heard my parents question my decision to perform on countless occasions. They had preconceived ideas about what being a 'performer' entails. That's why I've always done my best to not end up in this category.'
'I reject the stuff that was difficult to bear in my christian upbringing'
John's music has a deep longing to let light and 'positivity' prevail; it's an absolute 'must' in his eyes. 'I reject the stuff that was difficult to bear in my christian upbringing. I have kept the nicest part of it: sharing, and the desire to help others. You have to have this crazy instinct that's called optimism. As a singer, I try to have an ethic.' Onstage, Morillion performs with style, without going too overboard. This evening, his crowd is mainly made up of close friends. 'That puts pressure on me nonetheless, but it allows me to keep things simple,' he says. 'I don't want there to be a big difference between what I do onstage and who I am in the studio or in real life.' Essentially, John Morillion wants to make rock music without playing the role of the rock star. 
Images: main © courtesy of JM; in-texte © Mélodie Labro; video: (cc) lemouv/ youtube
Translated from John Morillion : du rock vermillon