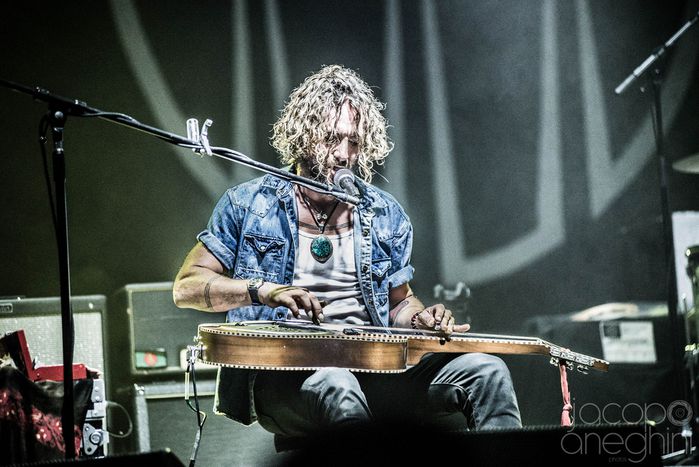 John Butler Trio: "Every gig is a wild beast of its own."
Published on
Next year will be the twentieth year of John Butler's music career, from busking on the streets of Perth, Australia to playing sold-out shows around the world. The roots rocker sits down with Cafébabel to talk zombies, wanting to join the special forces, and Rage Against The Machine.
For someone who's just driven in straight from London, John Butler, fully decked out in denim, looks pretty fresh-faced. The Australian, who released his sixth album Flesh & Blood last year is at the end of an intense period of touring, starting with a late afternoon set at Paris' Rock en Seine festival.
How does it feel to be back in France?
Well, I should know how to speak French by now – after ten years, which is a bit pathetic… You were really the first country outside of Australia that kind of welcomed me home like I was a lost son. It was amazing. Zebra dropped and we started playing live and the audiences were… it was really profound. For not really knowing my language very well, you really understood the energy of my music.
Have you ever thought about meeting them halfway - with a song in French?
I've thought about it… it's quite tricky as an artistic notion because art for me, when it's good, it's quite primal and natural, so singing in French [for me] is not very natural. It would almost be a commercial idea and I think it'd have to be a very good song. Otherwise I'd feel like I was just trying to kiss your ass, and I'm not sure if you want that…
If there was a French artist I was really attracted to then yeah, maybe. I wouldn't say no – who knows? I don't do that very often. My art is quite introspective, it's my own world – I make the music I wanna make because I don't hear it anywhere else and I wanna hear what's in my head and heart. So a lot of times, I don't think about other people. It's about trying to work it out myself like a crazy person.
What does music mean to you?
It's a vehicle. A vehicle to feel things that you can't feel any other way than through music. It's a vehicle to express yourself in only the way that music will allow you to. It's a vehicle to accessing memories and to expressing your absolute-fucking-disdain and disgust and pissed-off-fucking-agony… and at the same time, your absolute love and celebration and joy.
Sometimes, it's all at once, you can literally be like "aaaarrgghhhh" and still create positivity. It's like skateboarding, it's extremely violent at times [smashes boots on the ground, making a thud] but it's beautiful and I like that you can be beautiful and violent at the same time, or sad and happy… it's very magical.
When you began busking on the streets, why did you decide not to sing?
Well, I sang a lot at home. I started off as a song-writer but I just thought that the streets weren't a place for my songs. I thought I could get more attention through the guitar at the time. Because everyone else was singing covers and I didn't want to sing covers. I was writing my own music so it just seemed like the most individualistic way to get attention.
When did you realise your life was going to be music full-time?
About 21, so quite late. I never ever dreamt about doing this. I never wanted to do this. I wanted to do all kinds of other things… like I wanted to be in the army until I was like 13, like in the Special Forces. Then a professional skateboarder, and then a professional artist – I paint and I draw - so I was going to be an art teacher 'cos I couldn't guarantee I was going to be famous enough to pay the bills. I was going to university to become an art teacher and I then I discovered open tuning on the guitar and got totally obsessed. I've always had the guitar – it's always been a good friend but never a friend I thought I would go into business with.
How important was it for you to marry creative independence with commercial independence?
Well, I have my own label so I don't really know what anybody else is doing. But I know a lot of people are going more independent than before. I don't think there are any rules, but for us it was very vital because no major record label wanted anything to do with us until we sold gold and once we sold gold, they came knocking.
So in my opinion, they're only interested in money, they didn't believe in the band. So for me having my own label, I found people who believed in me and I work with them. But I've also worked with major record labels in America and France and they were great.
What's the vibe you were trying to get out there with Flesh & Blood?
I think it's a little more introspective, I'm wondering things about the heart, I'm not talking about the outside world a whole lot. I'm trying to tell stories about… well, what it's like being a human being so it's a little more intimate.
This time you have a new drummer.
Well, [on Flesh & Blood] it's mostly the old drummer, [Grant Gerathy] the new drummer only plays on one song. But the differences between Grant and Nicky [Bomba]? Every musician I've ever played with is fantastic but Grant has a really long relationship with Byron [Luiters] on bass/contrabass. They've been playing together for about ten years so there's a really strong foundation.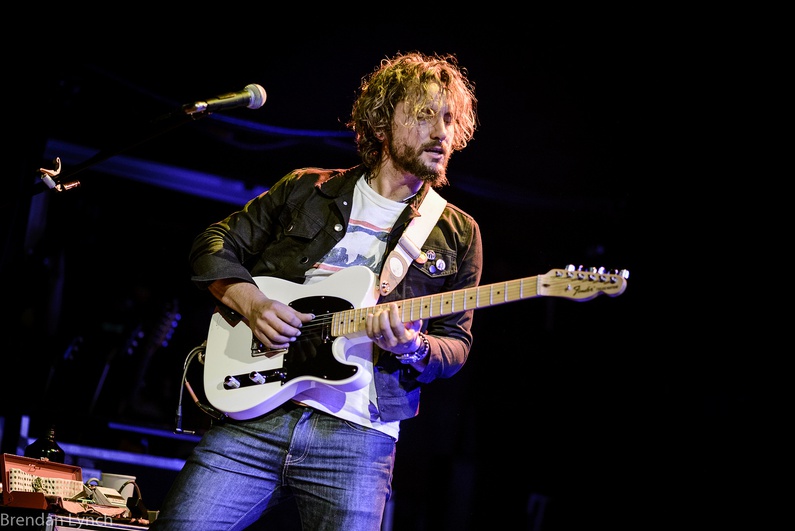 The music video for Only One was zombie-themed. Are you a fan of The Walking Dead?
The Walking Dead? I haven't seen it. I'm not even into horror movies, I'm a terrible scary film guy – I'm pathetic (laughs). It just seemed like the right thing to do in a lot of ways. And Only One is such a pretty song and I thought if I made a video like that, I'd want to punch myself so I thought "fuck it, let's make something sort of ugly and funny. Let's flip it and make a zombie love story." Lot's of people didn't get that, so I'm not sure if it was too successful, but it was fun to make.
Is there a crucial moment or a particular artist that's really influenced you?
It's hard to pick one but for me one of my most life-changing experiences was watching Rage Against The Machine in Lisbon about eight years ago. I always loved them as a teenager but seeing them live is an undeniable, unstoppable force. In terms of an album, Missy Elliot's Under Construction… I really like Tracy Chapman's [eponymous] first album, then there's Three Feet Rising by De La Soul, and then we start going onto legends like Bob Marley, Band of Gypsies 'Live At Fillmore East' in 1969.
If you had to pick one…
Bob Marley and The Wailers, Catch A Fire.
What's next?
I'm almost done writing an album, so record an album next year and go home – in two days I'm going home. It will be twenty years next year as a performing artist and I won't even be performing then so that's hilarious.
Finally, what's in your mind ahead of a gig?
Maybe it'll be magic and maybe it'll be crap.  My wife [ed. Danielle Caruana aka Mama Kin] is an artist too and she also tours - we just tell each other to have a good gig. Every gig is a wild beast of its own. Sometimes she bucks you off and sometimes you ride to glory!
YouTube: Spring To Come - John Butler Trio