Jewish Slovenia (but maybe not for much longer)
Published on
The Slovenian jewish association, based in the capital Ljubljana, only counts 150 members in a country of 2 million. We spoke to one of the religious community's most renowned figures, who believes that Slovenia will lose its Jewish identity one day soon
"Is it fun being Jewish in Ljubljana," is my rhetoric question to my contact as we sit at a cafe in the old town of the Slovenian capital. So I am surprised when he replies with a very bitter "no". He has to be provocative; after all, he is the sole spokesperson of the Slovenian Jewish Association.
Through the windows behind him I can see the sign for Židovska ulica, a famous Jewish street in the capital. In mid-August, this sign was covered up with a Palestinian flag. It was one of a series of aggressive anti-semitic acts, says my contact, who has already experienced finding his mother's grave covered in swastika scrawlings.
In 2005, Slovenia's only historical synagogue in Maribor was also targeted with graffiti slogans such as "Jews out!" and "Gaza". The hostility that Slovenia's jews experience certainly has an abstract character, since there are hardly any more members of the religious community in Maribor. Almost all of the few survivors of the holocaust left atheist Yugoslavia after the second world war.
Left anti-semitism
My contact believes that anti-semitism comes from the left in Slovenia. "It's a socialist tradition to hold Jews from the medieval times responsible for the politics of the Israeli government." Ironically in Israel, he himself is considered to be left-wing. 
He embodies these two elements, of his own experiences of being raised as a member of the Jewish community, but also that external reflection of it from his trips to and from Israel. He admits that he is increasingly turning down media opportunities to appear on talk shows and propagate the position of Jewish people in Slovenia. Yet he incarnates the position, since he is also an author and translator of numerous essays and monographs on Jewish history.
"That says a lot about local anti-semitism," he says, when we discuss the lack of Jewish literature translated into Slovenian. He has found it difficult in the past to agree on a deal with publishers for the works he is translating. "The only organisation that supports the regeneration of Jewish history in Slovenia, is the Catholic Church."
Staying in Slovenia
The discreet Slovenian Jewish community has been reshuffling its members for the last decade or so. European donations allowed the community to move from their old ready-built offices to a provisional synagogue. The community centre and prayer room are now also a part of this 70 square metre space. A rabbi comes regularly to visit from Trieste.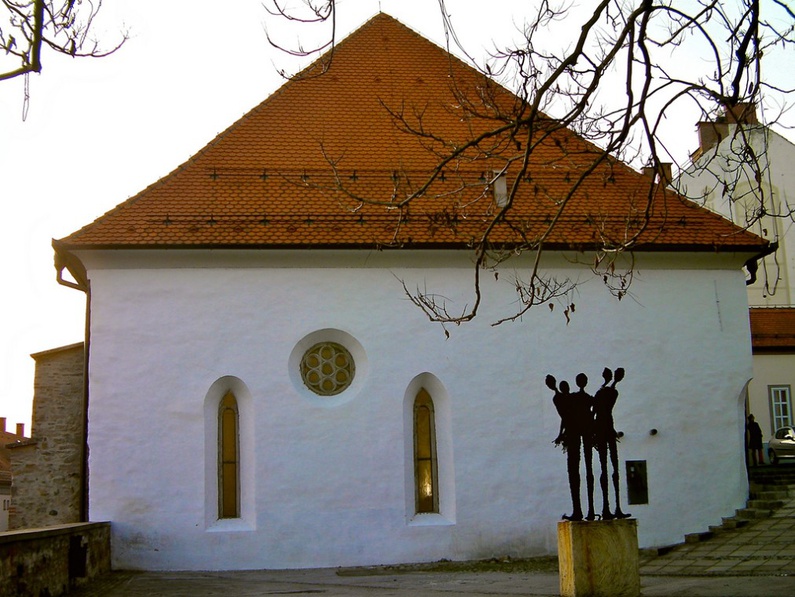 It's not an easy task to trace Ljublana's jewish heritage in a few days. For example, no-one at the tourist office is able to tell me how to get to the synagogue. When I ask for the Jewish cemetery, one staff member even asks me if I come from "Jewishland".
"It seemed like the community had a chance in the beginning," my contact continues, "Now it's a facade. We're seriously thinking about closing down, and then Slovenia would be empty of its jews once again, judenrein." The last word is pointedly in German.
He says that previous decades have been marked by efforts, albeit in vain. "We want financial independence," he explains, "We are almost bankrupt here, and we don't have rich members who can help out." The association leaders also keep a watchdog on how the state intervenes in other jewish problematics. However Zdenka Čebašek-Travnik, a delegate of the citizens, goes on to counter one of his arguments, when he says that there have been no acts of violence or injuries towards members of the Jewish community.
When I ask for the jewish cemetery, one tourist office staff member even asks me if I come from "jewishland"
In March 2012 the human rights ombudsman opined that circumcision for non-medical reasons was a violation of children's rights, offending the Jewish and Islamic communities of Slovenia. Yet the idea stigmatises "the special way we send signals to people that they are not welcome," my contact continues, "The irony was in the fact that most Jews living in Slovenia are secular. Whoever prioritises religion as a Jewish person usually leaves the country." 
Anyway, he himself harbours doubts about the life of the diaspora. "Assimilation is expected in Slovenia, and that also plays on the behaviour of the minorities. Few out of the four to six hundred people who have jewish roots in this country are living a religious life, and are not ready to raise their child as a jew."
This article is part of the tenth and final edition in cafebabel.com's 2012 feature focus series on 'MultiKulti' aka 'multiculturalism in Europe'. Many thanks to the team at cafebabel.com Ljubljana
Images: in-text Maribor (cc) tm-tm/ flickr
Article edited 04/04/2016 by request
Translated from Der Berufsjude von Ljubljana