Jason Selvarajan: Waste not, with the endless shower
Published on
Letting the water run without being wasteful is now possible thanks to a recycling system created by a young Finnish engineer. We spoke to Jason Selvarajan about his eternal showers, in which the water is as clear as your conscience. 
Some people sing in the shower, while others have brilliant ideas. At 10 years old, Jason Selvarajan was already part of the second category. "One day," recalls the Finnish engineer, "when I was rinsing myself after having soaped up, and clear water was running down my clean body, I asked myself, 'Why not recycle it?'" Rather than ask the adults, Jason took matters into his own hands and thought up the Showerloop -- a "shower on repeat."
Water (re)cycle 
On average, a person takes 10 minutes and uses 100 litres of water to wash. With this invention, this daily ritual would only use 10 litres and could last for hours. Through a circular system, the Showerloop indefinitely recycles the same 10 litres of water: a pump brings up the used liquid through the shower's pipes, and from there, it goes through a series of filters made of micro-fibres, sand, and activated carbon, before being sterilized by a UV lamp and finally injected back into the showerhead. Jason is firm: "The reused water is clean, without bacteria... Basically, it is of better quality than when it comes out of the faucet."
If the 29-year-old seems to have found a magical, green solution, he doesn't see himself as a genius. "We've known how to purify water for a long time," he explains, "I think that all the technologies we need to develop a sustainable lifestyle are already here. We just need to tweak them, reclaim them."
He also invites others to follow his example by sharing the techniques he designed on his website. Jason and his partner Edouard are also working towards an "IKEA-like" kit that would allow those interested to build their own Showerloop. With an average cost of 1000 euros (the cost of the materials), plus a little good will, the ecological shower will soon be accessible to all.
A video presenting the project. 
Working at the source
The idea is already charming some. Jason confides, enthusiastically, that he has received offers from France, Germany, Canada and even South Africa. On the other hand, since the beginning of the project in 2012, institutions have shown themselves to be much more hesitant. Aside from the support of his old university in Helsinki, Jason received no help or grants. This absence of backing may explain his lack of interest in large political/ecological gatherings like the upcoming COP21 in Paris. "It's already been 30 years that our leaders have known that the planet isn't doing well," he says without hesitation. But Jason isn't defeatist. "Before I was very active politically, but then I realized that it was simpler to change things with concrete projects that directly affect the way we consume."
Raised in a country where water is far from a rarity, the creator of Showeloop primarily seeks to encourage responsible behaviour. His ambition doesn't stop in the bathroom. "Showers only account for 30% of domestic water consumption," he explains. In the future, he would like to create a complete cycle for the entire house, where the shower could supply the washing machine, the toilet, or the garden. "There are still so many savings to be made," he affirms, his head bursting with ideas.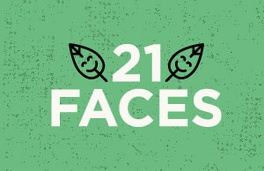 ---
This portrait is part of our #21faces project in the run-up to the world climate summit COP21 in Paris
Translated from Jason Selvarajan : une douche sans fin