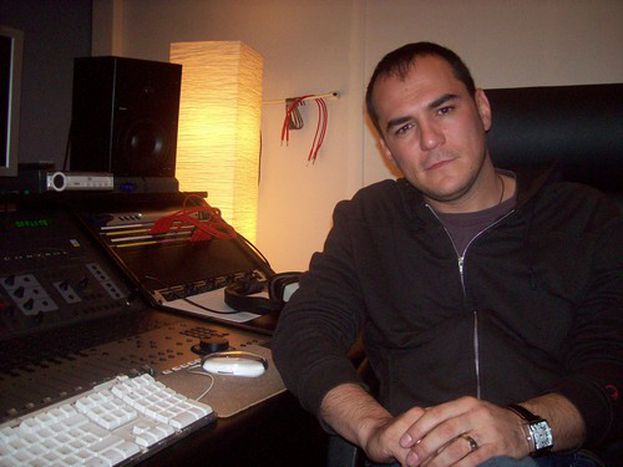 Ismael Serrano: 'Music helps us to connect with others'
Published on
From his Madrid studio, the Spanish singer-songwriter, 33, justifies how songs contribute to improving the world and his take on what 'canción de autor' music is
To dream with your eyes open or find a deserted paradise in a Madrid of three million people seems an impossible feat at first glance. However these apparent contradictions dissolve instantly when you meet Spanish singer-songwriter Ismael Serrano who chats with us about his latest album, Sueños De Un Hombre Despierto ('Dreams of A Man Wide Awake', 2007). In Los Paraísos Desiertos ('Deserted Paradises'), his small production and contract office located in the centre of Madrid, it is impossible to perceive the hubbub that has begun to break out in the Spanish capital: the metro trains already moving full of tired workers and starving students. It is two in the afternoon.
It's only natural to dream
'Day dreaming is something that defines human beings,' begins the conversation. 'Only as humans are we able to make our dreams into a life force that mobilises us and animates us to improve things.' The perfect order with which Ismael Serrano unfolds his arguments gives the impression that when dealing with 'serious' topics he prefers to do without improvisation. The thirty-three year old does not pretend to be convinced by what he says and what he sings. What he explains is that in his concerts, he still continues to vindicate those ideas, just as when he started more than fifteen years ago with Otro Mundo Possible ('Another Possible World').
And how can songs contribute to improving the world? 'Our current society often forces us to feel isolated from everyone else. Music helps us to recuperate this part of the social animal so that we can connect with others: emotionally, socially and also politically.' Lighting a cigarette, Ismael Serrano recognises that there have been other Spanish speaking singer-songwriters such as Joan Manuel Serrat, Joaquín Sabina and Silvio Rodríguez who taught people to question things and who guided them to the awakening of their political consciousnesses: 'Music helps us to understand that we are not alone in our dreams.'
Sing about what moves you
In the current recording industry there is less and less free time for the canción de autor('author's song') style music. Is the mix of social causes and music not out-dated? 'The canción de autor style survives because there still exist many people, like myself, who feel the need to listen to this type of music.' And he has a point: Sueños De Un Hombre Despierto went straight to number one on Spanish sales lists in the first week of its release.
That said, Ismael Serrano does not allude to the thousands of records he has sold, rather he tries to justify the validity of the social component in his music with another type of very personal argument: 'I sing about what moves me. That can be romantic sentiments or emotions of another type. Reading something in a newspaper can also inspire me to write a song because what occurs beyond the horizon also affects me. A critical spirit is something inherent in people and will only be lost at the end of history.'
Europe in a suitcase and 'inhospitable' Russia
'I have special memories from a typical InterRail trip I took at the beginning of the nineties: Paris, Amsterdam, Copenhagen, Budapest, Prague…' Ismael Serrano says that he loved Amsterdam, that Paris seemed to him a city 'both bohemian and literary', and of Copenhagen he still remembers 'that type of village social called Cristiania.'
In November 2006, Ismael Serrano was invited by the Cervantes Institute to play his songs at the Hermitage Theatre in Moscow. 'It was an amazing experience. We played in a theatre where aside from many Spaniards, there were also many Russian students who were studying Spanish.' With a certain hint of mystery, he confesses that the 'strange nationalism' that exists in present-day Russia worries him and that the reality on the streets seems 'inhospitable'.
Nevertheless, for Ismael Serrano the great majority of European stages are as yet unknown to him and he does not rule out the possibility of taking his music to other European audiences: 'Many times we have suggested playing in countries like Italy or France, where a current trend in canción de autor music is calling attention to what is being done in Spain and Latin America.'
Documentary: Ismael Serrano's latest album
Photo homepage: (http://www.ismaelserrano.com)
Translated from Ismael Serrano: La música recupera nuestro lado de animal social