Ismaël Saidi: The tragicomic stage show tackling jihad
Published on
Talking about jihad using irony and comedy may seem like a contradiction, even a taboo. It's certainly not the conventional approach. Yet in 2014, Ismaël Saidi – a Belgian theatre director of Moroccan origin – decided to do just that. For the past two years his show has been staged in Belgium – with great success.
Will laughter be the end of jihad? Following the attacks in Brussels on the 22nd of March, the word jihad had made a forceful return to front pages, TV stations and conversations everywhere. However, in Belgium, there's another place where the term has quite literally taken centre stage – thanks to the laughter of a theatre audience. The Belgian director wrote the play, entitled Djihad, two years ago.
The day after terror attacks in the Belgian capital, Saidi posted on Facebook trying to respond to the question: "Why don't Muslims take to the streets to condemn the attacks." The polemic that followed was so serious that, since that morning, Saidi is no longer giving interviews. A few days before the incident, cafébabel spoke to the director about his show, currently successfully touring Belgium.
Laughing at jihad
"It was the summer of 2014," says Saidi when asked how the project was born, "I was working on another project when I saw Marine Le Pen on TV saying that she didn't care at all about the young men going off to Syria. I thought it was horrible. The only response I had to it was to write a play."
Though of Moroccan origin, Saidi was born in Belgium and raised in Schaerbeek. As well as acting in the comedy, Djihad is his third directorial work. This time, he's chosen to tell the story of three Muslim boys who go to fight in Syria.
A story in which the three main protagonists are "foreign fighters" makes the piece highly topical. Though stories of this type are increasingly on the agenda, the director finds a new way of addressing the topic. He narrates the "odyssey" that the trio takes from Belgium to Syria, and breaks clichés through laughter, while leaving the door open for self-criticism. His main weapon is irony, something that terrorists haven't yet been able to utilise.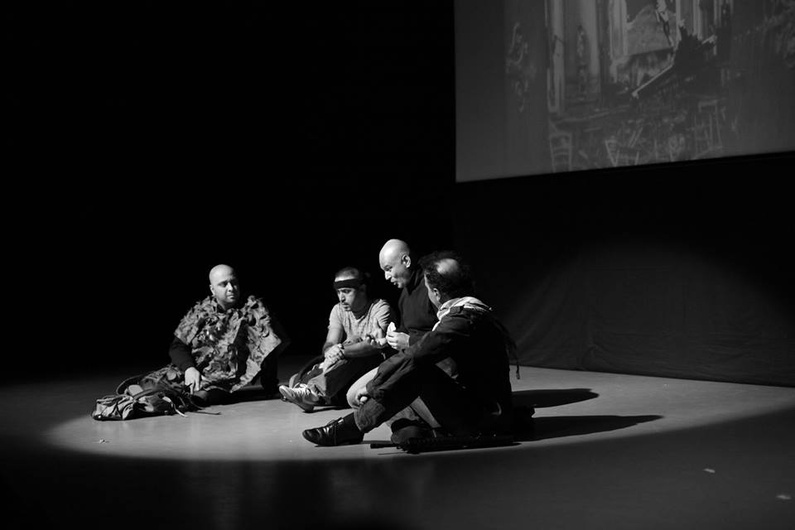 With Djihad, Saidi doesn't expect that it will prevent people from radicalising. It speaks to the purposes for which theatre was created: to establish dialogue, to talk problems over and to analyse them from within. "The main objective was to tell a story," he explains, "to explain why these boys become radicalised and leave their country. It's for that reason that after the show we hold a debate to understand the process."
"If you want to talk about the subject, you've got to use the right words"
Addressing a topic such as terrorism using irony is no mean feat. The topic is taboo, something that requires caution in order to address it. But the use of comedy does not indicate a lack of commitment or any kind of shallowness. Laughing is a theatrical resource useful for tackling complex topics and for encouraging reflection while at the same time maintaining a certain lightness. "Everything can be a tragicomedy," Saidi continues, "I believe that the theatre has always used comedy to express itself, it's a theatrical style. I believe everything can be approached using comedy."
This choice allows you to move away from political correctness and derision. The author is straightforward, and the title explanatory. "Appealing to comedy has helped me a lot," Saidi continues, "When you write a play of this kind you don't need to be politically correct. I wanted to use the word jihad in the title. In my opinion, all words must be used, there's no secret. If you want to talk about the subject, you've got to use the right words."
A critique from within
Ben, Reda and Ismaël head out onto the stage. They play three Muslim boys from Brussels whose lives highlight the difficulties of integration and how easily radicalisation can take root. Reda loves his girlfriend, but he is not allowed to marry her because she isn't a Muslim. Ben is a fan of Elvis Presley, while Ismaël is a graphic designer. These three boys have questions about their community they find distressing: is it right to love someone of a different faith? Is graphic design an acceptable way to earn a living?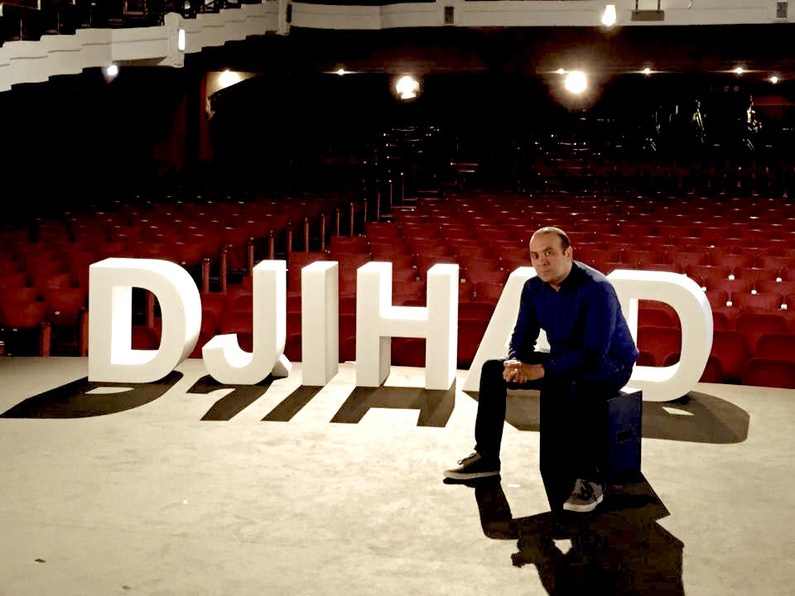 "Immediately, the play confronts you with a critique 'from within'," Saidi explains, "The only way of finding a solution to these problems is to have someone that comes from within the community and says that there are many things wrong that must change." For Saidi, his first piece of reassurance came from the Muslim community's positive reaction to the show.
The story emphasises how easy it is today to be approached by recruiters, as it was during Afghanistan. "The means have changed," he continues, "before there was the imam, now we have the Internet and mobile phones. But the message is the same: 'You are wasting time in Europe, your brothers are dying elsewhere, you must leave'." 
A debate concludes the show. Students put forward questions similar to those asked by the three characters. "Do we have the right to design?" The answer to radicalisation is always to fight ignorance.
Newsworthy theatre
After the attacks of the 13th of November in Paris, Ismaël had to respond to more questions relating to the reasons for this violence: "The boys often ask us why there is so much hatred, why terrorists want to kill." 
But his attitude hasn't changed, and he has no fear of addressing these issues with irony. "I'm not afraid of doing my show," he continues, "You might feel afraid of having a coffee in a bar in Paris, but when we are scared of them, terrorists have won. It's for this reason that we mustn't have fear."
What started out as a bet has turned into a great success of a show. So far, roughly 45,000 spectators have seen it. The Belgian Minister of Education acknowledged the great educational potential that lies in the project and supported its initial stages – making schools the first target audience. Now, Djihad is a well-known show that is being translated for performances in Amsterdam and the United States.
Translated from Djihad, la tragicommedia belga che porta a teatro i foreign fighter