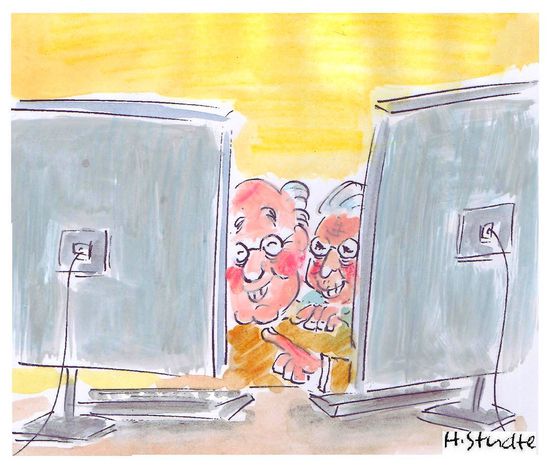 Is your gran a 'silver surfer'?
Published on
Translation by:
cafebabel.com
French grandmas in stinging nettles, German grandpas at the European parliament and Polish grannies working in communist toilets - there's a visually colourful variety of 'ageing' expressions across the European continent
The older you are, the wiser you get runs the somewhat Chinese sounding refrain. The Spaniards agree: sabe más el diablo por viejo que por diablo
: the devil knows more because he's old rather than because he is a devil. The English proverb teach grandmother to suck eggs
has shown that we've been telling wise guys not to crack their unwanted advice to elders for centuries now; it first appeared in a translation of Spanish literature in 1707.
Today, there's been a rupture in our ageing societies of nannies, kindergartens and German-Dutch-Danish models of youth-elderly living arrangements, and the connotation of an elderly relative has taken on wider and wiser proportions in ways of expressing disbelief. Das kannst Du Deiner Großmutter erzählen
is the German way of saying I don't believe what you say, so try telling your grandma that. The Italians agree: Seee mio nonno
(Go see my grandma). They tell you where you can stick your exaggeration: Mia nonna en carriola (and my grandmother's in a wheelbarrow), whilst the French take the wheelbarrow theme further: Il ne faut pas pousser mémé dans les orties (you shouldn't push your grandmother into the stinging nettles). Bushes and wheelbarrows aside, Germans in the seventies exclaimed: Have you got a grandfather? Send him to Europe! (Hast Du einen Opa, schick ihn nach Europa
). The tables are turned here, and age is criticised for its political wisdom. The sentence bemoaned the inutility of the European parliament of the time, which it claimed was full of yawning oldies.
The German marketing term Best Ager encapsulates the 50+ age group. Does it take its contra-inspiration from the term 'teenager', and refer to someone in their golden years, a Brit who is in retirement? In Spain, they are jubilators – a pensioner is called a jubilado. From 1958 – 1966, the Polish television programme Kabaret Starszych Panów ('An Old Man's Cabaret'), ran a popular theme tune,  Wesołe jest życie staruszka: 'the life of an old man is the happiest.' These 'silver' (referring to greying hair colour) granddaddies and grandmommies surf the web and are shopaholics, which earn them the more modern English and German (!) terms, Silver Surfers or Silvershoppers. 
However, eastern European notions of the elderly are inevitably linked to poverty. The Polish toilet grannies (babcią klozetową
) are the women collecting 20ps and cleaning in public toilets, initially in communist countries to stop toilet paper being stolen. These women have been immortalised by Polish-born director Roman Polanski in When Angels Fall (1959), and the Polish song Wielka miłość do babci klozetowej ('Great love to Toilet Granny') by the band Big Cyc. Even the verb of the Polish word for tramp, dziadować
, has the same root as the word dziadek, meaning grandpa.
Translated from Babcia klozetowa