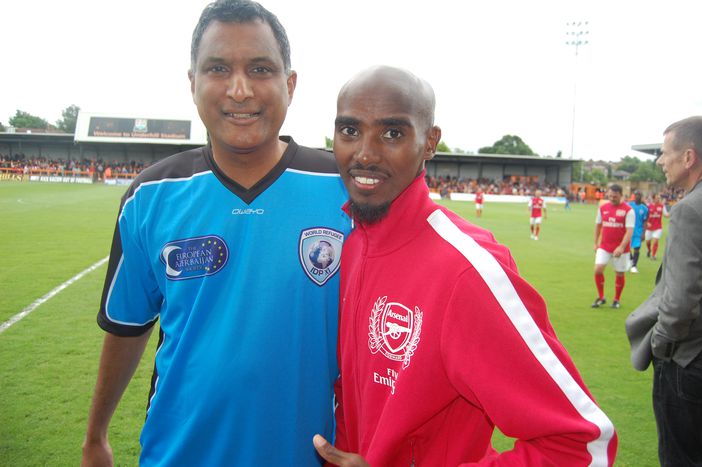 is sport the answer?
Published on
Dr Syed Kamall MEP, Co-Chairman of the Friends of Sport in the European Parliament talks about whether sport has the ticket to a healthy and meaningful life
Sport has always enabled people of all ages to maintain an active and healthy lifestyle.  What policy-makers and politicians often forget is that it can be a solution to a multitude of social problems which go far beyond personal health.
There will always be some who play sport who find themselves "living the dream" at an early age, such as Yiannis Antetokounmpo, a Greek-Nigerian, who in this year's NBA draft was the highest placement in the NBA draft after being picked at number 15 by the Milwaukee Bucks.  Or Croatian Borna Ćorić, the winner of the US Tennis Boys' Open title, who was coached by Ryan Jones from London.
For most of us, sport will not set us on a path to glory, but it can improve our lives and those of others in our communities. Sport teaches self-discipline, one of the vital life skills required to hold down a job.  A few years ago I used to play badminton at a run-down sports centre in North West London where I met a badminton coach working with mostly young people from the local deprived afro caribbean community. He told me how teaching badminton had instilled in them a respect for rules, discipline and an understanding of boundaries. He was proud that this had resulted in lower truancy rates and better results at school.  He explained that in his experience, people who understand how to live within a framework of rules are more likely to fit into society at large and less likely to turn to crime.
The point is that sport not only provides young people an excuse to live a healthy life, but can provide a ticket out of a possible life of crime, and working in mediocre jobs.  Not everyone is destined to be an NBA basketball star, but schemes like Tottenham Hotspur's Foundation, which gives young people of varying abilities, and from a wide variety of ethnic and social backgrounds, the chance to enrol onto a full-time BTEC level 2 or 3 and NVQ level 2 and 3 courses with the potential to continue onto a foundation degree in Sports Development and Coaching, should be encouraged.
I would like to see more qualified coaches going into schools earlier, assisting teachers to provide high level sports education teaching. We have seen how truancy can be reduced when football stars turn up to help in the classroom or when schools move lessons to the local football club with the promise to meet with or train with the local stars. These sports stars are able to reach out in a way that regular teachers often simply cannot.
Sport offers hope for kids who have already been kicked out of school.  I have seen how the London Boxing Academy which combines boxing training with studying for GCSE exams has transformed the lives of kids who, without it, would have been consigned to a life of crime on the streets. I was particularly moved to hear of a boy in these circumstances who had been kicked out of different schools but who travelled every day for over two hours from Ruislip in West London to Tottenham in North London for lessons  – attracted by the prospect of getting exposure to sport.
Sport also binds communities together in ways that other activities cannot.  You get football club supporters from all sorts of backgrounds.  You get patriotic Brits from all over the country cheering on to gold medal glory at the Olympics the African muslim refugee that is Mo Farah.
With youth unemployment in some countries in the EU approaching 50 per cent, many unemployed people should be given greater access to sport.  It would give them a focus, raise their self-esteem and stamina levels, and leave them better equipped for the world of work.   We cannot expect governments across the EU to provide these opportunities – they would probably pitch it wrongly anyway.  I think politicians and community leaders need to work harder at persuading those who know how to organise and inspire people to play sport to get involved in bringing sport to more young people.   How do we encourage sports clubs to give something back to their communities? I am looking for answers and would love to hear from young people about what they think.
Have you say here on OurSpace.